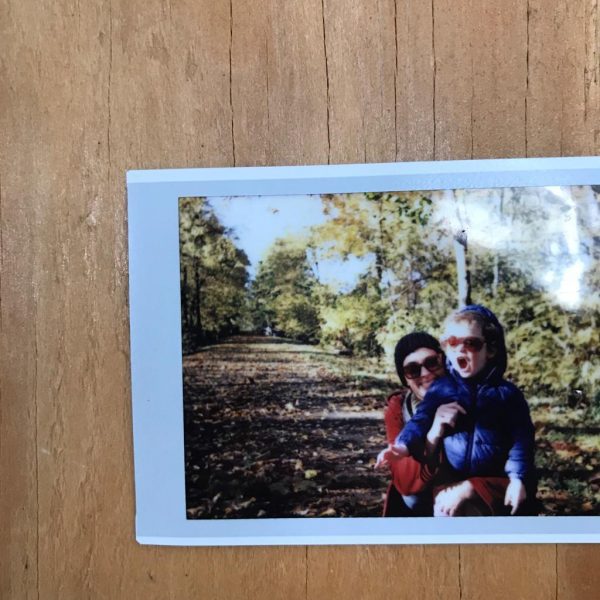 Southwest Ohio
Cute, I said bending over, a salam—
I swallowed the second half of the word

as my face drew nearer to the shiny body
and I saw the white oozing from its mouth, but
it was too late.
My daughter was already rushing over,
What is that little guy?
I stood, tried pivoting,
a bit dizzy from the way the thing
lay there still
moving one of its tiny arms, I looked at Kayla
and said in Hebrew, which we both speak thanks to

the Zionist peregrinations of our respective parents,
and which our daughter understands somewhat
thanks to inertia
here in Ohio, but not as well she does English,
Laharog oto? and Kayla said,
Tzaar baalei chayim, which, though we are no longer
religious, still carries weight here in
Ohio: it seems true
that one should not let a dying living thing suffer,
so I bit down on the strap of the camera
hanging around my neck. I'd just bought this camera
for Kayla's birthday and
October was singing
as we left home, on the heels of our private summer
of death, I was anxious to capture
my family wearing sunglasses in the light,
surrounded by fallen foliage,
but I hadn't been able to
find a good angle, and now the camera's strap was
a bridle bunched between my teeth,
which I realize sounds extreme, it was just a
dying amphibian, but I was worried that something
would escape my mouth,
and scare my daughter or my-
self. Kayla walked our kid down the path
and I bit down and stomped
on the salamander, and felt its death
rising in my belly.
I do think that this is what one should do
here in Ohio, or anywhere. There amidst
the orange leaves, I remembered
from my time in Palestine that
a salam aleikum
can be used not only as a greeting,
but also as words of departure.
Moriel Rothman-Zecher is a Jerusalem-born novelist and poet. His first novel, Sadness Is a White Bird (Atria Books, 2018), was a finalist for the Dayton Literary Peace Prize and the National Jewish Book Award, among other accolades. His poems have been published or are forthcoming in Barrelhouse, Paper Brigade, Zyzzyva, and elsewhere, and he is currently pursuing an MFA in poetry through the Bennington Writing Seminars as a recipient of the Donald Hall Scholarship for Poets. His nonfiction work has been published in the New York Times, the Paris Review's Daily, Runner's World, the Tel Aviv Review of Books, and elsewhere, and he is the recipient of the National Book Foundation's '5 Under 35' Honor, two MacDowell Fellowships for Literature, and a Wallis Annenberg Helix Fellowship for Yiddish Cultural Studies. Moriel lives in Yellow Springs, Ohio, with his family, and his second novel is forthcoming from Farrar, Straus and Giroux in 2022.