Listen on Google Podcasts.
Transcript: Cheryl Collins Issac Podcast.
Cheryl Collins Isaac speaks to managing editor Emily Everett about her story "Spin," which appears in The Common's new spring issue. "Spin" is about two Liberian immigrants making a new life in Appalachia. In this conversation, Cheryl talks about the inspiration behind this story: writing from music and toward beautiful, sensual language. She also discusses Liberia's interesting cultural history, her writing and revision process, and what it's like to do a writing residency in Edith Wharton's bedroom.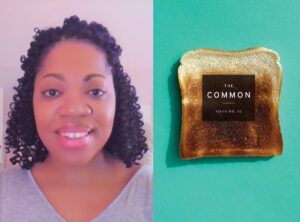 On the musical inspiration for "Spin":
"This story started from the music. I write with music a lot, with big noise-canceling headphones. It transports me to another world. I heard the sound and immediately the sound and the beat and the movement made me go into the story itself. I just started writing."
On finding the perfect ending:
"Once I started writing this story, even though there was a lot of editing in the middle, the ending landed perfectly the first time. The ending it has now is what I started with; the story went in that direction and I just followed. I was being led by my characters and by a moment in time, a story that begged to be told."
On writing about ballet:
"The parts of the story about ballet I had to research a lot, but I loved doing that. It helped elevate beauty in the story. I love working at the intersection of beauty and pain, or beauty and suffering. I love showing how they coexist. I also love exploring the intersection of art, and exploring dance was so fascinating to me. I got so caught up in it, I listened to so much music. I let the character fall into those movements and those rhythms. It motivated and moved me."
---
Cheryl Collins Isaac immigrated to the United States in 1996 from Liberia, West Africa. She is a 2022 Edith Wharton Straw Dog Writer-in-Residence and the recipient of the 2020 James Baldwin Fellowship at MacDowell. She has had fiction, nonfiction, and poetry published in Chicago Quarterly Review, The Ocean State Review, Hawai`i Pacific Review, South Writ Large, Prime Number Magazine, and more. She earned her MFA in creative writing from the University of Tampa.
Read Cheryl's story "Spin" in The Common at thecommononline.org/spin.
Follow Cheryl on Twitter at @CherylCIsaac.
The Common is a print and online literary magazine publishing stories, essays, and poems that deepen our collective sense of place. On our podcast and in our pages, The Common features established and emerging writers from around the world. Read more and subscribe to the magazine at thecommononline.org, and follow us on Twitter @CommonMag.
Emily Everett is managing editor of the magazine and host of the podcast. Her debut novel is forthcoming from Putnam Books. Her stories appear in the Kenyon Review, Electric Literature, Tin House Online, and Mississippi Review. She holds an MA in literature from Queen Mary University of London, and a BA from Smith College. Say hello on Twitter @Public_Emily.