Listen on Google Podcasts.
Transcript: Nathan Jordan Poole Podcast.
Nathan Jordan Poole speaks to managing editor Emily Everett about his story "Idlewild," which appears in The Common's new spring issue. In this conversation, Nathan talks about doing seasonal work at Christmas tree farms, the workers from all walks of life he met there, and how those experiences and those people helped to inspire this story. He also discusses his writing and revision process, his story collections and future projects, and why he chooses to write unromantically about rural life.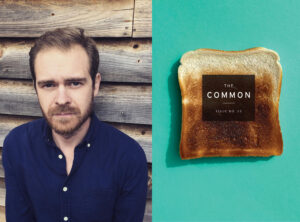 On building the story from his time working on Christmas tree farms:
"Because the character Aaron has jettisoned his past life, he's really an outsider to this working class world that he's in. I identified with that personally. When I was working on Christmas tree farms, I wasn't really announcing that I was a college professor. And when you're not at home somewhere, when you feel like the outsider, the details around you kind of stick, in the same way that when we travel, our senses of perception become heightened because we're expecting to use them in new ways. A lot of the details of the world in this story are the things that clung to me afterward." 
On the process of revision:
"Each story is so idiosyncratic. I think if you're doing it right, each story is really a brand new challenge. The things you did before to revise a previous story might not work on the next one. That can be frustrating to hear, but there is advice there. The piece itself is going to suggest what's working, if you're reading with your third ear. That's a term from Nietzche; he always talked about the third ear, the idea that writers need to grow this third organ of perception, because we're not really born with the sensibility we need to detect our failures and successes. 
It takes such a long time to grow that ability to detect what's working in a story. I think the key is finding those moments where you feel energized or excited, where you feel like something good is happening with either the language or a unique situation. Usually those are moments when you're a little surprised as a writer. Those are good moments to come back to, to see what the possibilities are there. What is that moment suggesting?"
---
Nathan Jordan Poole is the author of two books of fiction: Father Brother Keeper, a collection of stories selected by Edith Pearlman for the Mary McCarthy Prize, and Pathkiller as the Holy Ghost, selected by Benjamin Percy as the winner of the Quarterly West Novella Contest. He is a recipient of the Narrative Prize, a Milton Fellowship at Seattle Pacific University, a Joan Beebe Fellowship at Warren Wilson College, a Tennessee Williams Scholarship at Sewanee School of Letters, and a North Carolina Artist Fellowship. He lives with his wife and two daughters in Blue Ridge, South Carolina.
Read Nathan's story "Idlewild" in The Common at thecommononline.org/idlewild.
In this conversation, Nathan recommends The Art of Subtext by Charles Baxter, available here from Graywolf Press.
The Common is a print and online literary magazine publishing stories, essays, and poems that deepen our collective sense of place. On our podcast and in our pages, The Common features established and emerging writers from around the world. Read more and subscribe to the magazine at thecommononline.org, and follow us on Twitter @CommonMag.
Emily Everett is managing editor of the magazine and host of the podcast. Her debut novel is forthcoming from Putnam Books. Her stories appear in the Kenyon Review, Electric Literature, Tin House Online, and Mississippi Review. She holds an MA in literature from Queen Mary University of London, and a BA from Smith College.