Listen on Google Podcasts
.
Ravi Shankar speaks to managing editor Emily Everett about his essay "The Five-Room Box," which appears in The Common's spring issue. In this conversation, Shankar talks about constructing this essay on identity, family, and fitting in from an excerpt of his memoir, Correctional, about his time spent in prison. He also discusses how that time changed the course of his academic work, what it's like to transition from poet to prose-writer, and the privilege and profiling Asian-Americans experience as the 'model minority.'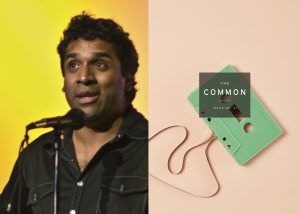 Ravi Shankar is a Pushcart Prize-winning poet, translator, and professor. He has published fifteen books, including W.W. Norton's Language for a New Century, Recent Works Press's The Many Uses of Mint, and the Muse India Award-winning Tamil translation The Autobiography of a Goddess. He has taught and performed around the world and appeared in such venues as The New York Times, NPR, the BBC, and PBS NewsHour. He received his PhD from the University of Sydney, and his memoir Correctional is out this fall from University of Wisconsin Press.
Read his essay in The Common at thecommononline.org/the-five-room-box.
Read more about Ravi Shankar and his work at poetravishankar.com.
Pre-order his memoir Correctional, out in October, here. 
If you require a transcript or other accessible format, please contact us at [email protected].
The Common is a print and online literary magazine publishing stories, essays, and poems that deepen our collective sense of place. On our podcast and in our pages, The Common features established and emerging writers from around the world. Read more and subscribe to the magazine at thecommononline.org, and follow us on Twitter @CommonMag.
Emily Everett is managing editor of the magazine and host of the podcast. Her stories appear in the Kenyon Review, Electric Literature, Tin House Online, and Mississippi Review. She holds an MA in literature from Queen Mary University of London, and a BA from Smith College. Say hello on Twitter @Public_Emily.