Book by BLAKE BAILEY
Reviewed by REBECCA CHACE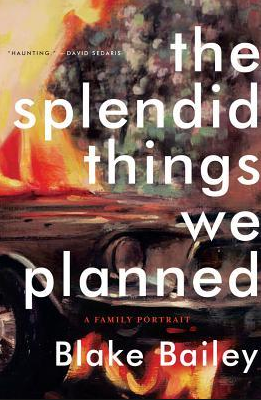 Reading Blake Bailey's memoir of his deranged brother, The Splendid Things We Planned, I kept thinking of a line from the epigraph Bailey quotes from Joe Gould's Secret, Joseph Mitchell's portrait of another troubled soul: "You can hate a person with all your heart and soul and still long for that person." Bailey is the author of acclaimed literary biographies of John Cheever, Richard Yates, and Charles Jackson, all of whom wrote about the desperation behind mid-century American prosperity. This memoir shows that Bailey knows that terrain from personal experience. He opens with a heart-stopping scene of his young parents standing on the roof of a building at New York University in the early 1960s, holding their colicky, howling infant and trying to decide whether to jump together or toss the baby. This turns out to be one of those half-true jokes parents tell on themselves, normally, once their children are thriving. This child never thrived, and Bailey's family would spend the rest of this child's life pushed to the edge by his behavior.