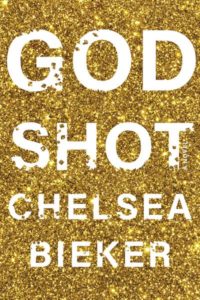 Excerpted from GODSHOT, now available from Catapult Books.
Copyright Chelsea Bieker, 2020. 
To have an assignment, Pastor Vern said, you had to be a woman of blood. You had to be a man of deep voice and Adam's apple. And you should never reveal your assignment to another soul, for assignments were a holy bargaining between you and your pastor and God Himself. To speak of them directly would be to mar God's voice, turn the supernatural human, and ruin it. So not even my own mother could tell me what her assignment was that unseasonably warm winter, wouldn't tell me months into it when spring lifted up more dry heat around us, and everything twisted and changed forever.
I longed to know where she went when she left our apartment each morning, returning in the evening flushed, a bit more peeled back each time. I imagined her proselytizing to the vagrants sleeping on rags in the fields at the edge of town, combing the women's mud-baked hair, holding their hands and exorcising evil from their hearts. I imagined her floating above our beloved town of Peaches, dropping God glitter over us like an angel, summoning the rain to cure our droughted fields. I imagined all these things with a burn of jealousy, for I had not received my woman's blessing yet, the rush of blood between my legs that would signify me as useful. I'd just turned fourteen but was still a board-chested child in the eyes of God and Pastor Vern, and so I prayed day and night for the blood to come to me in a river, to flood the bed I shared with my mother. Then I would be ready. I could have an assignment too.