JENNIFER ACKER interviews JESMYN WARD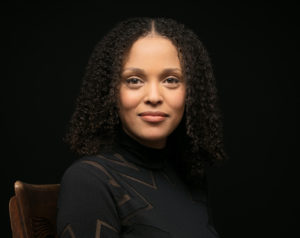 On February 29, 2020, Jesmyn Ward visited Amherst College to headline LitFest and host a masterclass with students. The below interview is adapted from her public conversation with The Common's Editor in Chief Jennifer Acker.
Jesmyn Ward reading the opening of Sing, Unburied, Sing.
[JA]: I think what comes through so clearly in that passage are all of the details of that property and all the norms of the community. So I want you to just tell us a little bit more about this place you've created, Bois Sauvage. Tell us what this place is like, and why it's a fictional place, because it is very much inspired by your home.
[JW]: When I came up with the idea of creating a fictional town that's based on my hometown, one of the reasons I wanted to do so was because I felt like the place where I'm from is so small that it would be harder to write about if I didn't transform it. Sometimes I feel like the Bois Sauvage that I write about is this idealized version of my hometown, and not my hometown. Even though Sing, Unburied, Sing takes place in 2016-2017, I feel like Bois Sauvage is the idealized version of DeLisle, my hometown, from maybe in the 1980s when I was a child, when it was even more rural than it is now. Both DeLisle and Bois Sauvage are small rural places where community is very important, where families have been living for generations, because everyone knows everyone and everyone knows everyone's history. I think part of what I'm trying to communicate or explore in Bois Sauvage is this idea of community and what community looks like in a place like that, and how a community can help its people survive in very specific, particular ways. I think I am also trying to convey the beauty of that area and that region.