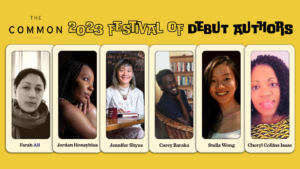 Join The Common's team on March 22nd at 7:00pm for our 2023 Festival of Debut Authors, an evening devoted to emerging talents! This virtual celebration will highlight poets and prose writers Carey Baraka, Farah Ali, Stella Wong, Jordan Honeyblue, Jennifer Shyue and Cheryl Collins Isaac. 
The festival, hosted by previous awardees Carlie Hoffman and Cleo Qian, features readings and conversation by some of The Common's most dynamic emerging writers. Come to discover fresh voices and support the magazine's Young Writers Program.
Register for the free event or make a donation to The Common Young Writers Fund here! 
---