Event Date: 
Tuesday, April 7, 2015 – 8:00pm
Location: 
Webster Hall, Studio 2, Amherst College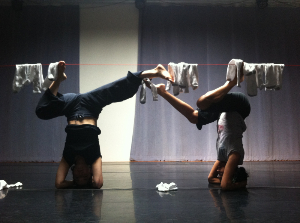 2125 Stanley Street is a contemporary dance performance exploring deeply personal notions of home. A rigorous collaboration between dancers/co-creators Dahlia Nayar, Margaret Sunghe Paek, and cellist/composer Loren Kiyoshi Dempster (see bios below) the performance adapts as it migrates to various spaces: a studio, a theater, a gallery, a community grange, a buddhist church. We excavate the everyday and the mundane in search of a poetic consciousness, infusing basic tasks with virtuosity and nostalgia, summoning fragmented multilingual memories and lullabies from our childhoods. Ultimately, 2125 Stanley Street aims to invite the audience into a home that unfolds through movement, sound and intimate exchange, a home that is is both familiar and yet cannot exactly be located. See a video link for the work here. 
Free and open to the public.
Please note seating is limited! Reserve in advance by emailing: [email protected]
Post performance reception and Q&A hosted by The Common.
See a map here.
Sponsored by The Common and Amherst College's Copeland Colloquium.
About the Artists: 
Dahlia Nayar's works have recently been selected for the Venice Biennale/Danza Venezia Showcase for Emerging Choreographers, Dance Place in Washington DC, the 2012 Next Stage Dance Residency at the Kelly Strayhorn Theater in Pittsburgh, and the Center for Performance Research in Brooklyn, NY. In addition, her site specific projects have been performed at the National Botanical Gardens, the Kennedy Center and the Complejo Cultural, in Puebla, Mexico. She was a National Dance Project Regional Dance Lab artist in 2007. From 2008-2010, she received the Jacob Javits Fellowship during which time she received her MFA in Dance/Choreography from Hollins University. She has been a guest artist at Salem State College, College of the Holy Cross, Long Island University in Brooklyn, Marymount Manhattan College, Duke University and Smith College. www.dahlianayar.com
Margaret Sunghe Paek is dedicated to collaboration and sees dance as a life practice. She is a Lower Left collective artist (www.lowerleft.org) and is deeply influenced by her relationships with contact improvisation, Ensemble Thinking, Alexander Technique, Barbara Dilley, Nina Martin, Shelley Senter, Dahlia Nayar, Loren Dempster and their daughter. In NYC, Margaret teaches for Movement Research and Manhattanville College, and her work has been presented at the Whitney Museum Biennial 2012, Judson Church, Danspace at St. Mark's Church, and Joyce Soho.  www.margaretpaek.com
Loren Kiyoshi Dempster uses a combination of computer, electronics, cello and extended techniques to create and perform music. An active chamber musician, composer, and improviser he performs with the Dan Joseph Ensemble, Trio Triticali, and Left Hand Path among many others. Ever interested in the relationship of movement and sound, he has recently performed for choreographers and collaborators Harrison Atelier, Jonah Bokaer, Merce Cunningham, Chris Ferris, Dahlia Nayar, Margaret Paek, and projectLIMB. www.lorendempster.com