By SCOTT GEIGER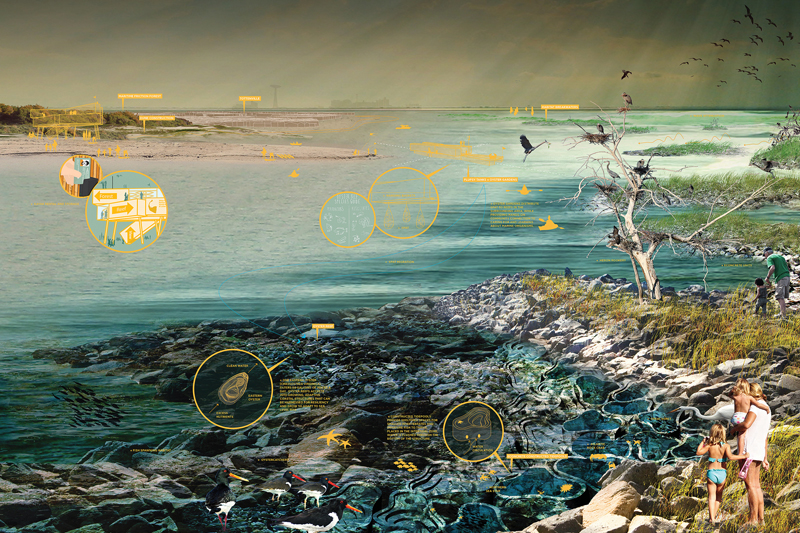 Oysters in the Raritan Bay, courtesy of SCAPE Landscape Architecture
Next week Thursday, April 3, the amazing Rebuild by Design competition concludes in New York City. The finale event on Vesey Street in Manhattan is open to the public, and I think it well worth attending, even if you're only just now learning about the competition. I've wanted to write about this competition since its launch last summer, and now as it comes to a close I can speculate a little about its significance.
Rebuild by Design is a competition to research, envision and implement urban design and infrastructure projects that will adapt the metropolitan region to future climate conditions—higher sea levels, bigger storms occurring more frequently, inundation. The competition grew out of President Obama's Hurricane Sandy Task Force. U.S. Department of Housing and Urban Development Secretary Shaun Donovan leads the effort and chairs its jury. The competition has drawn multidisciplinary teams of architects, landscape architects, engineers, and scientists who are now finalizing their work. Their goal is resilience, through new construction, yes, but also through new systems, some high-tech, many completely natural. An earlier stage in the competition winnowed the field of ideas to ten "design opportunities." HUD plans to award an indeterminate number of proposals with funding, creating a network of pilot projects that constitute a first of wave of construction for climate change adaptation in New York City.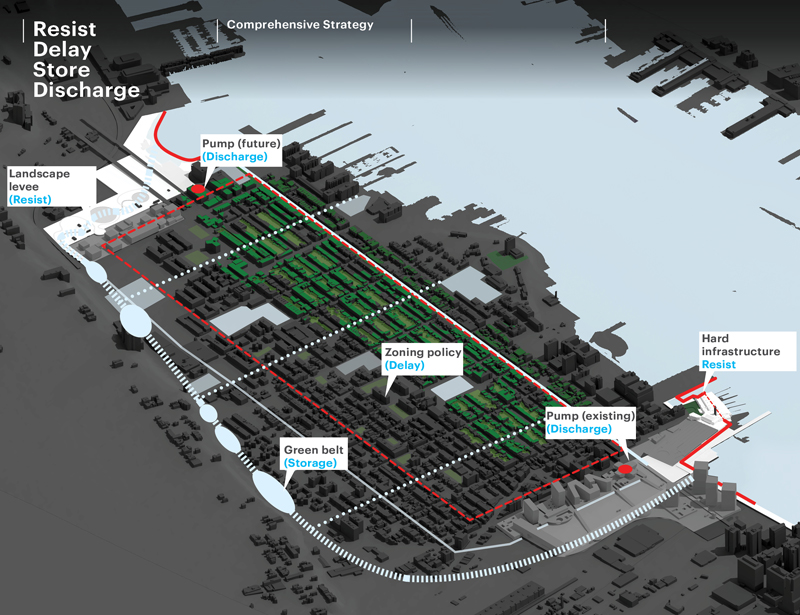 A Water Management Strategy, courtesy of Office for Metropolitan Architecture (OMA)
At work on Rebuild by Design are some of the world's leading designers and practices alongside, and in competition with, researchers from Yale, Rutgers, and MIT Center for Advance Urbanism. Institutions like Urban Green Council and the Dutch hydrology  think-tank Deltares are also players. The development of design opportunities has been a highly public process, and the expert panel of jurors, led by Donovan, has provided the teams with continuous feedback on their work. Next week's event will bring the designers and their work before the jury and the public one last time.
WXY Architects and Dutch landscape architects West 8 envision a barrier island network administered by a quasi-governmental regional park service. Office for Metropolitan Architecture (OMA) has a "green circuit" for water management in highly vulnerable Hoboken, New Jersey. Bjarke Ingels Group (BIG) protect Manhattan's edge with a recreational and cultural great wall, the Big U. Landscape architect Kate Orff's practice, SCAPE, has envisioned rebuilding the social and economic communities of the Raritan Bay and parts of Staten Island through a rebuilt marine ecology, aquaculture and the restoration of oysters beds.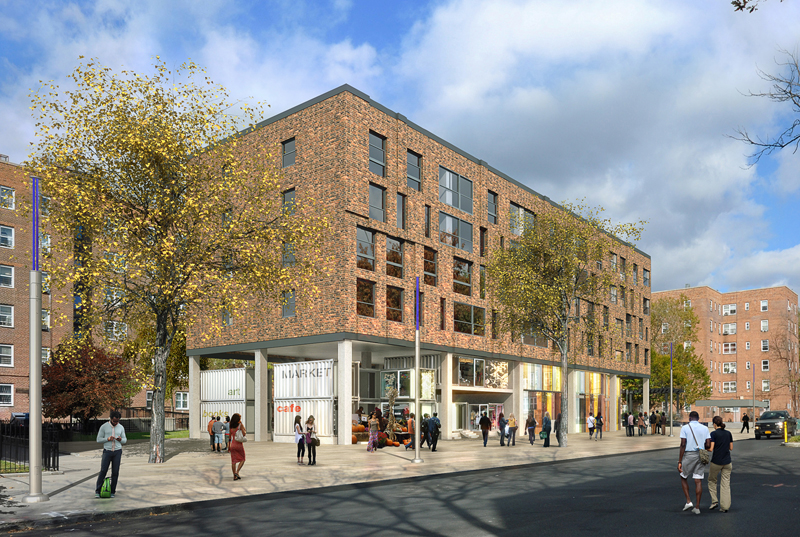 "Coastal Commercial Resiliency Financing," courtesy of HR&A Advisors
This week BIG and Urban Omnibus published studio projects from Parsons School of Design students, whose design studio course, led by Bjarke Ingels and Daniel Kidd, was modeled on the Rebuild by Design brief and BIG's own researches. "Ideas generated by the students were to be held to the same criterion as our own," writes Kidd. "They must be plausible, and must do more than provide a utilitarian solution for the city. They must protect from floodwater while creating synthetic social relationships. The Army Corps can build a concrete wall. Design should be able to do much more." Urban Omnibus offers a great collection of diverse student work.
It's a stated goal of Rebuild By Design that federal or private funding streams will realize some of the winning projects.  This presents a high-profile opportunity to reframe architecture's identity in the national consciousness. It shows the discipline can address staggeringly complex problems with equal parts imaginative vision and scientific rigor. Rebuild by Design teams used architectural media to engage communities and solicit their feelings and input. No doubt HUD has before it now several well researched, meticulously envisioned conceptual designs for projects no local or state government could have commissioned on their own. Yet they have arisen through a democratic process. Criticisms have arisen, but alongside a wellspring of enthusiasm for the projects. It's likely that lives will change for the better.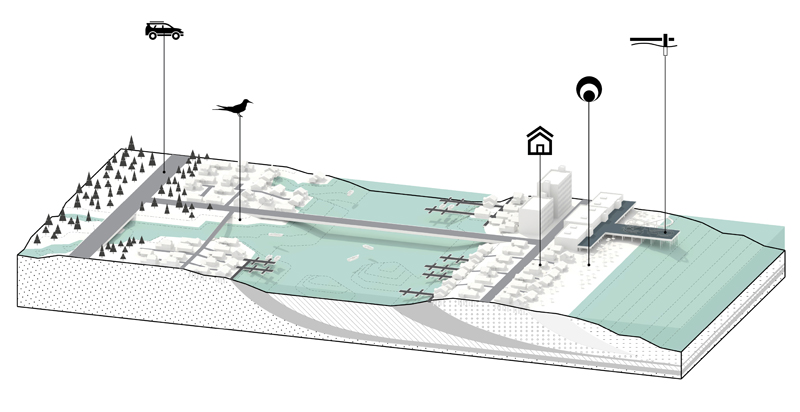 Resilience + Beach, courtesy of Sasaki/Rutgers/Arup
A feature in the latest issue of the Orion, "The City and the Sea" by Meera Subramanian, should make your weekend reading list ahead of the Rebuild by Design finale. It's among the most effective pieces I've read yet on New York and sea level rise. Subramanian describes the informal and professional efforts driving projects to make life more comfortable while also making it more secure. Dune forests planted with trees and beach grass. Bluebelt wetlands curated by community groups. Subramanian does visit SCAPE, where Kate Orff describes her oyster infrastructure and the reckless dredging that's destroyed the harbor's natural habitats. Eric Sanderson, creator of the Mannahatta Project, which rendered the island before Hudson's arrival, enters the comment, "Hurricane Sandy was a information coded in a storm."
If we can read the message, he says, we must act.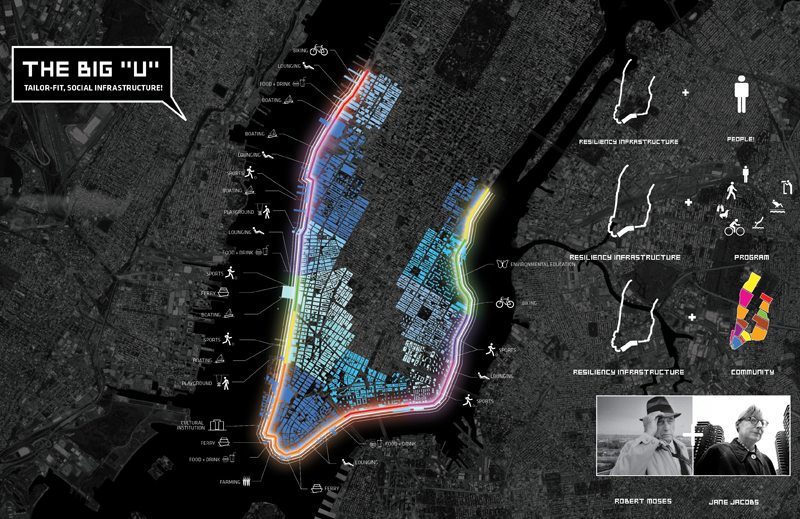 The Big U, courtesy of BIG.
"The City and the Sea" is a part of Orion's excellent "Reimagining Infrastructure" article series. Subramanian's writing reminds me that the subject of the Rebuild by Design competition is not the physical environment of New York City, natural or man-made. Designers must ultimately appeal to the imagination and aspirations of the millions of people who live and work each day in New York City.  This accounts for the widespread success of SCAPE and their oysters since they first debuted at MoMA's Rising Currents exhibition. Don't underestimate the appeal of invented stories and crafted images of climate change shown change at the human scale of nature.
Scott Geiger is the Architecture Editor for The Common. His fiction has earned a Pushcart Prize and a 2012 New York Foundation for the Arts Fellowship.