With AIMÉE BAKER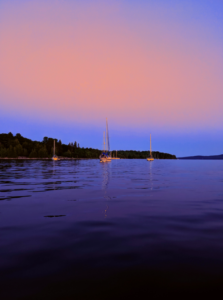 Your name: Aimée Baker
Current city or town: Plattsburgh, NY
How long have you lived here: Technically in Plattsburgh itself, 1 year. In the surrounding area, 30 years.
Three words to describe the climate: Bitterly cold, snowy
Best time of year to visit? Unless you can handle extreme cold, winter and second winter (also known as spring) may not be the best choice. We often get down to -20 to -30 wind chills here. The best time to come is during the fall when the hills and mountains turn red and gold with the changing leaves.
1. The most striking physical features of this city/town are . . .
Plattsburgh borders Lake Champlain, one of the bigger lakes in the United States at 120 miles long and 12 miles wide. It's so deep and large we have stories of our own lake monster, known affectionately as Champy, living in it. There's no bridge from our city to neighboring Vermont, so travel across the lake is done by ferry. The city is called the "Lake City," and in the summer months the water fills with recreational boaters, and in winter it's common to see people drive their vehicles out onto the ice to go fishing. At the same time, we've done much to ignore this resource. We have a sewage processing plant, storage units, and a McDonald's located along the shore, but public access, parks, and affordable recreation are largely overlooked.
We're also located just outside the Adirondack Park with the park boundaries just kissing the southern-most part of the city. This means we have amazing views of the Adirondack mountains from most of the city, and mountain hikes are just a short drive away.
2. Historical context in broad strokes and the moments in which you feel this history. . .
The history of our town is diverse and deep largely due to its position along a major waterway and the Canadian border. What we choose to celebrate here often ignores any level of complexity or contradictions. We hold up the French colonizer Samuel de Champlain for "discovering" the area, but ignore that these were Mohawk lands. We celebrate our French-Canadian heritage (many families here descend from a massive migration that pushed French-Canadians down into the United States in search of jobs and farmland), while we grumble about French-Canadian customers in our stores. We often talk about a postal mishap that changed our name from Plattsburgh to Plattsburg for a period of years, but don't wrestle with the notion it was founded by and named after Zephaniah Platt, a wealthy land-owner who enslaved two men.
With that, the city is passionate about celebrating its military history. Every year the streets fill with reenactors who mark the anniversary of the Battle of Plattsburgh, a pivotal battle in the War of 1812. The battle also established this area as an important military location eventually leading to the creation of an Air Force base (it's one of the few sites the US could land a space shuttle and it was one of four Atlas missile locations). The closure of the base in 1995, though, devastated the local economy.
But one of the ways I feel our history most palpably is when I pass by buses that stop just down the road from my house. These buses are carrying asylum-seekers: men, women, and children from around the world, countries like Venezuela, Haiti, and Nigeria. From the bus station they'll often catch a taxi adorned with signs that read "Roxham Road $60." Thousands of asylum seekers each year are bound for this dead-end road twenty miles to the north that's become an irregular border crossing. Plattsburgh serves as a stopping and rest point before they face the walk over the border. As the biggest city near this part of the border, I think often of its important position on the underground railroad and how many in our communities worked to get people to safety over the border before the end of slavery. That work continues now with groups focused on getting information, resources, and supplies to refugees in the hopes of easing their journey in any way possible.
3. Common jobs and industries and the effect on the town/city's personality. . .
Like a lot of small eastern towns and cities, our universities are some the biggest employers. Plattsburgh is the home to a four-year college, the State University of New York, Plattsburgh, and a two-year college, Clinton Community College. And like a lot of small eastern towns, relations between the universities and locals can sometimes be strained.
Plattsburgh is located a short drive away from a maximum-security prison, so it's no surprise that a lot of people are employed by the prison. Clinton Correctional Facility, or Dannemora as it's known, was recently the focus of Showtime's Escape at Dannemora directed by Ben Stiller. The series was filmed locally and focused on two prisoners whose escape spawned a massive manhunt and put the prison and our town under the media spotlight. The escape and series were hotly debated topics, and it's impossible to mention either without hearing someone's opinion on it.
It's important to note that while we're building a reputation as a manufacturing town with everything from mass transit vehicles to packaging materials to Swarovski chandeliers being produced here, a large percentage of our residents work in minimum-wage service jobs. We're a town where poverty and struggling to survive are not uncommon.
4. Local/regional vocabulary or food?
It's impossible not to talk about regional foods without including two: Michigans and poutine. Michigans are perhaps close cousins of the Coney Dog, have no relation at all to the state of Michigan, and have been a regional food for close to 100 years. Though the origins of the Michigan are debated, it consists of a hot dog and bun covered under a meat sauce. From there add onions and/or mustard depending on your preference. Variations include which order each of those items goes in with some adding mustard to the bun first and some "burying" the onions beneath the sauce or under the hot dog. Local eateries often have their own versions of the Michigan with several Michigan-focused places opening up just for the summer months, and just about everyone has an opinion about who serves the best in town. Poutine is also well-loved here because of the city's French-Canadian influences and heritage. The thick fries covered in cheese curds and gravy are popular throughout Quebec and northern New York, so they appear regularly at area restaurants.
5. Local political debates frequently center on . . .
Economic development. We're experiencing a declining population, but there are not enough jobs in a wide range of fields to keep younger people here or to attract new people to the area. With fewer residents, it's harder to maintain services, develop new opportunities, and transform our region. Recently, Plattsburgh was awarded a 10-million-dollar Downtown Revitalization Initiative grant through New York State. Meant to transform the heart of our city through various programs and development, the grant has, instead, proved to be divisive with plenty of opinions being thrown around about how and where the money should be used. At the core of the issue, though, is whether or not the projects selected are community-driven and supported. And what most of us want is to feel like the right decisions are being made to make certain our city survives and thrives.
Aimée Baker is the author of the poetry collection Doe (University of Akron Press 2018) and teaches at the State University of New York, Plattsburgh where she is also the Executive Editor of Saranac Review.
Photo by author.