With JAQUIRA DÍAZ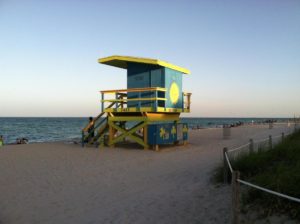 Your name: Jaquira Díaz
Current city or town: Miami Beach, FL
How long have you lived here? I grew up in South Beach, and I've been back here (in North Beach) for about a year. But most of my immediate family lives in Miami, and I've been leaving and coming back since I was 19.
Three words to describe the climate: tropical, hot, frizzy
Best time of year to visit? It really depends on what you're looking for. In Miami, it feels like we have ten months of summer, one month of fall, one month of spring. And (sometimes) like two days of winter. December through February is a little cooler, but you can still spend Christmas on the beach, and you can catch Art Basel, the Food and Wine Festival, and the International Boat Show. If you don't mind sweltering heat and want to get a tan, come in the summer. If you're into hip hop and want to dance (and don't mind the traffic) come in May for Urban Beach Week. If you're a poet, come in April for O, Miami. If you're a reader or writer, come in November for the Miami Book Fair. (But we have art and literature and dancing and the beach all year.)

1) The most striking physical features of this city are . . .
I'm speaking of Miami Beach here—not Miami, which is across the bridge—but the beach is #1 on my list. White sands, crystal clear waters, kite surfers, jet skis, the boardwalk, palm trees, rollerbladers, the breeze, the sun shining as you ride your bike. I live two blocks from the beach and am there almost every weekend. There's always something happening, even at night. Once a month, North Beach locals celebrate the arrival of the full moon with drum circles and fire dancers. There's lots of music and dancing and chanting, lots of booze and weed, and sometimes sex.

2) Historical context in broad strokes and the moments in which you feel this history. . .
Although I grew up here, my Miami Beach was not like it is today. I was here during the city's urban blight, just after the Mariel Boat Lift, when it was still a ghost town. A lot of abandoned, rat-infested buildings. A lot of drugs. We were the murder capital of the U.S., during and right after the Miami Drug Wars. This was the 80s, before the modeling agencies and expensive restaurants, before the city's emergence as a gay mecca, before it became the tourist destination it is today. Back then Miami Beach was a mix of Hasidic Jews, Latinos, Haitians, white-haired retirees, and the working poor who lived in the run-down Art Deco slums. The models and musicians and talent scouts steered clear of our neighborhood unless they were looking to buy dope. Miami Vice was in production at the time, and they'd take these crumbling buildings and fix them up just for the show. Then investors started coming in, started buying and renovating the Art Deco apartment buildings and historic hotels that had flourished during the Beach's golden years. Little by little the city was transformed.
There's not much left of the Beach of my childhood (although it's still the most diverse place I've ever lived). You can almost get a feel for its history when walking down 5th Street, where, in the 1960s, Muhammad Ali trained at the 5th Street Gym. Or when cruising up Ocean Drive, where the historic Art Deco District is located, and where Casa Casuarina, Gianni Versace's iconic mansion, still stands (and where tourists wait in line for their chance to take a picture on the same steps where Versace was murdered).
One of the only spots left of 1980s Miami Beach is Puerto Sagua, a little Cuban restaurant on 7th Street and Collins Avenue, where you can still get a croqueta preparada for a decent price. The place hasn't changed—the counter looks exactly the same, the tables are the same old varnished wood, and the walls are still wood-paneled and greasy. It's like walking right into 1987.

3) Common jobs and industries and the effect on the town/city's personality. . .
Tourism is the principal industry on Miami Beach, so most jobs on the Beach are service industry jobs. Most people work in retail, hotels, restaurants, bars. While restaurants in North Beach are fairly reasonable, a vast majority of South Beach restaurants (especially those on Ocean Drive) are ridiculously overpriced, so locals tend to think of them as tourist traps and mostly avoid them.
The past few years have also seen a boom in construction all over Miami Beach as more and more high-rise hotels and residential buildings have gone up. Hoteliers are doing pretty well—the city has some of the highest hotel rates in the country, and many of the old hotels have undergone renovations or are currently being gutted or resurfaced, which accounts for most of the construction on the Beach. There is also street rebuilding, infrastructure and drainage system upgrading, you name it.
We get a lot of people coming from the mainland to work here, either in hotels or construction. The pay is so low (and cost of living on the Beach is generally high) that they can't afford to live here. Also, a lot of the people who live in the very expensive neighborhoods don't work on the beach—they tend to work in finance, in Downtown Miami or Brickell, or have jobs in the medical industry.

4) Local/regional vocabulary or food?
There are some foods that are considered iconic Miami, like pastelitos de guayaba (a flaky, sweet puff pastry, kind of like a turnover, filled with guava and sometimes cream cheese), Cuban sandwiches (Cuban bread, ham, roasted pork, Swiss cheese, pickles, mayonnaise and mustard, pressed and hot and melty and delicious), and Cuban coffee, which is like a super strong sweet espresso. You can get Cuban food pretty much everywhere here, but Miami doesn't have what you might call a local or regional cuisine. Miami Beach is very much a transient city, and so is the food here. You'll find a diverse population of immigrants from almost every country you can imagine, especially Caribbean and Latin American countries, and the food here reflects that.
Native Miamians are like unicorns. Since most people here come from somewhere else, they bring their cuisine with them. Most of what I cook is Puerto Rican food—lots of lechon, arroz y habichuelas, arroz con gandules, mofongo. But I've also picked up a little something from other cultures: I make café Cubano every weekend, every once in a while I make Colombian arepas, Nicaraguan queso frito, Haitian griot, and I always have Dominican beer in the fridge. This is common in Miami.

5) Local politics and debates frequently seem to center on . . .
You can go anywhere in Miami or Miami Beach and people are talking about Venezuela. Or Haiti. Or Cuba—especially after President Obama moved to normalize relations with Cuba. Miami locals are also talking about the need to improve public transportation, educational inequality, lack of jobs, parking on Miami Beach, and low incomes. Miami's poor are very, very poor, and the city is one of the worst in the U.S. in terms of income inequality. Lack of affordable housing is also a problem, especially in downtown Miami and Miami Beach. The poor are continuously displaced.
Jaquira Díaz is the editor of 15 Views of Miami (Burrow Press), and her work has appeared in Kenyon Review, Ploughshares, The Sun, and elsewhere.