1.
We know that they are coming, but we don't know when. The glass is smeared with brown dust, and some have complained. We may have been among the complainers.
The first sign is the hand mop dropped down from a higher floor. Dangles there, on the other side of the window pane, like a body part. Next a bucket tilted with supplies—more cloths, squeegees—and a cluster of bottles filled with fluid heavily knocking each other.
Then come the men, rubber boots first, dropped from above like coveralled angels. Harnessed in rope, the tension bounces them gently in the air, then not so gently, seventeen floor above the earth. The buckets and bottles are all tied to the men, to their middles. There are three of them in blue, topped in yellow hard hats. Each one commandeers a pane: arms reach out, rag doll limber, a foot kicked to the side for balance; booted toes press against the glass for leverage. There is no breeze but still they sway under their own weight and propulsion. Gravity has never been so apparent.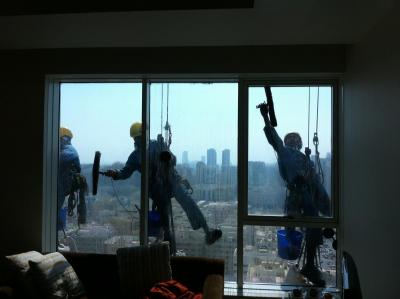 Smudges gloss away under their hands, the grease of their pointed elbows. Already they have washed more than thirty floors of windows. It takes them maybe five minutes to wash ours. Behind and below them is the butter mosque; straight back and to the sides—all around—the blocky concrete low-rises. Sky is nothing but sun; not yet the season of clouds.
A friend recently told me about her stepdaughter who's living in China. When she called the air conditioner repair man, he declared he had to climb out the window and cling to the skin of the building to make the fix. He wrapped one end of the rope around himself, tied a knot, and handed her the other end: Hold this. Terrified, she refused, so he called his wife, who tossed her husband out the window with ease.
2.
Cutting diagonally across the parking lots behind the mosque, through the streets of tailors and tiny groceries, past Abu Waqas, where every day a thin, bearded man perches over a pit oven and slaps into its scalding sides oiled naan as large as two dinner plates, I reach the Madenat Zayed Fish and Vegetable market. The market's squat, glowering form is dismaying. Inside, the stalls and floors are clean-swept, neat, and utterly lacking in charm. I go there for the fish—extremely fresh, good variety, all laid out on shiny beds of ice. Once there, I'm loathe to make a second stop at Lulu, the hypermarket another five minutes away. I shop on foot, carrying my goods in a backpack and reused plastic sacks.
The vegetable vendors look bored, slouching in doorways or resting on haunches with their backs on the cold walls. There's a man I avoided during my first market visit, back in sweltering late August. Broad-shouldered in a worn blue shirt, gray-haired, a lazy eye and missing front tooth—like an aged boxer. I was afraid of falling prey to him. The market does not bustle in the late afternoon; the real housewives and employed cooks have presumably already been. I long for the markets of Mexico, where I speak the language and the vendors are mothers and girls.
But today the big man's eggplants appeal—lushly purple and tight-skinned. Under his one good, watchful eye, I fill one after another plastic produce bag: eggplants, squash, lemons, parsley, cilantro. I tie them all up and carry them to the scale inside the stall, elbowing apples from China, pears from Turkey and the US, oranges from Spain and South Africa. Some very sorry celery. But instead of weighing the bags, the big man sets them aside and makes a thick-fingered gesture showing that he's estimating and giving me a good deal.
Before unfurling my change from the wad in his pocket, the big man asks where I'm from. I've been dreading this question. It's a few days after September 11, and violent protests against the American video mocking the Prophet Mohammed have flared in Cairo, Benghazi, Baghdad, and nearby Doha, to nearly twenty countries in the Middle East, North Africa, and Asia. All these regions are represented by vendors at the market. Nothing at all has erupted in the UAE, and no one thinks anything will, but I'm nonetheless feeling skittish.
Canada, I say.
Oh, Canada! He is "Irani," he says; his uncle lives in Canada. His uncle is an electrician. The big man repeats something about babies and a husband, by which I keep thinking he means "wife." Also, something about 25 years and "too much Iran in Canada." Then he asks if I've seen "too many" Iranians in Canada, and I think—If I were Canadian, would I have seen many of his countrymen? How would I know them? Building on this absurdity, I have a parallel, ridiculous thought: the previous week I'd told another vegetable vendor, a man from Kerala, India, that I was American, and what if the two vendors compared notes and determined, correctly, that I was a liar?
Meanwhile, the fish I've paid for is being cleaned. The previous week I panfried Sultan Ibrahim (pink-backed, white bellied: tender, white, flaky, delicious) but the bones were annoying small, so today I selected a wider, fatter fish, a kind of sea bream. A giggly, Filipino man in blue with chin-length hair, helped me pick them out—tugging at the pink gills to prove freshness. Fillet, I said, to the red-coveralled fish cleaner in the back. No head, no tail, no guts, no scales, no bones. Skin, he asked? He held up the fish and I saw that it was skinnier than I'd thought—if he tried to take the skin off we'd be left with nothing. Anyway, I like the skin.
The confusion comes, as it always does, when I cycle back, weighed down with vegetables. This is when I pay for the cleaning. I ask how much, and the Indian man in red shrugs and says It's okay, madam. Inside me, something unwinds. I don't want to negotiate, I want to know the price. The rules, what are the rules? What he said, the way he said it, could be construed as a desire to give something away for free, as in, It's okay, I don't need your money. But clearly he needs the money. It occurs to me he has no wage, is paid only in tips. Seeing my confusion, my paralysis, another red-coveralled man jokes, one hundred dollars, and we all laugh. But it doesn't help. Finally I give him ten dirhams, which he accepts with no noticeable change of expression. I leave with my carved-up sea bream, my Iranian-sold eggplants, all secure on my back but, inside, torn up and made insecure by these smiling, well-meaning men. Markets are based on relationships, and I don't know if I have it in me to make these work.
Back onto the steaming asphalt, I wonder if next time I'll go to Lulu, where prices are set and the fish looks day-old.
3.
There's a bus stop on the walk between our apartment and the downtown campus. Apart from the shred of shade loaned by the wall rimming the Qasr al Hosn construction site, it's the only respite from the sun along the way. One day in late September I see two white signs taped to its wall:
BED SPACE AVAILABLE: RADO Building.
Handwritten in blue marker underneath are the words "Indian only"
SALOON/ROOM/PARTITION and BED SPACE available by end of OCTOBER: FILIPINO only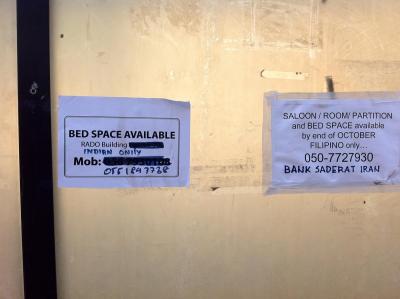 These signs are the answer to the natural question so many back-home friends think to ask: Are you learning Arabic? Here we are such a hode podge, Arabic wouldn't help. The signs remind me that eighty-five percent of us are migrants looking for people to share the cost of our lives.
A month later, the weather has turned gorgeous, as promised. It is a beautiful thing, this fulfilled expectation. The sound aahhhh actually makes itself heard in my head when I step outside, on the way to campus.
On the wall of the bus stop, a sheet of paper, peeling up at a bottom corner, catches my eye. Strips of dried tape from the older signs streak next to the new sign.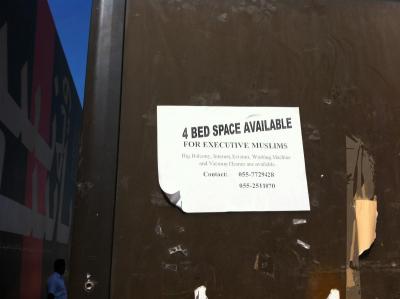 4 BED SPACE AVAILABLE.
Big balcony, Internet, Evision, washing machine, and vacuum cleaner.
Two mobile contact numbers.
But this sign has a phrase I don't understand. The solicited roommates must be "Executive Muslims."
I ask a Muslim acquaintance what this means. Round-faced, older than she looks, I'm told, she wears the most elegant abayas I've seen—richly embroidered turquoise or deep magenta framing her face and the cuffs. She is not from the UAE but attended school here. "That's awful," she says, and covers her mouth with her hand, a smile creeping out from behind. "Only in Abu Dhabi." "What does it mean?" I ask. "Professionals, people with certain jobs?" "It doesn't mean anything," she says. "There's no such thing." "But…" I protest. There's something she's not telling me. Something she knows she can't bear to betray.
The exchange repeats over email. I send her the photo, and she writes, "Omg that is BAD!" I, persistent, humorless: What does it mean? "Impossible," she responds immediately, "there is nothing called executive Muslim."
4.
In 2017, an inward- and upward-sloping collection of sheer walls and boxes of varying desert colors will be erected on the city's Saadiyat Island. Its footprint of reclaimed earth already juts into the sea. Designed by Frank Gehry, the building will house an international art collection that moves "beyond a definition of global art premised on geography" and will be the world's fifth Guggenheim museum (after New York, Venice, Bilbao, and Berlin). Just kilometers away is the "floating dome" of the Louvre Abu Dhabi (created by Jean Nouvel); the Zayed National Museum celebrating local and regional history through the story of Sheikh Zayed, father of the UAE; the Performing Arts Center (fantastical winged design by Zaha Hadid); and the Maritime Museum (glossy pyramidal sail shape by Tadao Ando). These architectural wonders, fitted within a deliberate cultural district, will "attract the world to Abu Dhabi and take Abu Dhabi to the world." Other island districts include the marina, for "work-live-play," in which the only thing going at the moment is the in-progress permanent campus of NYU Abu Dhabi; elsewhere on Saadiyat will be residential beach and lagoon districts populated with extreme luxury villas, and, at the narrow far end, a "retreat" district featuring specialty spa services. For those tired out from beach and lagoon living, presumably.
A spare, white exhibition space called Manarat al Saadiyat displays the island's development plans: Sheikh Zayed smiles calmly, idealistically, into the face of the falcon on his arm; quotes in Arabic and English are strewn across walls (where golden sands disappear into turquoise waters); a video with a cloying musical track repeats continually. We read the fine print, exclaim over the museums, then wander outside into the sun wondering how much money we'd have to make to live in this glorious land of the future.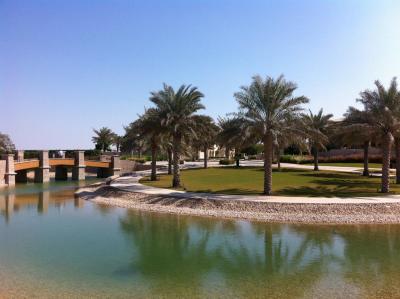 Our friends' three-year-old races ahead on his scooter. The promotional music follows us as we follow him over a bridge, over a rock-banked lagoon and meander into, just because it's open, a 14,000 square foot, six-bedroom, three-kitchen model villa, all gleaming marble and polished wood; a woman in a maid's uniform is polishing the silver in the dining room. Bedrooms have their own porches and peer into private, manicured lawns. What would we give up of our messy American lives to exist in this serenely beckoning paradise?
The next weekend, on the beach just beyond the villas, my husband and I will see a school of dolphins swimming so close to shore their fine, rubbery mammalian skin is palpable to our itching, shore-bound fingertips.
5.
The day before we see the dolphins, I go for a walk along the Corniche, looking around at the middle-aged Indian couples taking exercise, young and single Pakistani men loosely holding hands, lime green municipal workers picking up trash or watering hard blades of grass. Some of us wanderers sit on a bench under a wedge of canvas shade and look out on the green water. Kids on wobbly bikes screech in languages I should recognize by now. Traffic whisks by behind us.
On the way back to the apartment, I step over a fallen, eviscerated lamp: broken in half, its wires spill out top, middle, and bottom. It's been there for months. Just beyond, on a tiny patch of flattest concrete, is an eager grouping of Pakistani men in shalwar kameez. Some are bearded, some clean shaven. They shout when the ball is pitched or the cricket bat swung. I have to hurry through the outfield to reach my destination. This improvised play space makes me smile, and I'd love to stay and watch—I do even venture a brief smile at one of the outfielders, but immediately think better of it and retract, look away.
6.
The shouts of the cricketeers, the worrying thumps of the window washers' boots against glass, the infectious giggle of the Filipino fish guy, the slurred speech of the Iranian vegetable vendor. All these men, I remember their voices, though the voices do not come first in memory. First I see their colored coveralls, their wall-eyes; it seems, at first, that in retrospect I do not hear. But then the memories unscroll more fully, and they speak to me, but underground, subliminally. I have to press down hard on the memory, hard enough to crack it and allow the sound to seep through.
And when the voices come, and I do not understand them, I know again—and again and again—what is easy to forget in the solipsistic disorientation of the every day: We are all uncomfortable here, we are all from somewhere else. We are all watching each other. Cuttings, that's what we are, in the fierce imagery of Theodore Roethke's poem.
"Cuttings"
This urge, wrestle, resurrection of dry sticks,
Cut stems struggling to put down feet,
What saint strained so much,
Rose on such lopped limbs to a new life?
I can hear, underground, that sucking and sobbing,
In my veins, in my bones I feel it,–
The small waters seeping upward,
The tight grains parting at last.
When sprouts break out,
Slippery as fish,
I quail, lean to beginnings, sheath-wet.
We lean and quail, toward and away—I with my shuttering eye and one ear picking up the faint, distraught echo of roots.
Jennifer Acker's monthly essays "From the 17th Floor" are in conversation, directly or slant-wise, with contributor Martha Cooley's Italy series "From the Stone House." Together the two writers reflect on their recent physical and mental travels, on displacement and (re)settling, on explorations and discoveries that excite or discomfit, and, naturally, on literature and other arts.
Jennifer Acker is the founding editor of The Common.