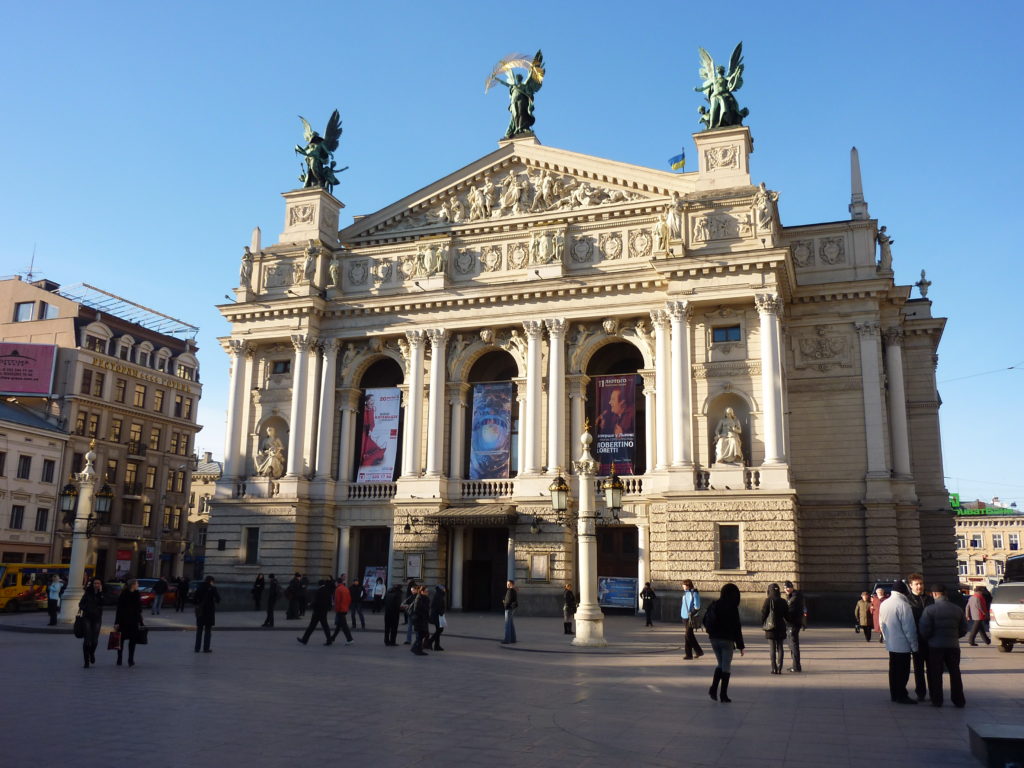 A marshrutka is kind of a bus but mostly a van, and at full capacity it can carry 10 people from Brody to Lviv. There were 20 passengers in the marshrutka that day. Garrard looked at me and got a thin paperback novel out of his satchel. "It will be at least two hours on this shrutskie today for sure," he said. He stood hunched over the van's middle seat and then asked if I wanted some pills.
Garrard is a friend who will stand for two hours so that I can sit. Ours is an intimate friendship wherein I can blindly trust the handful of mystery pills soaked in his palm sweat he gives me. I swallowed the damp pills, a metallic taste lingering on my tongue.
I stopped caring about seeing La Traviata and began to care more about reaching someplace, any place. A place with water and wine and maybe some French fries.
Our driver seemed unconcerned with the rules of the road, and I was lucky to be near the window. At least I'd have a decent view while dying. Or maybe I'd fly out onto the street and only suffer some cracked bones. Garrard would probably burn up in the middle of the shrutskie or die after being concussed by the falling farm equipment stowed up above. I pressed my forehead against the glass and watched unspoiled Soviet rows of trees pass by, along with burnt out synagogues, concrete block buildings, and endless fields of sunflowers, the Ukrainian flag. Blue sky above. Yellow sunflowers below until we finally stopped for real.
I had started that day wearing my best dress for the opera. When we arrived, I was sweaty, thirsty, and trying to shake the last little bit of chemical fog. Garrard and I walked around the square where we encountered a black pot-bellied pig with a red bowtie around his neck strolling by us. The pig seemed a free man. He travelled in a straight line, and I began to imagine him going to the opera too. I hoped he'd sit beside us. I hoped he'd brought opera glasses. I hoped he'd look up at me and translate the Italian into Ukrainian so that Garrard could then translate the Ukrainian into English so that I could understand. We'd all have a laugh at the magic and mysteries of language and go out for drinks afterward, but the pig kept walking down the road, and Garrard and I turned in the opposite direction and then climbed the steps up to the large doors of the opera house.
The building was gilded, constructed in the neo-renaissance style with statues of muses lifting the roof on their shoulders to let us in. The opera house was built on a river and on quiet nights, you can hear the pulse of the Poltva's water rushing beneath the orchestra pit. I didn't believe this at first until I heard it for myself, and I imagined a small band of builder men feeling pleased with themselves for diverting the Poltva's raging waters below and how one day the waters might become resentful and burst open the stage sending tuxedoed violinists and opera singers and even Violetta herself (dying of tuberculosis) flying up into the audience on roaring white waves tired of being stifled by each season of productions. In the commotion, the statues of the muses would let go of their poses and no longer be able to hold onto the upper levels, and I'd be washed away or crushed, left to shout the only Ukrainian word I had managed to hold on to, "Dobre!" which means "good" and would not be very useful at all.
I reasoned the river threat away and watched and listened to La Traviata so that people around me would think I was following along, but of course I had no understanding except for the synopsis that I'd looked up before we left Brody. The Ukrainian translations scrolled across the screen, but even the word "dobre" had no meaning for me in its Cyrillic alphabet and not spelled in its English phonetic. Garrard's eyes were unblinking. One of us mentioned something about being a little hungry. One of us agreed. So we walked the streets of Lviv until we found a place with cheeseburgers and retreated back into the language that only we two knew how to speak.
Amber Louise Hood's nonfiction has been featured in Tales from the South, including the Best of Season 9 Tales from the South show. This summer she completed a writing residency at the Studio Maelor in Corris, Wales. She currently teaches literature at the American College of Sofia.
Photo by Flickr Creative Commons user Ferad Zyulkyarov.