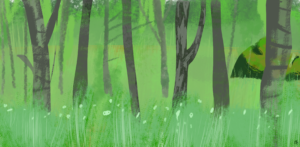 Stockbridge, MA
I'm of a tautness,
as if some part of me
is further stretched
than where my outline
ends. The baby
is not sleeping,
the cord is cut
but finds its way back—
by this hook her foot
is the limb through which
I reach the world.
She sticks it out
and pulls her clothes
tight. Her clothes,
my skin, plead a tent
to hold her in.
Erica Ehrenberg's poems have appeared in anthologies and journals including The Paris Review, The New York Review of Books, Slate, The New Republic, Everyman's Library Pocket Poet Series, Guernica, Harvard Review Online, The Mississippi Review, The Bennington Review, and The Los Angeles Review of Books Quarterly. She has been a Wallace Stegner Fellow in poetry at Stanford, and a poetry fellow at the Fine Arts Work Center in Provincetown, and is currently in training to become a Psychoanalyst at the National Institute for the Psychotherapies.
Drawing by Mike Tarnowski.