Listen on Google Podcasts.
Transcript: Noor Naga Podcast.
Noor Naga speaks to managing editor Emily Everett about co-editing The Common's first-of-its-kind portfolio of writing from the Arabian Gulf, which appeared in Issue 22. Noor penned an introduction to the portfolio, titled "Who Writes the Arabian Gulf?", which explores her experience growing up in the Gulf with no real contemporary literature written for, by, or about that diverse population. Noor discusses her idea to create the portfolio, what she enjoyed about assembling it from submissions, and what themes unite the pieces that became part of it. She also talks about her forthcoming novel from Graywolf Press, and why an earlier novel didn't find a home in publishing.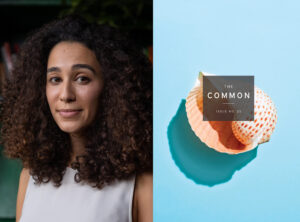 On writing her introduction to the Arabian Gulf portfolio:
"This introduction was my attempt to give voice to some of the questions that have been piling up in my mind over the years, which came to a head with this portfolio. These questions have to do with who gets to be included. It's a question that's especially pertinent in the Arabian Gulf because of how unique the demographic in the region is. You're looking at populations that are migrant-majority, where the majority of the population is legally very transient, vulnerable. In some cases up to 85% are not citizens. This includes people who might have been living in the gulf for generations. It's also a relatively new phenomenon because these countries themselves are relatively young. 
Part of the problem is that, because these are such diverse populations, English has become an unofficial lingua franca. It's how people from all over the world who live here can communicate. It makes sense to begin thinking about what an Anglophone canon from this region looks like, but then you run into the question of how long you have to be here to represent this place, or to want to be represented by this place."
On what themes emerged in our call for submissions from the Gulf:
"There was a very obvious anxiety about home and belonging, and many themes of alienation and claustrophobia. They're often polar opposites, like this feeling of entrapment in Tariq al Haydar's story, which is all about the feeling of being trapped in Riyadh. It's about being stuck there and having all these fantasies about alternate futures that might be possible in other places, especially in terms of romance, what is possible for love or marriage. I found this theme of claustrophobia sprinkled throughout the work, alongside themes of wandering and being sort of rootless and placeless."
On writing her first novel, set in Dubai:
"I spent five years writing my first novel. During that time I was really learning over and over again what it means to write a novel, but also what it means to set a novel in a place where I'd never seen it done at the time. I'd never read a work of fiction that was set in Dubai. I'd read a couple of novels set in other Gulf countries, but I'd never read anything that was set in the UAE, and so I was really struggling to find language to describe basic things. Like certain architectural facets: they're ubiquitous everywhere, but I'd never seen them written, so I didn't know how to describe them. Then I was constantly coming up against feedback from my peers that they couldn't see the country that I was showing them because I assumed they'd be familiar with certain things and they weren't. It was a really dramatic crash course on writing without precedence, for a place or a setting at least."
---
Noor Naga is an Alexandrian writer who was born in Philadelphia, raised in Dubai, studied in Toronto, and now lives in Cairo. Her verse-novel Washes, Prays, which won the Pat Lowther Memorial Award and an Arab American Book Award, was published by McClelland & Stewart in 2020. Her debut novel If an Egyptian Cannot Speak English won the Graywolf Press Africa Prize and is forthcoming in April 2022 from Graywolf Press. Read her essay in The Common at thecommononline.org/who-writes-the-arabian-gulf.
Read more from Noor at noornaga.com, or follow her on Twitter @noor_naga.
The Common is a print and online literary magazine publishing stories, essays, and poems that deepen our collective sense of place. On our podcast and in our pages, The Common features established and emerging writers from around the world. Read more and subscribe to the magazine at thecommononline.org, and follow us on Twitter @CommonMag.
Emily Everett is managing editor of the magazine and host of the podcast. Her stories appear in the Kenyon Review, Electric Literature, Tin House Online, and Mississippi Review. She holds an MA in literature from Queen Mary University of London, and a BA from Smith College. Say hello on Twitter @Public_Emily.