Listen on Google Podcasts.
Transcript: Romeo Oriogun Podcast.

Romeo Oriogun speaks to managing editor Emily Everett about his poem "The Sea Dreams of Us," which appears in The Common's fall issue. In this conversation, Romeo talks about his life as a poet in exile from Nigeria, and how that experience of exile appears in his poetry. He also discusses his writing process, the themes he often returns to in his work, and how growing up in Nigeria affects his use of language in poetry.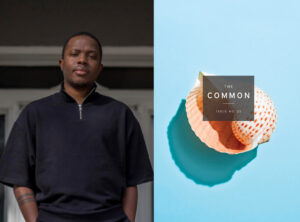 On writing in the West African tradition of storytelling as a way to preserve history:
"I'm always looking for that tender moment in a poem, that moment that always surprises you, that sudden turn. When I'm writing a poem I'm asking myself, at what moment do I realize that what I'm writing is not just history, but something I also carry within me."
On religion and finding home as a theme in poetry:
"I didn't grow up with religion. I encountered religion for the first time when I was eleven. The question of whether there's a god or no god doesn't interest me. What has always interested me is the rituals, of all religions. I'm curious about how human beings worship, and how we speak to the things we worship, and that language. I'm in the process also of discovering that language. For me that's the curiosity I have about the world. It's how people find home. 
This is just my thinking—I don't know if it's correct—but sometimes religion is a way of looking for home, or rediscovering what we think is home. And as someone who, all my life, I've always felt I never belonged to a place, it speaks so deeply to me. When I write a poem, no matter what the theme of the poem is, the question has always been, what is home?"
---
Romeo Oriogun is the author of the 2020 poetry collection Sacrament of Bodies. A finalist for the Lambda Literary Award for Gay Poetry, he has received fellowships and support from the Ebedi International Writers Residency, Harvard University, the Hutchins Center for African and African American Research, the Oregon Institute for Creative Research, and the IIE Artist Protection Fund. An alum of the Iowa Writers' Workshop, he currently lives in Ames, where he is a postdoctoral research associate at Iowa State University.
Read Romeo's poetry in The Common at thecommononline.org/tag/romeo-oriogun.
Hear more from Romeo in this interview with Arrowsmith Press on YouTube.
The Common is a print and online literary magazine publishing stories, essays, and poems that deepen our collective sense of place. On our podcast and in our pages, The Common features established and emerging writers from around the world. Read more and subscribe to the magazine at thecommononline.org, and follow us on Twitter @CommonMag.
Emily Everett is managing editor of the magazine and host of the podcast. Her debut novel is forthcoming from Putnam Books. Her stories appear in the Kenyon Review, Electric Literature, Tin House Online, and Mississippi Review. She holds an MA in literature from Queen Mary University of London, and a BA from Smith College.