Wyatt Townley speaks to managing editor Emily Everett about her poem "Instructions for the Endgame," which appears in The Common's spring issue. In this conversation, Townley talks about experiencing poetry in all parts of her life—in dance and yoga, in astronomy and physics, and in nature. She also discusses her time as Poet Laureate of Kansas, the pleasure of revising poems, and what it's like seeing her work performed as an opera.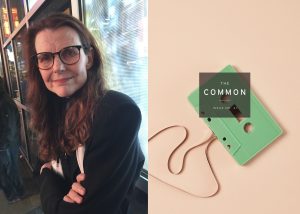 Wyatt Townley is Poet Laureate of Kansas Emerita. Her books include four collections of poetry: Rewriting the Body, The Breathing Field, Perfectly Normal, and The Afterlives of Trees. Wyatt's work has been read on NPR, featured in American Life in Poetry, and published in journals ranging from New Letters to Newsweek, North American Review to The Paris Review, Yoga Journal to Scientific American. Formerly a dancer, Wyatt has developed and trademarked her own yoga system, Yoganetics, now practiced on six continents.
Read Wyatt's poems in The Common at thecommononline.org/tag/wyatt-townley.
Read more about Wyatt Townley, her poetry, and Yoganetics at wyatttownley.com.
If you require a transcript or other accessible format, please contact us at [email protected].
The Common is a print and online literary magazine publishing stories, essays, and poems that deepen our collective sense of place. On our podcast and in our pages, The Common features established and emerging writers from around the world. Read more and subscribe to the magazine at thecommononline.org, and follow us on Twitter @CommonMag.
Emily Everett is managing editor of the magazine and host of the podcast. Her stories appear in the Kenyon Review, Electric Literature, Tin House Online, and Mississippi Review. She holds an MA in literature from Queen Mary University of London, and a BA from Smith College. Say hello on Twitter @Public_Emily.