Listen on Google Podcasts.
Transcript: Steven Tagle Podcast.
Steven Tagle speaks to managing editor Emily Everett about his essay "Notes on Looking Back," which appears in The Common's fall issue. Steven talks about writing this essay, originally in Greek, as a way to explore his love of the language and the experience of learning, speaking, and writing in it. Steven first came to Greece several years ago as a Fulbright Fellow. He discusses his current writing project about borders and migration, and the time he spent visiting and getting to know a family in a refugee camp in Greece. Steven also talks about life in Greece—how friendly and welcoming Greek people can be to outsiders, and how the country weathered the pandemic. When he interned at The Common, Steven spearheaded the magazine's first podcast series.
Also discussed in this podcast: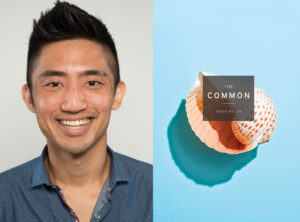 On coming to Greece to explore myth and retelling:
"Before I came to Greece on my Fulbright, I knew relatively little about the country. My idea of Greece was only the most basic things: the acropolis, Mykonos and Santorini, and then Greek mythology, which I've loved since I was little. The project that I proposed was to visit places in Greece related to Greek myths. That connected to my writing because when I did my MFA at UMass Amherst, I was thinking about how to retell Greek myths and fairy tales. How to queer them or explore other issues of identity that aren't covered in the originals. How to refresh them, how to renew them, how to use them to explore personal narratives in the metaphorical sense."
On writing for the first time in Greek:
"Until writing this piece, I'd mainly used Greek as an everyday tool to get by, to speak with people. But I hadn't tried to use the language in a more artistic and considered way. I had also always wanted to do some translation from Greek into English, or from English into Greek, I didn't think that I had reached a point where I could do that. But for some reason, using my own experiences as material for the essay made it easier for me to take that leap. It was that combination of things; it was an exercise to keep my Greek up, but also a way to connect to this country that I felt so indebted to."
On spending a week at a refugee camp in Greece:
"There was a makeshift day camp that an NGO had built. We went there for a week, and we helped out at the camp, spoke English with people, and participated in the activities offered. But we were also trying to speak with the migrants, learn about their journeys, and see what they had in mind for their futures: what their hopes were, and why they had decided to make this difficult journey. I took my camera there, and I took a lot of photos.
I was blown away by the way that these families would invite us into their tents, make us tea, offer us whatever food they had. Even though they didn't have much, there was this strong sense of hospitality. We were entering their homes. The space really did feel like a little home. We got to know this family really well. The nice thing is I was able to keep up with them throughout my Fulbright. When they moved to Athens, they were staying in an apartment not far from my apartment. I took the two kids out to see the new Star Wars movie."
On his current project as a Fellow for the Institute of Current World Affairs:
"I decided that I wanted to do a deep dive into Greece's borders, to get a sense of what life is like on the periphery. Especially on islands and in villages that border other countries, which have experienced trends of migration and mixing of cultures. Greece is in an interesting strategic place in the Eastern Mediterranean, at the crossroads of Europe, Eurasia, and Africa. Historically there's been a lot of movement across Greece. And because this is a writing fellowship, every month I publish a dispatch or an essay about something I've learned in my travels during the month."
---
Steven Tagle is the recipient of fellowships from the Institute of Current World Affairs, Asian American Writers' Workshop, Lambda Literary, and Fulbright Greece, as well as a Soros Fellowship for New Americans. A graduate of the UMass Amherst MFA, he has been published in the Los Angeles Review of Books, The Rumpus, Hobart, them, and Nea Estia. Originally from California, he now lives in Greece. Read his essay in The Common at thecommononline.org/notes-on-looking-back. 
Read more from Steven at steventagle.com, or follow him on Twitter @steventagle.
Also discussed in this podcast:
If you require a transcript or other accessible format, please contact us at [email protected].
The Common is a print and online literary magazine publishing stories, essays, and poems that deepen our collective sense of place. On our podcast and in our pages, The Common features established and emerging writers from around the world. Read more and subscribe to the magazine at thecommononline.org, and follow us on Twitter @CommonMag.
Emily Everett is managing editor of the magazine and host of the podcast. Her stories appear in the Kenyon Review, Electric Literature, Tin House Online, and Mississippi Review. She holds an MA in literature from Queen Mary University of London, and a BA from Smith College. Say hello on Twitter @Public_Emily.