Book by HANNAH GERSEN
Reviewed by KELLY FORDON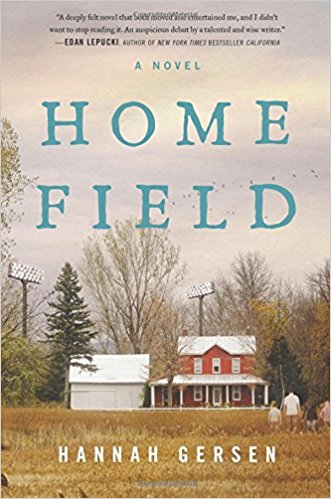 The publisher of Hannah Gersen's first novel, Home Field, is marketing the book as a cross between two TV shows about teens, Friday Night Lights and My So-Called Life.  My So-Called Life, an angst-ridden and artsy TV show about teenagers in the 90s, is a better comparison than Friday Night Lights,  which is about a high school football-crazy small town. But the teen-pop culture comparisons don't do justice to this empathic literary novel's reach into emotional depths that will resonate with seasoned readers, who appreciate how complicated even an ordinary life can get.
Yes, Home Field is set in an isolated town, Willowboro in western Maryland,  that's reminiscent of FNL's Dillon, Texas. And yes, Dean, the main character of Gersen's novel is a football coach, but he quits coaching football in the fourth chapter because his wife, Nicole, has committed suicide, and his family is unraveling. Gersen chips away at her characters' façades like a miner removing layers of rock. The novel alternates between Dean's perspective and that of his stepdaughter, Stephanie, but also follows Dean's two young son's Robbie, eleven, and Bry, eight, as they attempt to understand what happened to their mother.