Book by HARUKI MURAKAMI
Translated JAY RUBIN and PHILIP GABRIEL
Reviewed by EMILY GRECKI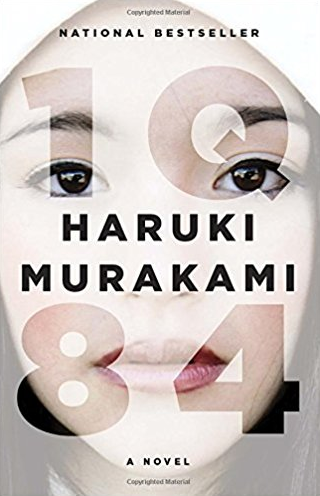 Haruki Murakami's 1Q84 is no meager feat. At nine hundred twenty-five pages, published as three volumes in Japan, two in the UK, and one here in the US, it is the grandest novel he has yet undertaken.
The novel primarily alternates between the stories of two characters, Aomame (the name means "green peas" in Japanese) and Tengo.
Aomame works as a fitness instructor, but is also a secret assassin. Originally motivated by the murder of a childhood friend, who died at the hands of her abusive husband, Aomame created a weapon that leaves no traces. She is recruited by a wealthy widow, who runs a safe-house for battered women, to use this weapon to take the lives of abusive men who cannot be incapacitated through other means. On the way to complete one of the widow's jobs, Aomame is forced to take a detour on foot off a traffic-jammed highway. After climbing down a rickety service staircase, Aomame realizes the world around her has changed. The policemen carry different weapons and there is a slaughter that she never remembers reading about in the newspapers. Two moons hang in the sky. She is no longer in the 1984 she knows; she dubs her new reality 1Q84.