Curated by SOFIA BELIMOVA
Is your summer to-be-read list getting sparse? Check out these exciting reading recommendations by TC's latest contributors, including vibrant poetry that explores identity and relation and two novels that dwell on strange encounters and liminal places.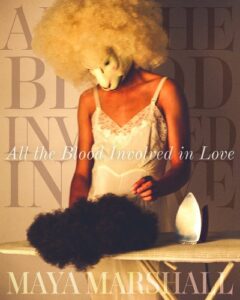 Maya Marshall's All the Blood Involved in Love, recommended by Susanna Lang (Contributor)
Those of us already familiar with Maya Marshall's poetry have wanted to see a collection for years, and her debut, All the Blood Involved in Love (Haymarket, 2022), is worth the wait. There are many poets writing now who focus on their identity, but they do not all have access to such rich language that lifts the concerns linked to her identity—Black, female, queer—to the level of poetry.