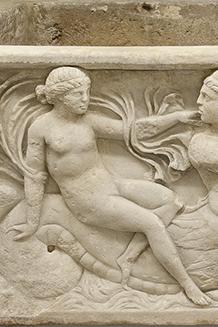 Today we're delighted to feature this close-up of a gorgeous recent acquisition by the Mead Art Museum at Amherst College.
Made in Italy of Carrara marble in the third quarter of the 2nd century CE, this ancient Roman sarcophagus features sea nymphs riding on the backs of sea centaurs while cupids fly overhead. It has "exceptional visual impact," says Pamela Russell, the Mead's head of education, "due to its impressive scale, lively marine subject, and pleasing symmetrical composition."
Originally used to hold the remains of 6- and 10-year-old siblings—brother and sister—the tomb bears a verse inscription from the grieving mother. The inscription, in addition to providing the names and ages of the two deceased children, also carries a four-line poem written in dactylic hexameter. Former U.S. poet laureate and double Pulitzer Prize winner Richard Wilbur translated this poem into four rhymed lines, tenderly conveying the mother's despair.
D                  M
LABERIAE ALEXAN
DRIAE QUAE ANN X
M V D VII ET SILVANO
Q AN VI M V D XIIII.
HOC IN SARCOPHAGO
GENETRIX DUO CORPORA
NATOS CONDIDIT INFELIX
SEMPERQ HABITURA DOLOREM
QUO SUPERAT VIVET VITANQ
MISERRIMA DUCET CONIUGE
PRAEREPTO GENITOR QUIBUS IPSE
MISELLIS.
To the departed spirits of Laberia Alexandria, who lived 10 years, 5 months, 7 days,
and of Sylvanus, who lived 6 years, 5 months, 14 days.
In this sarcophagus, two children lie
Whose mother's eyes shall nevermore be dry.
Her husband's gone, who sired these luckless dears.
His childless widow faces empty years.
Mead director Elizabeth E. Barker says that, considering how infrequently works that meet the strict criteria of the UNESCO convention concerning antiquities become available to museums, she is "gratefully amazed to have secured such a rare specimen for Amherst."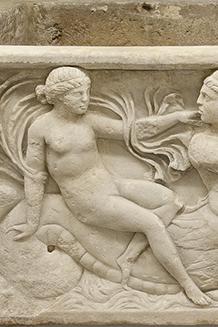 Sarcophagus with sea nymphs and sea centaurs, Roman, Antonine period, 165–180 CE, Rome, Carrara marble (close up)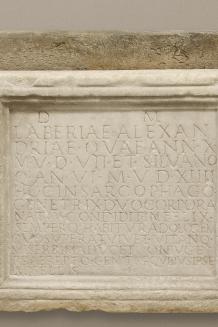 Sarcophagus with sea nymphs and sea centaurs, Roman, Antonine period, 165–180 CE, Rome, Carrara marble (full)