This interview is the sixth in a new series, Writers on Writing, which focuses on craft and process. The series is part of The Common's 10th anniversary celebration.
Read Richey's March 2020 Poetry Feature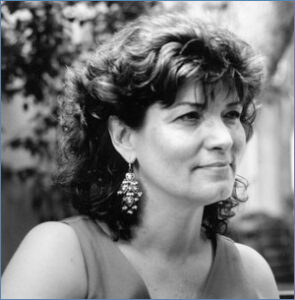 Frances Richey is the author of two poetry collections: The Warrior (Viking Penguin 2008), The Burning Point (White Pine Press 2004), and the chapbook, Voices of the Guard (Clackamas Community College 2010). She teaches an on-going poetry writing class at Himan Brown Senior Program at the 92nd Street Y in NYC, and she is the poetry editor for upstreet Literary Magazine. She was poetry editor for Bellevue Literary Review from 2004-2008. Her work has appeared in or is forthcoming from: The New York Times, The New York Times Magazine, O, The Oprah Magazine, Plume, Gulf Coast, Salmagundi, Salamander, Blackbird, River Styx, and Woman's Day, and her poems have been featured on NPR, PBS NewsHour and Verse Daily. Most recently she was a finalist for The National Poetry Series for her manuscript, "On The Way Here." She lives in New York City.
TC: Your poem in the March 2020 Poetry Feature, "The Times Square Hotel," tells the story of a very particular New York that isn't obvious to the eye of the tourist (or even, perhaps, to many New Yorkers). What about that place inspires strong feelings for you, and what led you to write the poem?
FR: I grew up and lived my early to mid-adult life believing I could never be homeless, never fall through the cracks, so to speak. There but for the grace of God, people say. Then I fell and learned firsthand how people who've been discarded live. Though I don't recommend it as a way to learn such things, I don't regret what I learned during that time I lived at The Times Square Hotel. How people who are poor, and/or sick, or mentally ill, are treated. How they die sooner than they would have because they often live in places where the attitude is: "You have black dust in your room? Pervasive mold? Listen, you're lucky to have a place to live at all." I paid rent, but many of my neighbors were almost entirely subsidized. I never allowed myself to think I'd be there to the end, which I knew was going to be the fate of many of the residents. The experience was humbling, harrowing, and eye-opening. Today, during this pandemic, we see many individuals and families falling into poverty for the first time through no fault of their own, losing their jobs, their homes, and in some cases, their sense of identity. In the midst of my own failures, and having to live with the consequences, writing about what I was seeing and experiencing saved me. The Times Square Hotel was the most egalitarian place I ever lived. We were all treated badly. No one was going to fix the ventilation, the absence of which was killing us, or clean the mold. Writing helped me to stay present and aware, to take on the role of witness rather than victim. Writing about the SRO (Single Room Occupancy), the neighborhood, and my place there, helped me to feel human and to see the humanity in my neighbors.
TC: The poem captures certain kinds of life trajectories for the people who populated the Time Square Hotel. How did you select which individuals to include in this poem? In other words, how do you find the balance between including powerful, telling details while avoiding overcrowding the poem with faces and images?
FR: Oddly enough, I didn't have a problem choosing the individuals and details I included in "The Times Square Hotel." There were six hundred rooms in the SRO, and over three years I came in superficial contact with many who lived there. In the poem, I focused on the people who touched me, scared me, and/or who had an impact on my living conditions. These were people I'll never forget, like the kid in the elevator who was dying of AIDS. I'd been a hospice volunteer during the worst of the AIDS crisis. Though I couldn't do anything to help Angel, he elicited in me the same feelings of compassion I'd once felt working with young men who were losing their lives so early. I wasn't afraid of being in the elevator with him. The pink sweat suit, his long black hair, his eyes—I can still see him. My neighbor across the hall with his two big dogs, all three of them crammed into a tiny room, was also unforgettable. I guess that's the key to my choices, that quality of indelibility. Those people and images are seared into my mind's eye. Over time, the poem went through lots of revisions, but the same people remained. The only way I know to find balance in a long poem like this, with so much detail, is to read it out loud to myself, to tape it and listen to it, as if it were someone else's poem, to put it in the drawer for a while, and then listen to it again. A trusted reader or two who will tell you the truth without being hurtful also helps.
TC: "After the Diagnosis" uses indentation and spacing to create a very unique shape on the page. For me, this layout created a kind of cacophony, feeling as though sounds were coming at me from different directions. Why did you choose to format the poem this way, and how do you see the layout of a poem on the page as influencing the meaning and experience of reading it?
FR: In "After the Diagnosis," I'm writing from the perspective of a middle-aged woman who has just been told she has a strange auto-immune disease that is still not fully understood. She may or may not be dying. She's living in a low rent SRO with a pleasant facade. It's a "sick" building, environmentally toxic because the rooms aren't ventilated and the neighborhood is gritty and filthy. The innards of the building have made her sick. She, like the building, is hiding her own dire circumstances by wearing an expensive dress she saved from her business days, before she lost her savings and most of her material goods. Basically, she's homeless, though trying to hide it from herself and others. And she's lost her youth and physical beauty. There are so many splinters and fractures in this woman's life that the poem almost has to be fractured as well. When I was laying it out on the page, I wasn't thinking about why I was laying it out that way. It just felt right. This person who is so broken passes the mirrored black box of a gentlemen's club and wonders about the girls inside who are dancing, being exploited, selling themselves. She wonders if she may have sold herself too, in a different way, when she was in business.
TC: Which poems or poets influenced you when you first started writing? Who influences you now?
FR: When I first started writing, I took some classes with Galway Kinnell, and I still go back to his poetry, particularly his early work, when I'm stuck. I don't remember when I started reading Larry Levis, but his poems changed everything for me as a writer. Winter Stars is one of my favorite collections. I could feel his presence in his poems, and I wanted to write like that. My poems don't sound like Levis's, but I think my poems are more alive because of what he taught me through his work. Others I read, when starting out in the early nineties, who influenced me: Jane Kenyon, Louise Gluck, Philip Levine. In college, when I had no idea that I would write poetry later in life, I loved Emily Dickinson and Robert Frost. My copy of Sylvia Plath's Ariel nearly fell apart. One of my treasured memories from childhood is my dad reading me "The Raggedy Man," by James Whitcomb Riley, at bedtime when I was 3 or 4. I loved that poem. When I read it now and hear its music, I can understand why a small child would love those sounds and rhythms. At nap time, my mother used to put on a grainy 78, and I listened to all the Mother Goose poems every day. I guess my parents started me on poetry early. Today there are so many wonderful new voices in the world of poetry. It's an embarrassment of riches. A list of poets who influence me now, or simply delight me, would go for pages; poets young and not so young.
TC: What advice can you offer about compiling and structuring a chapbook or book-length collection?
FR: Once I have enough work to envision a collection, I lay the poems out on the floor, and put them in an initial order. It's my intent to start with a poem that carries the themes of the book. I think of a collection as a universe unto itself, just as a poem is a particular universe. In a manuscript class years ago, Cornelius Eady taught us to consider carefully what we wanted the reader to see first and then what we wanted the reader to see next. And so on. Every choice guides the reader, just as line breaks, stanza breaks, punctuation, or lack thereof, guide the reader on how to read a poem. A book's structure hopefully mirrors the world of those particular poems, just as the form of "After The Diagnosis" reflects an individual whose life has become fractured, while attempting, at the same time, to reflect the beauty in being alive at all. Every choice is guiding the reader on how to breathe through the book.