Addis Ababa, Ethiopia
Steel kicks in this belly.
Girls with threadbare braids
weave between motor beasts and cement bags.
Tin roofs give way to glass columns.
Stretching as if to pet the clouds.
°
In the corners: cafés.
Where macchiatos are served
with a side of newspapers.
Early light warming up news
about the cost of gas and the number
of casualties up north.
°
Past noon: kitfo, medium-rare
unlike my thoughts on politics.
From the other table, ethnic slurs
steer to my ears and a response ticks
on my tongue—
I wash it down with Ambo water and lime.
The acid, sharp like the breeze outside.
°
The bleat of a goat. Sambusas
sizzling in oil. A Volkswagen Beetle's
overcooked engine.
All this babble.
My mind fights
to be heard by my mind.
°
Two stray dogs reduce to a pool
of slobber under a jacaranda's shade.
And my eyes.
Two plums left out in the sun. 
°
In manicured fruit stands, papayas snuggle
with mangoes. An intimacy I've yet to learn.
Never mind the thighs I've threaded
with others when the sky has turned velvet.
°
A billboard winks at everyone on Bole road.
NEW LUXURY HOMES FOR SALE
30 MINUTES FROM THE CITY
What's not displayed: the displaced farmers.
Greed and its sloppy lips.
°
Air, peppered with fumes. Blue and white
Lada taxis itch to dart. Running, a boy clutches
a shoe-shine box while his friend tries to sell me
books at a red light. Always this routine
of money. Even the elbow of the nation can be sold
if one knows whom to ask.
°
The last notes of liturgy announce the opaling sky.
Women in white empty from a church's mouth
having rinsed off in sacred hymns.
What remains is like the city's pith:
halfway between holy and wretched.
°
I become a moth to neon signs
with misspelled English.
At a bar in Kazanchis, I nurse a whiskey
with ice while men sprawl in booths.
Their hunger, rotten
under gum-mint shisha.
This is a hyena's cave—
I ready my syruped mind.
°
Meskel Square, 12:47 AM.
Soldiers carry out their nightly search
on passing cars.
One waves at me and I roll down the window.
How sour. His seasoned sweat
and the displeasure at opening
when being told to open.
°
Moonlight combs through neighborhoods
and a chill teases the wings of my uneasiness.
Few blocks away, a crowd burns
the nation's flag as the streets shed
the day's grime to the gutters.
°
Within a three-wheeler that reeks
of cigarettes, a tezeta song
pares down the pink sky
to wincing notes.
°
Morning. Its easy gait. 
From the dimple in my bed—
How I've continued to learn a place
by letting it learn me.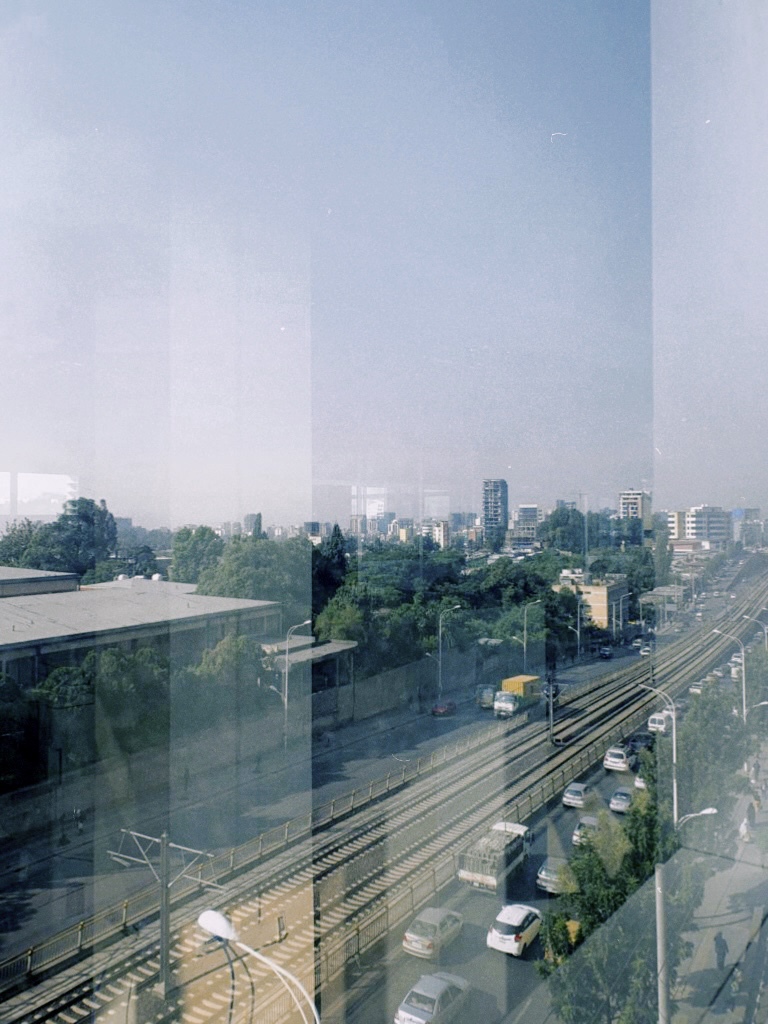 Writer and editor from Addis Ababa, Abigail Mengesha is a recipient of the George Harmon Coxe Award for Poetry and is currently a Jan Gabrial Fellow at New York University, where she is an MFA candidate in Poetry and was a first-year writing instructor. Her work has appeared or is forthcoming in Mizna, A Long House, and Frontier Poetry, among others.