With MIRIAM SAGAN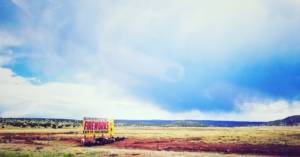 Your name: Miriam Sagan
Current city or town: Santa Fe, New Mexico
How long have you lived here: 35 years
Three words to describe the climate: Windy high desert
Best time of year to visit? Autumn.

1. The most striking physical feature of this city/town is that it is located at the base of the Sangre de Christo range in the Southern Rockies. Also, several other ranges like the volcanic Jemez mountains are easily visible.
2. The stereotype of the people who live here and what this stereotype misses: The cliché is that Santa Fe has Tres Gentes—Hispanic, Anglo, and Native American. That's true, but it is more diverse than that. There are recent immigrants from Mexico, a Tibetan community, and people from all over the world. There are numerous local Indian Pueblos along the Rio Grande—speaking different languages—and members of the Navajo Nation. History includes pioneer Jews.

3. Historical context in broad strokes and the moments in which you feel this history: Santa Fe was first a Pueblo, then a Spanish capital, then Mexican, and eventually part of the United States. But it often feels unlike much of the United States. Local culture and food and music, as well as art and literature, is still very Hispanic. It still has some of the feeling of Mexico. You can feel history in the central Plaza, by the cathedral, but really anywhere. There is so much archeology, you might find a pottery sherd or a stone scrapper in your backyard from the days of Paleo hunters.
4. Common jobs and industries and the effect on the town/city's personality: We're the state capital, so politics is a big source of conversation—and jobs. Then tourism. Which creates crowds, and service jobs that aren't that great for individuals. We do have a living wage, which helps, but we need more skilled jobs.
5. Local/regional vocabulary or food?
Food! Green chile is IT in Santa Fe. Red chile too, but green is more distinctive. Sopapillas are fried dough with honey. Blue corn tortillas. Posole (corn hominy). Calabacitas. These are the specialties of New Mexican food. I'll order chicken enchiladas anywhere.
6. Local political debates frequently center on… small town problems like speed bumps, pot holes, and parking and larger problems like homelessness, education, and health care.
Miriam Sagan is the author of more than thirty published books, including the most recent A Hundred Cups of Coffee (2019, Tres Chicas Books), which chronicles her Santa Fe neighborhood.
Photo by Isabel Winson-Sagan.