A baker in the square
Where nothing stirs but a pigeon
Reflections in an icy blue canal—
A great red mould,
A barge slipping forward, disturbing
A waterlily, sunlight
In the baker's mirror flitting over a red currant
Tart,
Scaring hell out of a feasting fly.
At the end of the mass, here comes everybody—alleluia,
Holy Mother of Angels
Come, let's take a boat ride on the canal
After a little nap.
–October, 1902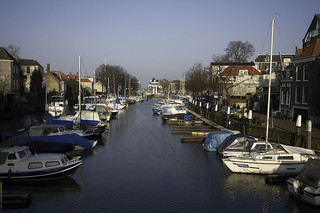 Marcel Proust (1871-1922) was a French writer, most famous for his seven-volume novel À la recherche du temps perdu ("In Search of Lost Time"). "Dordrecht" is taken from a new volume of his collected poetry, The Collected Poems of Marcel Proust,  (Penguin Classics), which is edited by Harold Augenbraum and  reviewed at The Huffington Post by The Common's poetry editor, John Hennessy.
Photo by Marianne de Wit from Flickr Creative Commons