Curated by SARAH WHELAN
Once again, The Common and Amherst College are honored to welcome a selection of visionary authors to our third annual LitFest–a weekend long series of events celebrating literary brilliance and nuanced expression. The talks, workshops, and panels will include, among other voices, 2017 National Book Award Finalists. This month, our staff and interns have chosen their reading in anticipation of our guests, and we present here our thoughts on just a few of these dazzling works. For more information on LitFest, please visit the Amherst College website.
Recommendations: The Brief Wondrous Life of Oscar Wao by Junot Díaz, Pachinko by Min Jin Lee, This is How You Lose Her by Junot Díaz.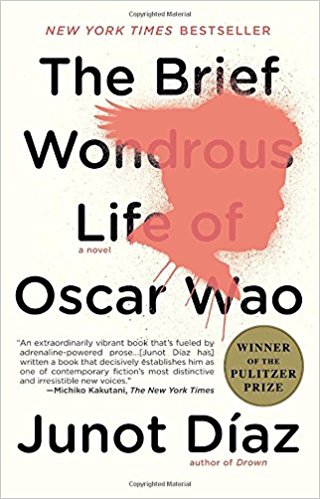 The Brief Wondrous Life of Oscar Wao by Junot Díaz; recommended by Flavia Martinez (Editorial Assistant)
In The Brief Wondrous Life of Oscar Wao, Díaz sets up his world and characters through the eyes of Oscar, a nerdy teenager. Growing up in a Dominican American community in New Jersey, Oscar's family and friends never hesitate to poke fun at his weight, his Puerto Rican hair, his love of science fiction, or his propensity for big words. Though his sister and mother might be harsh, they certainly aren't one dimensional. Lola and Beli become increasingly multifaceted as the novel alternates between their perspectives, illuminating their individual pasts and their actions in previous chapters.
This shifting of perspectives also allows Díaz to seamlessly bring in bits of Dominican history to his exposition of Dominican diasporic experience. Footnotes dashed throughout the text playfully explain the big players and moments involved in the Trujillo dictatorship. Lingo and jokes in English, Spanish, and Spanglish immerse the reader in the life of Díaz's characters, in and far away from DR.
Oscar Wao masterfully alternates between the funny, beautiful, and sad. It will educate you, make you cry, and remind you that there are stories that must continue to be told. With LitFest approaching, I'm glad I decided to stop simply staring at the eye-catching covers of Díaz's books and finally pick one up.
Pachinko by Min Jin Lee; recommended by Sarah Whelan (Assistant Editor)
While Min Jin Lee's novel Pachinko opens with an epigraph containing a quote from Charles Dickens, my impression of this lush family saga calls to mind a non-Dickensian tome: Thomas Mann's 1901 novel Buddenbrooks. As Buddenbrooks explores class hierarchy and generational strife within a nineteenth century German household, Pachinko brings to light similar tensions  in twentieth century Japan. Masterfully, Lee allows historical events to form the backbone of a story that she fleshes out with the tale of one immigrant Korean family's pain, growth, and pride in the face of massive discrimination and inequality. Thus, despite the narrative's wide reaches through time and space threaten to create a novel of expansion, Lee's ultimate focus on familial intimacy allows her to deepen the work emotionally. As fathers yearn for sons and daughters leave their mothers, Pachinko's core sentimentality is unearthed as characters stumble along the boundaries of human connection, reaching out for one another in the dark and extracting meaning from pregnant pauses.
This is How You Lose Her by Junot Díaz; recommended by Isabel Meyers (Editorial Assistant)
If you spent Valentine's Day lamenting how love never seems to work out, at least you have that in common with Junot Díaz's protagonist, Yunior, featured in Díaz's stunning short story collection, This Is How You Lose Her. In it, Díaz explores the myriad of ways we as humans fight to remain connected to one another, even when the cost is losing our sense of self in the process. Through each story, Díaz manages to touch upon what it means to experience love as an immigrant, professor, or father, and constantly feel you are messing everything up. In Díaz's final (and in my opinion most heart-wrenching) story of the book, "A Cheater's Guide to Love," Yunior describes in detail the last relationship he has ruined, which is to say, the relationship that ended after he cheated over fifty times. Never once throughout the text does Díaz glorify Yunior or his actions; his refreshingly blunt narration style keeps readers constantly questioning whether we or Yunior really know what love is or how it should be described, even after enduring so many painful relationships.
This Is How You Lose Her reminds us that while there are many wrong ways to face love, (and Yunior discovers many of them firsthand) there is no one right way to survive it. While we may not find answers in Yunior's many failed romances, we at least find solidarity. And, if all else fails, we are reminded that the end of one love story really does lead to the beginning of another.