Curated by SOFIA BELIMOVA
Welcome to the March round of Friday Reads! As we wait for the weather to warm up (and for our twenty-fifth issue to come out), The Common's Literary Publishing Interns bring you book recommendations that explore love, identity, hope, and flaws.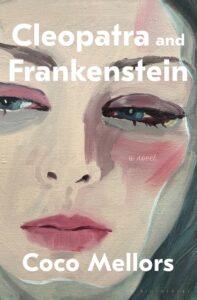 Coco Mellors's Cleopatra and Frankenstein, recommended by Sophie Durbin (intern) 
Twenty-something Cleo and forty-something Frank marry on a whim. Cleo's friends insist Frank only married her so she could get her green card; Cleo insists it was love. The rest of Coco Mellors's debut novel deals with this same question: what does it mean to love?
Cleo and Frank first meet on New Year's Eve. Although they don't know each other, they've left the same party and decided to wander through the streets of New York together. Their instant chemistry and snappy, back-and-forth banter seem like the beginning of a rom-com, and I was instantly hooked. But it soon becomes clear that this is no fairytale romance and that love is a difficult thing to find in Cleo and Frank's world. 
Cleopatra and Frankenstein rotates around a cast of New York creatives who are fascinating and complex but far from likable. Mellors builds a rich and immersive world in which appearances are everything and weakness must be hidden. Coco, Frank, and the people in their orbit avoid sincerity and vulnerability at all costs. If they are disheveled, they are purposefully disheveled. Yet in spite of my struggles to access Mellors's characters, I couldn't turn away from their lives. 
While many have compared Cleopatra and Frankenstein to the writing of Sally Rooney, the novel reminded me most of the New York Times Modern Love podcast. Mellors builds a rich and immersive world of New Yorkers searching for love by dipping into the minds of multiple characters apart from the titular couple. 
Although I impulsively read Cleopatra and Frankenstein in one sitting, I've often found myself thinking back to its flawed characters. They may seem to exist in a rarefied world of after-parties and privilege, but at the end of the day they want what we all want: to be known and to be loved.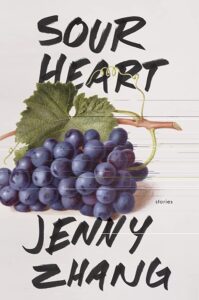 Jenny Zhang's Sour Heart, recommended by Sarah Wu (intern) 
Darkly compelling and deeply thoughtful, Jenny Zhang's debut novel, Sour Heart, follows the lives of six different Chinese American girls across mismatching lifespans. In her unique, tumbling writing style, Zhang sweeps the readers through grotesquely realistic scenes and achingly tender moments. She leads us through a set of questions: what does it look like to hope for something so far in the future that it is almost obsolete? What does it feel to look back at an important memory and realize that you have forgotten what it was? What does it mean to be an acne-ridden, insecure teenager, a protective, yet cruel sister, a fearfully loving daughter?
It is you, the reader, who is placed in the shoes of all of these characters. Before college, your baby brother wraps his arms around you and refuses to let go; only a few years later, you realize he no longer knows how to hug you. Before high school, you have learned to live under your parents' protection; after, they are no longer the center of your world. Before school, you slept on an itchy mattress inside of a  two-person apartment that housed ten people; now you live in Long Island in your nice, suburban house, in your nice, suburban town. Zhang artfully depicts these moments in her lovely, rambling prose as she carefully breaks down linear notions of time and inflexibility. Her settings are fluid; they shift alongside her characters' ever-changing thoughts and experiences. In these stories, Zhang manages to paint moving brushstrokes of violence and love in a narrative that is so complicatedly, tenderly full that her characters seem almost real.
Zhang's book reminds me of adolescence, the emotions from a child who is both in the process of simultaneously growing and regressing. Desire to know an immigrant parent's story. Envy in middle-school, childhood politics. Fear of close friends and even closer family. The paradox of knowing a parent so deeply, so routinely, that when you return back home, their sudden, strange closeness seems all but familiar. The paradox of loving someone so much that you think you could hate them. The teenage heart ferments; it sours. Yet, the protagonists are strangely self-aware, self-criticizing. Sour Heart comes in the body of a teenager with the voice of someone much older, more bitter. The narrator's voice bites. Similarly, the act of reading Zhang's book can be likened to taking a bite from one's own heart. I dig my teeth into my heart's tense flesh, and the spurt of sour juice hits my tongue; I wince. The melody of sweet, sour stickiness sings/burns against my inner cheek, and I can only swallow.