Curated by SOFIA BELIMOVA
Happy May! Our 25th issue launches on Monday, bringing you a portfolio of unforgettable writing from Kuwait, poems about rodents, car washes, and colonization, and prose pieces about art, religion, albatrosses, and snowcats. In this installment of Friday Reads, Issue 25 contributors reflect on some of their favorite books.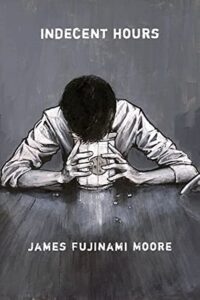 James Fujinami Moore's Indecent Hours, recommended by Eugene Gloria (Issue 25 contributor)
James Fujinami Moore's poems provoke and trouble. In one instance, he's lulling us into submission with a surrealist's touch and in another, snapping us into sobering wakefulness with uncharacteristic lucidity. Moore's debut collection explores American Myth with an unexpected knowledge, passion for the sweet science, and a poet's unflinching eye for the daily blows of racism and random acts of violence in the places we inhabit or call home. His lyric narrations are rendered with piercing elegance. Serving as one of the judges for the Great Lakes Colleges Association's New Writers Award in poetry, I wrote this citation: "Indecent Hours is a gorgeous construction of the American narrative that celebrates and abhors our history of violence and questions the joys and terrors we enact as humans."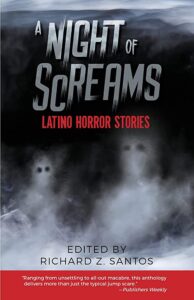 Richard Z. Santos's A Night of Screams: Latino Horror Stories, recommended by Rubén Degollado (Issue 25 contributor)
"Take this cultural stew and throw in cartel violence in Mexico, a history of CIA-backed dictatorships in Central and South America, increasingly scary rhetoric from American politicians, decades of institutionalized racism, the demonization of our families on the most popular networks on television, and how could the result be anything other than brilliant, terrifying stories?" 
—Richard Z. Santos, Editor
As editor Richard Z. Santos—author and former National Book Critics Circle board member—states in his introduction, the stories in A Night of Screams are indeed brilliant and at the forefront of a new wave of literature, one that blends old traditions in a new cultural milieu while also mixing genres. This anthology of horror stories written by today's Latino authors, many of whom are writing in this genre for the first time (myself included), give readers insight into Latinos' hybridity as a people and their work that melds elements of horror, science fiction, magic realism, all with literary sensibilities. There is poetry by Ruben Quesada, Cloud Cardona, short stories and novel excerpts by Lilliam Rivera, Ivelisse Rodriguez, Monique Quintana, Estella Gonzalez, Toni Margarita Plummer, all accomplished, award-winning authors in literary and YA spaces. The writers devoted to horror as a genre are also well-represented by the prolific V. Castro and Ana Dávila Cardinal, Leticia Urieta, Pedro Iniguez, and many others. 
Across the Latino diaspora, there are rich heritage stories to draw from. We have La Llorona, the Weeping Woman, a river ghost who roams the banks of the Río Grande searching for children, the Chupacabra, a haunting cryptid said to drain the life from goats and other livestock, and many others. There is also a sense, among many Latino writers, that the veil between what we see and what we do not is quite thin—gauze-like. In panels and interviews, Latino authors are often asked why their work contains either elements of magic realism and/or the supernatural. Simply put, it is a way of seeing the world that is ingrained in the stories we hear as children, stories that are taken as family stories rather than folklore. 
A Night of Screams takes the reader into this liminal world where the real and imaginary coexist in sometimes unsettling, but strangely familiar ways. If the intent of literature is to expand our understanding of the world, investigate the ways in which our culture, upbringing, traditions, and beliefs inform us as humans, this anthology delivers. I recently received the digital version of this anthology and though I had been reading something else, I found myself repeatedly going back to A Night of Screams, surprised and delighted to see how these authors working in different genres are bringing their experience to the horror genre while asking questions we see in literary work: how do we find hope amidst sorrow? How do we define family? How else might our lives have turned out had we made different decisions? This is an anthology I believe will bring readers from far and wide, many of whom have never read horror before. It's just that good!