Listen on Google Podcasts
.
Celeste Mohammed speaks to managing editor Emily Everett about her story "Home," which appears in The Common's spring issue. In this conversation, Celeste talks about her novel-in-stories, Pleasantview, and why it was important to her to write a book that shows all the complexities and difficulties of island life, with characters who break out of the stereotypical West Indian personality Americans often expect. She also discusses Trinidad's multicultural society, her choice to write dialogue in patois, and her essay "Split Me in Two," about being mixed-race during the election of Vice President Kamala Harris.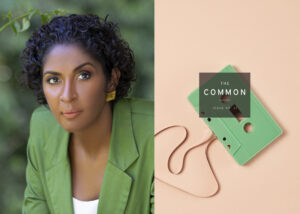 Celeste Mohammed's debut novel-in-stories, Pleasantview, published this year. Her work has appeared in the New England Review, LitMag, Epiphany, and The Rumpus, among other places. She is the recipient of a 2018 PEN / Robert J. Dau Short Story Prize for Emerging Writers, the 2019 Virginia Woolf Award for Short Fiction, and the 2017 John Gardner Memorial Prize for Fiction. A native of Trinidad and Tobago, Celeste graduated from Lesley University, in Cambridge, Massachusetts, with an MFA in creative writing. Read her story in The Common at thecommononline.org/home-celeste-mohammed.
Read more about Celeste and her work at thecursivem.com.
Purchase Pleasantview here. 
Below is a list of books and writers from the Caribbean and the West Indies that Celeste recommended in the podcast:
Book of the Little Axe by Lauren Francis-Sharma
The Undiscovered Country by Andre Bagoo
Golden Child by Claire Adam
Love After Love by Ingrid Persaud
The Mermaid of Black Conch by Monique Roffey
Home Home by Lisa Allen-Agostini
If you require a transcript or other accessible format, please contact us at [email protected].
The Common is a print and online literary magazine publishing stories, essays, and poems that deepen our collective sense of place. On our podcast and in our pages, The Common features established and emerging writers from around the world. Read more and subscribe to the magazine at thecommononline.org, and follow us on Twitter @CommonMag.
Emily Everett is managing editor of the magazine and host of the podcast. Her stories appear in the Kenyon Review, Electric Literature, Tin House Online, and Mississippi Review. She holds an MA in literature from Queen Mary University of London, and a BA from Smith College. Say hello on Twitter @Public_Emily.