Listen on Google Podcasts
.
Silvia Spring speaks to managing editor Emily Everett about her debut short story "The Home Front," which appears in The Common's fall issue. In this conversation, Spring talks about the inspiration and process behind this story, which tangles with the difficulties of coming into adulthood, and the experience of living abroad without feeling part of the community. Spring drew from her own experience studying and living in London in the U.K., and her time as a journalist at Newsweek, embedded with troops in Iraq and Afghanistan. The conversation also includes discussion of the revision process; writing without an MFA; and U.S. foreign policy, today and over the last few years.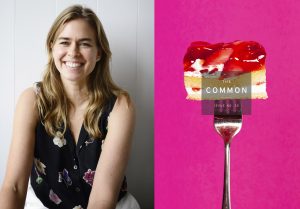 Silvia Spring is the Foreign Policy Lead on TikTok's U.S. Public Policy Team. Prior to joining TikTok, she spent three years as Airbnb's Foreign Policy Manager. Silvia was a Foreign Service Officer with the U.S. Department of State from 2010-2017, serving in the Office of the Special Representative for Afghanistan and Pakistan, the Bureau of East Asian and Pacific Affairs, at the U.S. Embassy in Beijing, and the U.S. Mission to the Organization of American States. She started her career at Newsweek as a Special Correspondent based in London and reported from Kenya, Iraq, and Afghanistan. 
Read "The Home Front" in The Common at thecommononline.org/the-home-front.
Listen to more podcast episodes here.
If you require a transcript or other accessible format, please contact us at [email protected].
The Common is a print and online literary magazine publishing stories, essays, and poems that deepen our collective sense of place. On our podcast and in our pages, The Common features established and emerging writers from around the world. Read more and subscribe to the magazine at thecommononline.org, and follow us on Twitter @CommonMag.
Emily Everett is managing editor of the magazine and host of the podcast. Her stories appear in the Kenyon Review, Electric Literature, Tin House Online, and Mississippi Review. She holds an MA in literature from Queen Mary University of London, and a BA from Smith College. Say hello on Twitter @Public_Emily.