Review by HANNAH GERSEN 
Movie directed by AMALIA ULMAN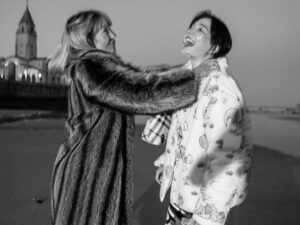 In Amalia Ulman's debut feature, El Planeta, which she wrote and directed, Ulman and her real-life mother (Ale Ulman) play a mother and a daughter awaiting eviction. Ulman's character, Leo (short for Leonor), has returned home after the death of her father, whose sporadic alimony payments barely supported her mother when he was alive. Leo is jobless and so is her mother, María. The two women spend most of the film in their narrow galley kitchen where the sunlight is abundant, and they aren't tempted to waste money on electric lighting. Their refrigerator is empty, save for the tiny slips of paper María places in the freezer, each one bearing the handwritten name of an enemy. Atop the refrigerator are multiple glasses of water, which have something to do with María's witchcraft—a practice that seems more like a distracting hobby than a coherent belief system. Leo sews bizarre yet fashionable clothing by hand, having sold her sewing machine for cash. They drink coffee, cook pasta, and, when they are really hungry, dress up in designer clothing and run up large bills in restaurants and stores, promising to pay later or claiming that Leo's boyfriend is a local politician who will pick up the tab. They live in Gijón, a small city on Spain's northern coast, a place hit hard by the global recession, with shuttered shops and empty tourist districts. It's no wonder these two women are more at home in their delusions of grandeur.