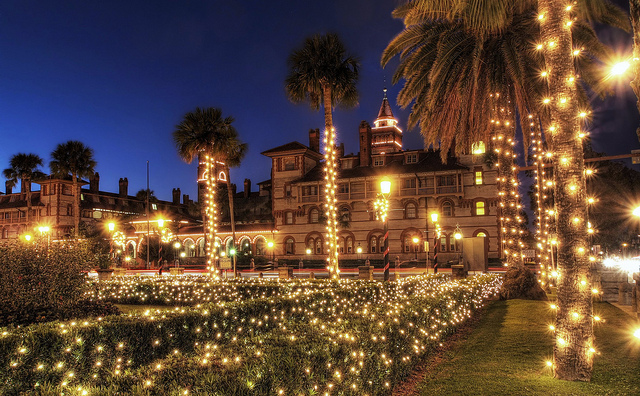 Disposable ponchos and white tennis shoes, cotton ­beach dresses worn without bras, sunglasses dangling from nylon cords, and a way of walking that is, in spite of the gray sky and the drizzling rain, ponderous. On a whole, they are younger than I expected, larger, and much more interested in cover bands. Almost all of them are couples. 
M. and I have come to St. Augustine for our own romantic holiday—two nights in a bed and breakfast, two days of history and beaches before we go back to separate lives in Chicago and Tallahassee. It is the kind of leisurely, low stakes mini-vacation that is easy to enjoy, even in the rain, but walking through the town on our first night, streets of renovated cobblestone lined with "ye-olde" ice-cream parlors, carts of trinkets and tie-dyed t-shirts, men in pirate hats selling ghost tours, I feel, somehow, misled. The old and the quaint are here, as promised, in the backdrop behind the faux antiques and the entrance fees. Live oaks tower over narrow streets, sailboats bob along the harbor; there are cemeteries and very old houses, a seventeenth century fort composed of seashells. But the center of the city is stuffed with kitsch, sold in small, locally owned businesses that feel like airport gift shops.
The next day's rain comes in waves of thunder and drizzle, and we walk to the landmarks with an umbrella. We visit the fort, lined with a row of small black cannons and a gated cemetery whose plaque explains that the dead Native Americans buried here were those who had converted to Christianity. We tour Flagler College, a collection of Spanish-style buildings with courtyards of fountains, stone walkways sheltered by terracotta arcades, and we learn that these buildings were originally a nineteenth-century resort for wealthy New Englanders. In the lobby of the building that was once The Ponce De Leon Hotel, we watch a video about the oil and railroad investor, Henry Flagler, who built this resort and who developed much of St. Augustine and northeast Florida. When the voiceover reads a nineteenth-century letter, praising Flagler's transformation of Florida into a place no longer reserved for the sick and the old, everyone laughs.
Another of Flagler's resorts has been converted into a museum, this one with courtyard pool covered by a walking bridge, and here an old woman in a rain bonnet stops us. Her tanned face is cracked with white furrows and as she leans toward us, I notice the unruliness of her white eyebrows and the smell of her body, heavy and acrid with old sweat. She wants to talk about an earthquake she witnessed and asks if we know about the protestant woman who died in the rubble of this very cathedral, stealing from the saints. Her story has all the thrilling incoherence of a nightmare—people running from death in a hurry, time tilting forward and back—and, although I slowly realize the woman is unwell and likely homeless, I am mesmerized.
For the rest of the day we hide out between our room and restaurants while the rain pours, and when we wake up the next morning, the sky is gray with heavy clouds on the horizon. It's not raining yet, though, and we go to the beach. We throw a rugby ball back and forth, M. practicing a snap maneuver I don't quite understand, and then, when we are tired, we sit on our jackets and watch a surfing class of wet-suited teenagers floating in the ocean—black dots rising with the swell of each wave. There is a woman walking a shaggy dog and lots of tattooed, sunbaked young people wearing baggy clothes and overgrown hairstyles—an aimless edge in their eyes that gives them the look of long-hunted animals.
We are warned by multiple sources that the Fountain of Youth is an outdated, half-decaying tourist trap, but we go anyway, our last stop on the way out of town, and drink a Dixie cup of sulphuric water from the spring. We take pictures of a man in a sailor costume explaining various weaponry, a lookout tower made from dried grasses and bamboo that we are not permitted to climb, and two male peacocks—one white and one blue—fanning and unfanning their feathers. The curation is predictably incomplete and one-sided, a story of heroic colonizers fighting for the Spanish crown, the hardship of encountering angry natives and trying to farm in swampy northeast Florida—and it's hard to tell if the shoddy-low-budget-carnivalesque appearance of the exhibits mitigates the power of the misinformation or adds to its eeriness. There are two histories at work—the centuries-old story of the Spaniards, and the mindset of the curators, just decades old, trapped in dioramas of native people and the faded explanations of free labor as necessity required to make farming this land profitable.
Later, at home, I read about the history of slavery in St. Augustine and find a picture of an open-air shelter labeled "slave market." When I come across a website claiming that although the market might have witnessed "the occasional sale of a slave to close a mortgage," this was primarily a vegetable market, much more humane than the "slave pens" of Savannah and Charleston, I look for an expert to dismiss this perspective as denial and racism, a splitting of hairs between one kind of slavery and another, "better" version. What I find instead is a historian's study of the postcards of the site that emerged in the late 1800s and a new layer to the story. The moniker, "slave market," she argues, was not used until the last decades of the 1800s when these images could be sold to the northern tourists who traveled to Flagler's resorts by rail, hoping to encounter the relics of the old south. The label is, she writes, both "accurate and sensationalist." History as fantasy, truth as spectacle.
On the phone, back in our own cities and routines, I email the picture of the market to M. and ask if we saw it. She looks it up on a map and then says yes, we did, Friday afternoon in the pouring rain, walking to an ice-plant that was now a distillery and which turned out to be closed. "There was that guy in the black SUV," she said. "Remember? He was leaning back into the car with the door open, taking everyone's coffee order?"
"Yes," I say, trying to make the image come into focus. "I think so."
"There were homeless people huddled underneath it," she says. "They were all standing there to get away from the rain."
"I almost remember," I say, but I wasn't noticing much in the moment other than the rain and the puddles, the wet hem of my jeans, the direction in which we were walking, and the fact of us together. The memory sits there, half-formed—rain, buildings, people—a collection of images I can shape into one my own version of what happened.
Marian Crotty is a PhD candidate in fiction at Florida State University and a 2012-2013 Fulbright scholar to the United Arab Emirates.