This event has passed. Watch the recording above!
---
Join The Common and Foglifter for a virtual panel conversation, moderated by Callum Angus, on Thursday, July 8 at 7:30pm EST/4:30pm PDT. This event is free and open to the public, but registration is required to receive the Zoom link!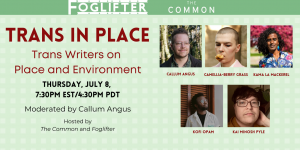 Movement across place, land, time, and body is deeply implicated in the word 'trans,' and yet trans writing is frequently discussed as a static category. This panel will be a conversation about the ways in which trans writers engage in writing place, ecological change, and feeling 'at home' in their work. Writers Camellia-Berry Grass, Kama La Mackerel, Kofi Opam, and Kai Minosh Pyle all create work that moves between categories, genre, and place, putting pressure on what 'place-based writing' really means and how it elides frank discussion of genocide, race, and displacement. The work of these trans writers is not to be found on a map nor in pre-plotted routes for discovery, but in new forms, voices, and invitations to unearth stories that radically depart from the ways we've been told Western history interprets the land. Join us for an exciting conversation about trans writing across place, genre, and category, moderated by Callum Angus and co-sponsored by The Common and Foglifter.
This event is free, but you must register to receive the Zoom link.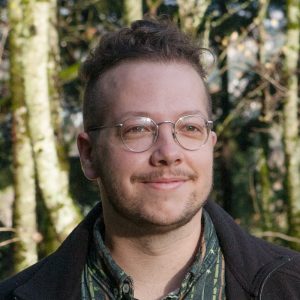 Callum Angus is a trans writer and editor based in Portland, Oregon. His debut story collection, A Natural History of Transition, is out now from Metonymy Press. His work has appeared in Orion, Nat. Brut, Catapult, LA Review of Books, The Common, and elsewhere. He is an editor at smoke and mold, a journal publishing 'nature writing', broadly defined, by trans and Two-Spirit writers.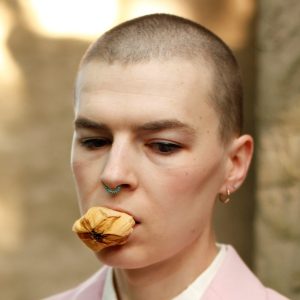 Camellia-Berry Grass was born and raised in rural Missouri. She is the author of Hall of Waters (The Operating System, 2019). Her essays and poems appear in The Texas Review, Waxwing, DIAGRAM, and Barrelhouse, among other publications. She currently lives in Philadelphia, where she teaches in the MFA program in creative writing at Rosemont College.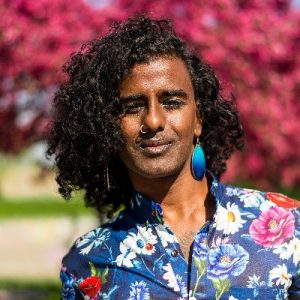 Kama La Mackerel is a Montreal-based Mauritian-Canadian multi-disciplinary artist, educator, writer, community-arts facilitator and literary translator. Kama's work is grounded in the exploration of justice, love, healing, decoloniality, hybridity, cosmopolitanism and self- and collective-empowerment. They believe that aesthetic practices have the power to build resilience and act as resistance to the status quo, thereby enacting an anticolonial praxis through cultural production. Their work has been exhibited and performed internationally, and their writing in English, French and Kreol has appeared in publications both online and in print. Their debut poetry collection ZOM-FAM (Metonymy Press) was named a CBC Best Poetry Book, a Globe and Mail Best Debut, was longlisted for the Gerald Lampert Memorial Award and shortlisted for the QWF Concordia University First Book Award.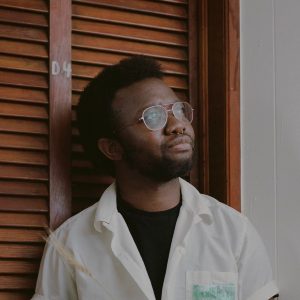 Kofi Daniel Opam is a Black transgender writer from Queens, New York. A recent Iowa Arts Fellow, Kofi's work has appeared in The Atlas Review, The Gallatin Review, and The Seventh Wave. Their work explores mythology, surrealism, and horror in the Caribbean, West Africa, and North America, and they are a graduate of the University of Iowa MFA in Nonfiction Writing.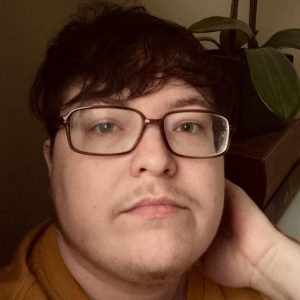 Kai Minosh Pyle is a Two-Spirit Métis and Baawiting Nishnaabe writer originally from Green Bay, Wisconsin. As well as writing poetry, essays, and fiction, they are deeply involved in revitalizing their heritage languages, Michif and Ojibwe. Their work has appeared in Love After the End: An Anthology of Two-Spirit and Indigiqueer Speculative Fiction (Arsenal Pulp Press), Nat. Brut, smoke and mold, Anomaly, Good Relation: History, Gender, and Kinship in Indigenous Feminisms (University of Manitoba Press), and elsewhere. They are a doctoral student in American Studies at the University of Minnesota – Twin Cities.