I was searching for a card for a friend's birthday, but the store was half-empty, as if a war had been waged on all the holidays. All that was left were the un-funny and the off-season, strewn around the store's many clear plastic displays. He told me the doctors said she had weeks to live. I quit my job that afternoon, and the next my aunt drove me home to Philadelphia. Five months later, my mother died.
She lived for longer than we expected. There were interventions that worked, and then they stopped working. My stay at home was always contingent—I watched how things went day-by-day, week-by-week. My dad and I took turns sleeping at her bedside: in the hospital, in her bedroom, in the living room, when she was too weak to live upstairs anymore. When she died, I needed to stay for her funeral, and then I needed to help my dad afterward. A year after his phone call, I'm still here.
For me, Philadelphia is a geography of hurt. In my mind, these buildings, blocks, even whole neighborhoods, are memorials, marking the places where a tragedy has occurred. I'm surrounded by the places we lived together, the places she was sick, the places she recovered. The places where we received bad news. The place that she died. The places where, much as I try, I can't stop hearing the echo of her voice, seeing the way she used to smile.
The parts of the human brain that process smell and memory are closely associated; certain smells strongly trigger memories and even bring to the surface those that have been lingering in the subconscious, forgotten. But place is also powerful. The relation between space and memory is being explored, and even harnessed by "memory athletes" for competition.
The ability of a block, a building, or even a doorway to signal emotion is the precondition for memorials—architectural monuments to tragedies or loss. Maya Lin, famed designer of the Vietnam Veterans Memorial, acknowledged the importance of memory to her work in her 1989 address at Juniata College (this part of the speech also appears in the documentary about her, A Strong Clear Vision). She described her work as an architect of memorials as a combination of, "not just the physical but the psychological world that we live in."
I grew up in a suburb of Philadelphia home to a small, prestigious college, and about six thousand residents who were mostly upper-middle class, highly educated, overwhelmingly white. My parents moved us there for the public schools, from a less-wealthy suburb on the border of West Philadelphia, as soon as they could afford the property tax. I was an outlier at my high school—a black kid who wasn't poor and did well in school; most of the city's other black people lived clustered together in black-only enclaves or in the housing projects in the next town over. When graduation came, I ran—first to college in Rhode Island, and then to New York. After high school, I never spent more than a few weeks at a time in my hometown. My parents moved into the city when I was nearing the end of college, and I didn't return much until now.
When I recently drove past our old house to visit a high school friend, I felt I was looking at a movie set from a film about my life. For the few minutes I was in front of the house, it was as if the time hadn't passed at all, and I had to remind myself, as I sometimes have to, that my mother isn't here anymore. My mother was a South African immigrant who was skeptical of America in general, and white Americans in particular. It's impossible not to regret all the time we spent mad at each other, fighting over hairstyles and clothing, time that I can't now make up.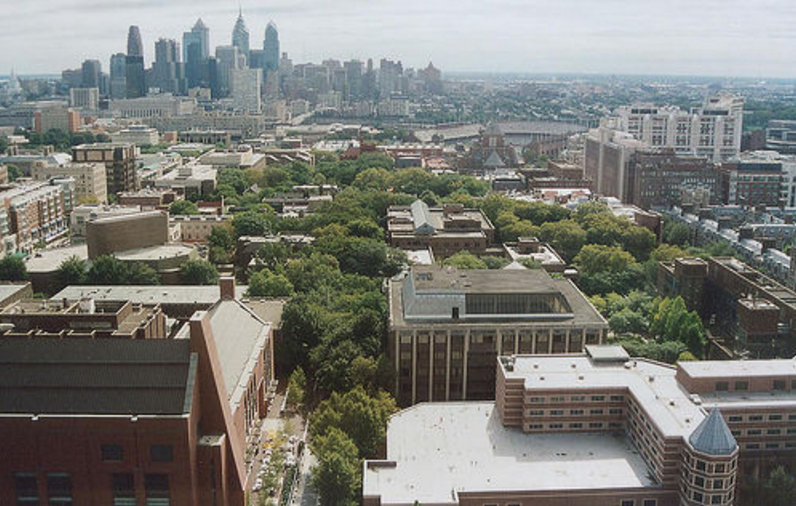 Both my mother and father received degrees from the University of Pennsylvania, my father his bachelor's in the seventies, my mother her master's in education in the eighties. My parents were fiercely proud of their alma mater; they were half heartbroken when I defected, deciding instead on Brown, Penn's smaller, quirkier sibling. But our love of education and learning was something that bound us together. My father and I are slowly giving away her clothes and jewelry to family and friends, or to charity, but I've kept all her old school books—every textbook, binder and notebook. I will one day sort through them and give them to my children, the firmest proof of who my mother was.
I visited Penn's West Philadelphia campus so much when I was a toddler that this neighborhood also feels like home to me. I remember playing in the aisles of the old bookstore while my mother shopped for her textbooks, and buying Chinese in Styrofoam cartons from the food trucks; seeing the leafy, gray stone campus from the vantage point of my mother's arms. Those blocks are as familiar to me as my mother's touch, as her soft African accent and the sharp twist of her humor.
She received chemo at one of the university's clinics, and during her final year, she was in and out of their hospital constantly. The cancer ward of Penn's general hospital looks out over one of the main quads, where both my parents had taken classes and where I studied during a high school summer program. We always requested she be placed in this wing. All three of us were comforted by the sight of the old, stately buildings that stood opposite ours. Between doctor visits and nurse check-ins, we had moments of peace, when we felt close to home and, temporarily, safety.
When my mother died, she was an administrator in the School District of Philadelphia. I think she was drawn to education because of her upbringing in South Africa, having witnessed extreme violence and injustice. She served the city's youngest children, and often the most vulnerable. Many were children of drug addicts and suffered abuse; they were fed only if they came to school. She called them her babies, and she did all she could, during the fraction of their lives for which she was present, to shield them from the varieties of evil—neglect, abuse, bad parents, and bad teachers—to which they were often exposed.
The school district building is in the center of town on Broad Street, under the gaze of William Penn, whose statue sits at the top of City Hall. It was at work that my mother made many friends, who would eventually convince her to join a black sorority, which, more than her American citizenship that she won years ago, made her feel like a real American. I helped write a cover letter for the last—and highest— position she held at the school district. Even when she was healthy, she used to work herself tired, until she physically couldn't anymore. When she died, she was still a full-time employee with sick days left over.
A few blocks from the school district building is a nursing home housed in a tall skyscraper that used to be a hotel. She was admitted there as a rehab patient after her second-to-last hospital stay, when they determined she was too weak to go home. My father and I were relieved — though we felt guilty for it – because we were exhausted from taking care of her all the time. When we arrived, the rehab floor was full, so she was placed in the nursing home. Some days, by the time I arrived she would already be in the rec room in her wheelchair, looking, dazed, at the TV with all the other elderly people, all looking like they had been abandoned. She went downhill rapidly there, in the company of people who had ceased trying to live.
She was moved into a hospice across town, which occupied the top floor of the old Graduate Hospital building. She died on her third day there. Afterward, I went into one of the family rooms where I had slept each of those nights. I looked out over the city and snapped a picture with my phone. I didn't know exactly why I did this at the time—probably I felt a need to document the day, but also, maybe I had a feeling that the city looked different somehow. It was a strangely beautiful day, the sky blazing blue, the city washed in perfect light. It was photogenic.
When I visit all these places now, the memories are still there. They're not as strong as before, and I can be there without crying, though sometimes I do. Sometimes I'm comforted by the sight of these familiar places, even though they hurt. I've learned that love and pain come hand in hand. In order to hang on to my good memories of my mother, I have to accept this pain as well. These places and this pain are what I have left of her.
Zinzi Clemmons is a writer and editor living in Philadelphia. Her work has appeared or is forthcoming in Transition Magazine, Joyland Magazine, African American Review, and Obsidian: Literature in the African Diaspora. 
Photo by Flickr Creative Commons user Shreyans Bhansali