Event Date: 
Wednesday, March 30, 2016 – 12:00pm
–
Saturday, April 2, 2016 – 11:59pm
Location: 
Los Angeles Convention Center & JW Marriott Los Angeles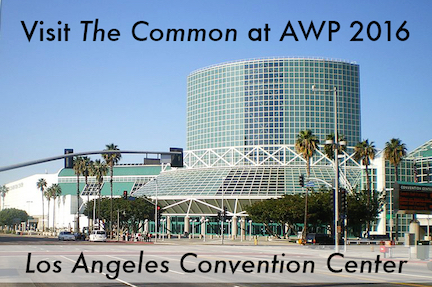 The Common will host a booth at AWP 2016 from March 30–April 2. Visit us at Booth 838! See our list of events and gatherings below. In addition to the events, we will be holding a raffle to win a lifetime subscription to The Common! Visit Booth 838 to enter!
---
Thursday, March 31
Conversations with Editor in Chief:
12pm: "Editing (and Writing) The City": Avyla Kushner, Colleen Kinder, Curtis Bauer, and Jennifer Acker will discuss their experiences editing work about cities that are no longer like what the writer remembers, as well as cities that are inaccessible to most readers; they will discuss the myriad ways writing can reveal, interrogate, celebrate, reinvent, and help sustain human life in cities.
1:30pm: "So You Think You Want to Start a Lit Mag: Straight Talk from Editors About Launching Mags and Keeping Them Afloat": Benjamin Samuel, Jonathan Lee, Natalie Elbert, Paul Legault, and Jennifer Acker—founders and editors from A Public Space, Atlas, The Common, and Electric Literature—share their experiences and advise how to balance the idealism and realism necessary to gain fame and fortune—or at least some fun, excellent writing, and great community—through running lit mags.
Literary Mingle & Drinks:
5:30pm: Join The Common, Los Angeles Review of Books, Young Literati, Santa Monica Review, and Ecotone/Lookout Books on Thursday night for drinks at the Argentine-inspired restaurant Barcito. We'll have drink tickets for early attendees! Join the Facebook event.
---
Saturday, April 2
Office Hours with The Common:
Calling all teachers: Interested in introducing your students to place-based literature and contemporary voices from around the world? Stop by our booth on Saturday from 11am–1pm, to visit with our staff, meet other educators, and learn about our discounted classroom subscription program and free educational resources.
Register now! Discounts available for students.
Location: Los Angeles Convention Center & JW Marriott Los Angeles
Each year, AWP holds its Annual Conference & Bookfair in a different city to celebrate the authors, teachers, students, writing programs, literary centers, and publishers of that region. More than 13,000 writers and readers attended our 2014 conference, and over 700 exhibitors were represented at our bookfair. AWP's is now the largest literary conference in North America. We hope you'll join us in 2016. [Click here for more information.]