Inspired by the mission and role of the town common, an egalitarian gathering place, The Common aims to foster the global exchange of diverse ideas and experiences. As such, we welcome and encourage submissions from writers who are Black, Indigenous, people of color, disabled, LGBTQIA+-identifying, immigrant, international, and/or otherwise from communities underrepresented in U.S. literary magazines and journals.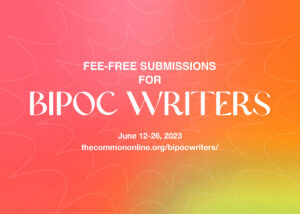 In an effort to remove barriers to access, The Common will open exclusively for BIPOC writers for two weeks, and waive submission fees, from June 12–26. Outside of that time, submitters with any financial hardship can contact us at [email protected] for a fee waiver.
In print and online, The Common publishes short stories, essays, poems, and images that embody a strong sense of place. We've highlighted some work by Black authors in The Common here.
Submit one prose piece up to 10,000 words (or up to 3 flash pieces), or five poems, per submission.
View our submission guidelines here.
To learn more about The Common and what we like to publish, browse these interviews with Editor in Chief Jennifer Acker.
 
When you're ready, submit here starting June 12!
The Common considers all submissions carefully; at least three readers review a piece before an editor makes a final decision. Our typical reading time is 8-12 months, but this varies widely. You can always check your submission's status in Submittable.