Cooler mornings and nights, the sun sinking earlier each day, dried leaves underfoot. In the States, such season changes are clear heralds of roast turkey and forkfuls of pumpkin pie. Perhaps, too, some related reading on the romance of turkey hunting, or an inquiry into the increasing genetic modifications of America's Broad Breasted Whites. If you're a food critic, you hate Thanksgiving and are glad to see it passed. Now it's Monday, and you've eaten your leftovers.
But here in the United Arab Emirates, shorter days and dropping mercury (down into the mid-eighties) kicks off a different kind of national food celebration—the Emirates International Date Palm Festival. Calorific and densely rich in vitamins and minerals, dates are a wonder fruit. A few of these and some camel milk will carry you across the desert; and if the milk spoils, dates are also super for an upset stomach.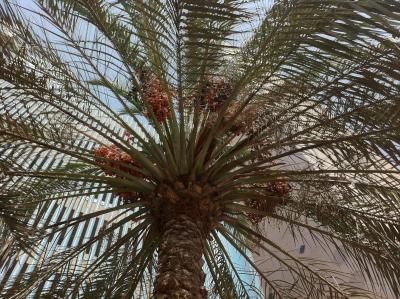 The coinciding of national food days in my home and host countries sent me on a brief culinary tour around the world. There are the bizarre, such as this head-scratching list of "funny national food holidays," and the genre-specific, like National Geographic's predictable top ten. (Hint for no. 1: rhymes with spamgerber.) For the cook, not just the taster, Epicurious delights with several national food demonstration videos. The Ploughshares food blog riffs enticingly on tastes, books, and other blogs. And Dubai-based food blog My Custard Pie recently provided an international history of pie, complete with a recipe for one my savory favorites—shepherd's.
Shepherd's pie was one of the few lunches I'd eat at my grade school cafeteria. At the beginning of the month, I sat down with the menu and circled the hot meals I could stomach, and my mother would send me in with a check for the total. The other days I got sandwiches or leftovers, and longed for the forbidden fruit rollups in the brown bags of my friends.
Random groupings of national dishes by country remind of elementary school for other reasons as well. There's the sites' classroom-style display, alphabetical and accompanied by the countries' flags, and the fact that food is the easiest way for teachers to non-judgmentally draw attention to students' ethnic heritage. We didn't have such diversity days in Maine because no one was from away, but I've spent plentry of fretful night-befores with friends and relatives strategizing the carry-in of latkes, tamales, and samosas. National dishes tend to be sturdy peasant food, usually with slow-cooked beans or meat and a starch. Ingredients must be inexpensive and widely available, and cooking methods low-tech. They are not the elaborate "traditional" turkey gravy from "shortcuts are anathema to Thanksgiving" Sam Sifton.
Foods like the hamburger and Hungarian goulash strike all the more easily at the heart for their simplicity. What we miss from the places we've lived is not haute cuisine but street food, the creations of local shops. In the pages of Tin House, Salma Abdelnour misses the za'tar-topped breads of Beirut. Another gift of uncomplicated emblematic foods is that they can be replicated without too much trouble away form home and allow for improvisation. The staple cookbook of my Abu Dhabi kitchen is Claudia Roden's The New Book of Middle Eastern Food. First published in 1968 and updated in 2000, it lays out the delicious basic combinations and educates about regional variations. This past Saturday, here in our high-rise with views of the Arabian Gulf, 42 Americans–well, we admitted a few foreigners–consumed three turkeys of various styles (for the record, I recommend Suzanne Goin's brined and garlic butter-smeared bird) plus all the fixings.
Just as the Macy's Thanksgiving Day parade ends with a sweet wave and promise from Santa, this week I'll eat the ends of the turkey and scour the cooking demos of the date festival. For those of you entering cold weather Stateside, I urge you not only to celebrate sweets with National Maple Syrup Day on December 17, but to make it an international affair with America's northern neighbors. To get into the pancake spirit, watch this lovely new video by The Common contributor James Booon Quebecois sugar shacks. Into winter we go.
Jennifer Acker is the founding editor of The Common.
Photos by Jennifer Acker and from Flickr Creative Commons