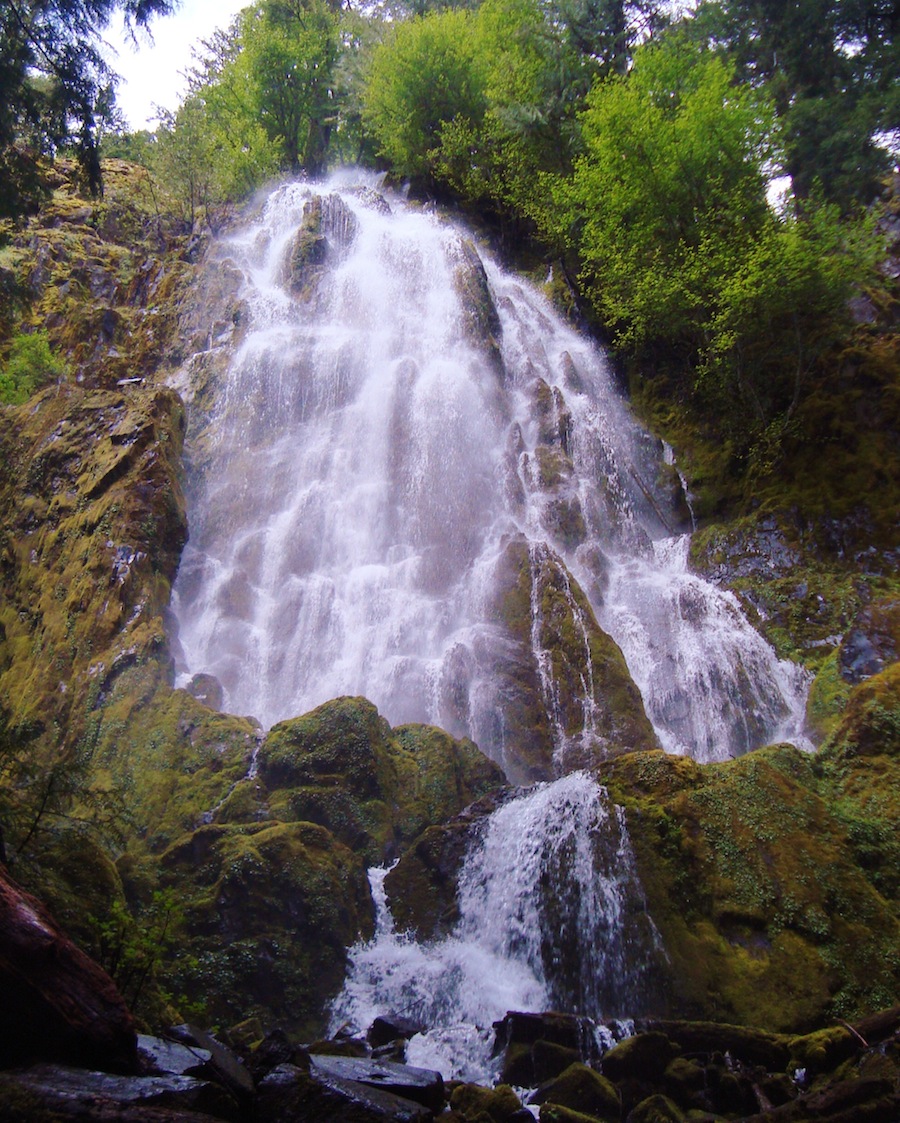 The trail never begins level. It's part of the architecture of a waterfall. A creek or a stream or a river is flowing along its course, and then there is an abrupt change—a fall—that brings the water a little closer to sea level. A little closer to home.
The water locked in the great snowcapped volcanoes just to the east of us has to descend ten thousand feet to reach the same plane as the Pacific, and it makes that descent in less than 150 miles, as the bird flies. Add that to prodigious rainfall seven months of the year, and how can there not be waterfalls?
Just a short drive into the steep and densely forested Cascade foothills , five waterfalls have become regular friends, each offering a different character. A different comfort, depending on the day.
Three of the trails descend into their canyons; the other two ascend. Our walk usually begins through trees that are young as trees go, though they are older than me by many years. Mostly firs. A few cedars. Big Leaf Maple along the creeks. A chance madrone or a bare oak hung with the bright green moss called "old man's beard." As if to justify the name, we pull long strands and hold them between our upper lips and noses in absurd moustaches.
Further into the canyon, old growth trees untouched by logging stand like trail guards. Some five, six, even seven feet in diameter. It would be enough simply to lean against these old trunks, looking up at the green canopy swaying two hundred feet overhead, but we can hear the waterfall. It's still somewhat faint, a trick of sound waves echoing down the canyon. Then, at the last switchback, the sound covers everything, as if we've stepped from behind soundproof glass into a storm. But there is no storm, only that first glimpse of falling water.
Spirit Falls, the smallest of the five at 60 feet, comes through a small gap in the rock only to hit a bulge just below, causing the water to fan out like a blouse over a pregnant woman's belly. Moon Falls pours across basalt columns at the head of its canyon so that it seems, even on the darkest of days, that the water is luminescent as it spreads across moss-covered rock. Pinard Falls corkscrews 120 feet over a cliff in a thin ribbon, blasting its mist far up the canyon, while Parker Falls hangs like a white curtain over a window of black stone. A fallen tree leans against it, looking like a twig instead of the forest giant it once was. And Trestle Falls, high up in the corner of a canyon is a strand of water freefalling, then exploding on the rocks halfway down. Our path curves behind the falls into the hollowed rock that reverberates with the movement of the creek overhead: there we can look through that veil of water across the gorge where we had just been, as if we had gone through a looking glass.
There are waterfalls here that are much larger, more visited; and some that are hidden deeper into the wilderness. There are some that may not have been seen by human eyes in hundreds of years, and some in the desert east of the High Cascades that have been long dry, leaving only their paths worn into the rock. But these five, I could visit over and over again. These five, I have come to know.
James Alan Gill has published fiction, non-fiction, and poetry in several journals including Colorado Review, Crab Orchard Review, Midwestern Gothic, Prime Number Magazine, and Atticus Review, and has work forthcoming in the anthology Being: What Makes A Man. He currently lives in Oregon.
Moon Falls. Photo by James A. Gill