Curated by SOFIA BELIMOVA
This round of Friday Reads brings you mini book reviews from The Common's Literary Publishing Interns. From shapeshifting professors to self-deprecating travelers, these reading recommendations will enliven your summer TBR list, whether you curl up with a book in the sunshine or cool off somewhere in the shade.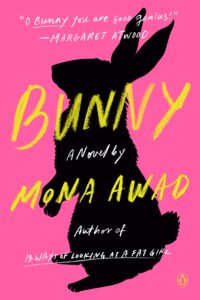 Mona Awad's Bunny, recommended by Sarah Wu
In her novel Bunny, Mona Awad combines magical realism, horror, campiness, and comedy to create a captivating psychological thriller. The intensity of the narrator's voice stands out from the first page: Samatha Heather Mackey, both bitterly intense and wildly hilarious. Through her gaze, we learn about the "popular girls" among her MFA cohort, who have little parties, essentially mini cult-like gatherings, and dub themselves Bunnies. I love you, Bunny, they say, and Samantha finds herself hating yet desperately longing to join this clique.
In a wild journey that dives into the unreal and the grotesque, we explore the depths of how loneliness and ambition warp a writer's experience. There is the Quirky Love Interest, the Rebellious Best Friend, and the Mysterious Backstory, but Awad twists and subverts these tropes to create something unique and exciting. Bunny's world dips into the imaginary, sprinkled with absurd humor: rabbits explode and people transform into beasts. It's dizzyingly wild at moments, but at its heart, Bunny maintains the moments of warmth and bittersweetness of friendships and self-discovery to ground the story in truth.
Bunny reflects deeply upon the spaces of intellectualized writing. Using a satirical tone to critique MFA culture, Awad turns melodrama into a darkly funny masterpiece that teaches her readers to approach the world less seriously.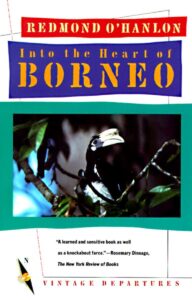 Redmond O'Hanlon's Into the Heart of Borneo, recommended by Sophie Durbin 
I was at first skeptical when my mother pushed Into the Heart of Borneo, a 1987 account of British writer Redmond O'Hanlon's journey to Borneo, as something I should read for a good laugh. The title conjured up images of a rambling, paternalistic travelogue, and I readied myself to disapprove of an amateur Western traveler's representation of Indonesia, a country I lived in as a young child. So, I was pleasantly surprised to instead discover a sensitive and informative volume—which also happens to be uproariously funny. 
O'Hanlon's ambitious expedition to the center of Borneo—the first undertaken since the 1920s—succeeds in portraying a remote and treacherous region of the world with wonder and open-mindedness. Although the author often incorporates educational excerpts from naturalist volumes (which sometimes rival his narration for their unintended comedic effect), he centers his attention on human life, describing in detail his many exchanges with his party's three Iban guides. O'Hanlon and his companion, the "enigmatic, balding" poet James Fenton, make no jokes at the expense of the natives they encounter; their humor is overwhelmingly self-deprecating. 
While the dry wit of Into the Heart of Borneo follows the literary tradition of famed British humorists like P.G. Wodehouse, O'Hanlon avoids the chumminess of his predecessors by displacing himself from his natural habitat into an utterly foreign environment—a part of the jungle unknown to even his native guides. He welcomes every obstacle of the journey, from bloodthirsty leeches to humiliating dance performances for his tribal hosts. O'Hanlon and Fenton's willingness to overcome extreme discomfort and to befriend strangers who appear utterly unlike them should be taken as a lesson by any aspiring traveler.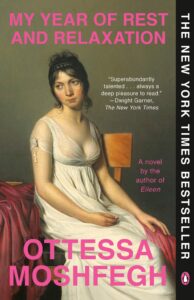 Ottessa Moshfegh's My Year of Rest and Relaxation, recommended by Andrenae Jones
Two hundred and twenty miles away from home, with a fog in my head and an invisible weight pressing down my eyelids, I strolled aimlessly through the streets of what I thought was SoHo. I was a freshman college student in New York with seemingly nothing better to do on a Saturday afternoon than shuffle into yet another chic, trendy, and definitely overpriced bookstore. Since my first semester of college had begun and since I had enrolled in exactly one creative writing course, I was determined to prove myself as the smart and hip girl who read smart and hip books. I was determined to be who I yearned to be. Feeling nothing but lost in a big, shiny, new city, I yearned to at the very least assert myself, know myself, be proud of myself. 
In bookstores like McNally Jackson, I felt like I could see my whole future as a New Yorker laid out ahead of me simply by just looking at the other shoppers around me. I could clutch my tote bag like the real New Yorkers, paw through pages of experimental poetry like them, sip slowly on Americanos as I worked on my own projects like them. I suppose it is ironic then that I would encounter Ottessa Moshfegh's novel My Year of Rest and Relaxation in a place where I was desperately trying to mimic the lives of other New Yorkers. 
As it turned out, My Year of Rest and Relaxation came into my life at exactly the right time. The novel, set in the year 2000 on the very same streets of Manhattan I dwelled, is about an unnamed young woman who seemingly has everything any woman could ever want: youth, effortless beauty, an Ivy League education, a Wall Street boyfriend, and a fancy apartment funded by her large inheritance. And yet Moshfegh's protagonist can't stop herself from hating "everyone and everything." Disgusted by the conformity, consumerism, and narcissism that seemingly engulfed her, disgusted by everyone, disgusted by herself, the protagonist decides to embark on a literal hibernation of sorts, or in her own words, her "year of rest and relaxation." Supplied with an endless flow of prescription pills from perhaps the most incompetent psychiatrist ever depicted in media, the narrator attempts to sleep her so-called perfect WASPy life away much to the dismay of others around her. 
Initially, it's very easy to dislike Moshfegh's narrator. She's uncongenial, cold, judgemental, vulgar, and even cruel in her narration of the life that unfolds around her. "I had chosen my solitude and purposelessness, and Reva had, despite her hard work, simply failed to get what she wanted—no husband, no children, no fabulous career," our protagonist says of her self-proclaimed best friend, Reva. We almost find a certain pleasure in watching the privileged, thin, blonde narrator attempt to throw away her life, descending into a state of semi-aliveness. And yet, Moshfegh's punchy prose proves to be addictive—the more time we spend with the narrator, the more her insights speak to a disquieting truth about New York City and modern American culture at large. 
If we dare to parse through the narrator's offensive and merciless bite, we can detect an overwhelming amount of anger, and—while the narrator might sneer and roll her eyes at what I'm about to say next—underneath her anger, there is a resounding sense of hurt and loss and confusion and yearning. Moments with Reva, a character I deemed initially comedic and unserious, become some of the most emotionally and thematically compelling aspects of the book as the narrator struggles to console her best friend as her mother succumbs to cancer. Moshfegh conveys the protagonist's irreconcilable gaping wound of disillusionment so effortlessly, so subtly, that it becomes very easy to forget about the many, many differences that exist between me and the young woman at the heart of the novel. 
To me, My Year of Rest and Relaxation is a book about how painful being alive and alone amongst others can be. About how, as hard as we may try, we cannot escape the masochism of narcissism, of wanting to be wanted by others, of wanting to be wanted by our own selves. Three years and a college transfer after my initial encounter with Moshfegh's opus at that fateful McNally Jackson, I remember my own aimlessness, my own confusion, my own implacable disillusionment and I become inexpressibly grateful for how that little pink book made me feel less alone.