We love any excuse to hear from our contributors! This month, our Issue 13 authors and poets tap into their literary communities as they recommend works by colleagues, friends, and Pulitzer Prize winners. United in their affection, the authors are nonetheless divided by their selections, as their choices shed light upon nowhereness, colonization, and Florida oranges.
Recommendations: Notes on the Inner City by George Szirtes, The Sympathizer by Viet Thanh Nguyen,  The Quiet American by Graham Greene, and Chinatown Sonnets by Dorothy Chan.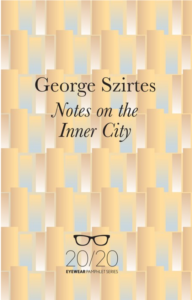 Notes on the Inner City by George Szirtes, recommended by U. S. Dhuga (poetry contributor)
"Jeux d'esprit from the inner city, with best wishes, George — June 2017". So George Szirtes signed one of the two books he gave me. He was in Toronto a week ago, as one of the judges for the Griffin Poetry Prize. We met at Zaza's for coffee on Thursday 8 June. While I brought our coffees to the patio, I saw that he was signing for me two of his books: Reel (Bloodaxe, 2004), which won the T.S. Eliot Poetry Prize, and Notes on the Inner City (Eyewear Publishing, 2015).
I read Notes on the streetcar home. "Politicians praise the cook but close the restaurant" (from "New Proverbs of Hell: Twenty Congregations", p. 9). Every restaurant I love seems to go out of business, whilst every restaurant whose gimmickry I deplore seems to find televisional fame. I have never owned a television; and the word "television", I have always felt, is an offensive kedgeree of Greek and Latin. I'm getting old.
I've a habit of reading books of poetry backwards. I mean that I begin with the last page and make my way to the first. I arrived at, and read, before "New Proverbs", George's sequence "A Conversation with Thunder". George: "Arriving was the problem. Anticipation was natural. Being here was natural. She was nowhere in particular. Nothing could arrive" (p. 29).
By the time I had arrived back at my flat, George would have arrived at the airport for his flight to London—where he and I first met at my own recent book launch three months ago. A book he so generously praised. Young, I thought arrival was all. Old, arrival seems something of a "nowhere in particular".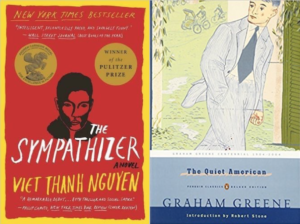 The Sympathizer by Viet Thanh Nguyen, and The Quiet American by Graham Greene, recommended by Rachel Pastan (essay contributor)
Nguyen's powerful 2016 novel is written in the form of a confession by a half-Vietnamese half-French Communist spy during and after what the Vietnamese call "the American War." It puts the Vietnamese experience in the center of a narrative we in the West mostly know from movies and books in which Vietnamese people barely have speaking roles. My favorite part is when the narrator serves as a consultant on an Apocalypse Now-like movie, trying to give the film more authenticity: a fool's errand, but an interesting one. After finishing The Sympathizer, rereading Graham Greene's 1955 classic about how dangerous "innocent" Americans are is newly fascinating. Greene is certainly guilty of barely giving Vietnamese people speaking roles—except of course for the beautiful vacuous girl whose body is colonized first by the British narrator and then by the well-meaning American spy. But his searing indictment of American "innocence" is as relevant today as ever. And his prose sings.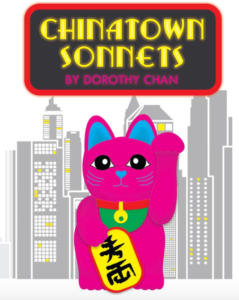 Chinatown Sonnets by Dorothy Chan, recommended by Zack Strait (poetry contributor)
Since coming to Florida State University I've had the joy of getting to know Dorothy Chan, who is not only a phenomenal poet, but a wonderful friend as well.
Her first chapbook was recently selected by Douglas Kearney for the 2016-17 New Delta Review Chapbook Series, and I just finished devouring it this past weekend.
I say devoured because it is a delicious book. The poems boil over with passion and leave you with a kick in the throat. Here's a bite from "At the Seafood Market":
He's King of Dead Fish, but Mom finds him perfect:
put him in soup, we'll use his head for broth.
Chan has not only a gift of imagination, but an eye for surprising, delightful imagery. Here's another taste, from the gorgeous "Grandfather's Oranges":
but this is beauty, the oranges all neat,
Florida's Best still stuck on them.
Ted Kooser, in The Poetry Home Repair Manual, writes ". . . one of the definitions of poetry might be that a poem freshens the world," and that is what each of these poem accomplishes.