By MAX FREEMAN, OSTAP KIN, and ANNA BADKHEN

November's Friday Reads features selections from three Issue 12 contributors: poet Max Freeman, translator Ostap Kin, and essayist Anna Badkhen. All three are reading and recommending poetry this month, verses of otherness, foreigness, complexity, and intelligence. In this month, in this year — when the easy, the soundbitey, and the distorted seem to dominate us — we're happy to endorse these thoughtful recommendations.
Recommended:
Chord by Rick Barot, Orchard Lamps by Ivan Drach, Garden Time by W.S. Merwin, and Dark Archives by Andre Bradley.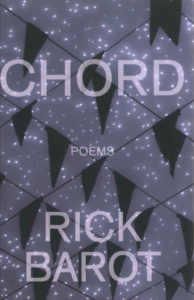 Chord by Rick Barot
Recommended by Max Freeman (Issue 12 poetry contributor)
In a year dominated by the overhyped and underthunk, I'm happy to be reading Rick Barot's Chord. Much of the joy in reading these poems comes from following Barot as he moves gracefully between the concrete and the conceptual. Barot often launches from an initial image — a tarp, a brown refrigerator — and often comes back to an image, to the incantatory "azaleas and so on" or, in a lacerating indictment of Spanish colonialism in the Philippines, to raccoon marks in snow that remind him of barbed wire on a white dress. Several of the poems are referred to as odes, and most of these melancholy meditations fit the category, ranging over subjects including art, desire, colonialism, and family. The erudition and sensitivity of these poems is a welcome respite from this year's stupidity blues. For all the craft on display in Chord, you may feel like you're having a thrilling conversation with a smart friend.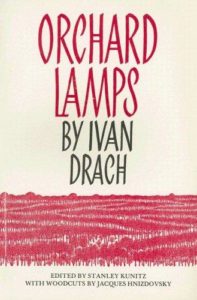 Orchard Lamps by Ivan Drach (translation by Stanley Kunitz & co-translators)
Recommended by Ostap Kin (Issue 12 poetry contributor)
The collection of poems titled Orchard Lamps by Ukrainian poet Ivan Drach came out in 1978 from the Sheep Meadow Press. The volume that consists of twenty-seven poems was edited and co-translated by the distinguished poet Stanley Kunitz. The co-translators included Ukrainian emigre the-then New York-based poet and man of letter Bohdan Boychuk as well as a whole group of then aspiring poets, Daniel Halpern, Mark Rudman, Gregory Orr, Paul Nemser, Paula Schwarz and Carla Muske. The majority of translators had been studying at Columbia University's MFA program under the auspices of Stanley Kunitz.
I like to think about this collection as a unique collective effort to put together versions of poems that differ from American ones in so many ways: images, metaphors, tones, similes, and toponyms. I have been studying for a while what was the original idea for the collection, how did the contributors work on it, what were the editor's final dilemmas and decisions in order to shape the collection the way it is and finally what obstacles proved to be the hardest to deal with.
Dark Archives by Andre Bradley and Garden Time by W.S. Merwin
Recommended by Anna Badkhen (Issue 12 essay contributor)
W.S. Merwin would have called them "late poems": "made of words / that have come the whole way / they have been there." He has been writing them for decades; perhaps he was born a Magus. The more worn his words the more effectively they serve as antidotes for the immediate pathological reacting, that trademark time-sickness of the Anthropocene. His Garden Time, published this fall, is reminding me again to take the long view of what it means to be human, to be in the world more purposefully: "if we speak to them / only sadness lingers / to hear us out / joy disappears / to wait for us it may be / where we least expect it."
Within the Anthropocene, ours is a century of dislocation of empathy, of dignity, of compassion. Andre Bradley's Dark Archives, a fragmented catalog of what it is like to be perpetually Othered, is beautiful and honest art that holds the world accountable. His sentences deliver clearly and irrevocably: "I am black, so be careful how you look at me because I will look back. I bring a pressure to your encounter with the physical, social, and psychological idea of darkness. How will you act toward me? How do you imagine me? I am in your imagination. When you go to define me, it is clear that you cannot."
Ordinarily I read one book of poetry at a time, but this is no ordinary time. This is the time to read Merwin and Bradley side by side; to be very present and to take the long view at once. To work on our moral proprioception in this way.
"To look back," Bradley writes, "is a defense and it is healing."
[Purchase your copy of Issue 12 here.]