Curated by SOFIA BELIMOVA
We launched Issue 24 last week, which features an exciting medley of writing: pieces about journalists and translators, forest fires and traveling icebergs, ghosts, cousins, and parents. Wondering what our contributors are reading? Check out their book recommendations below: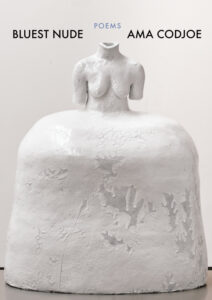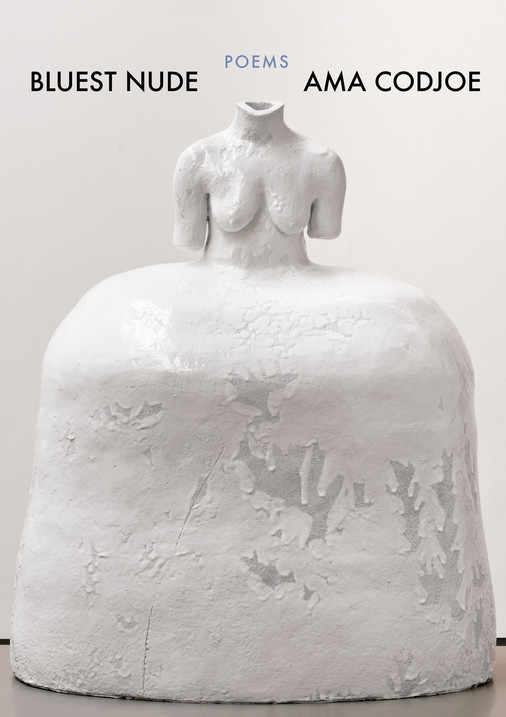 Ama Codjoe's Bluest Nude, recommended by Elizabeth Metzger (Issue 24 contributor) 
Read a few poems excerpted from Bluest Nude here. 
Bluest Nude is a portrait of Black female desire and embodied love that will leave you closer to your own core. Codjoe uses a language so emotionally clear and nourishing that I felt physically hungry for it. I think of Audre Lorde's "Uses of the Erotic" in which she writes "the erotic is a resource within each of us that lies in a deeply female and spiritual plane, firmly rooted in the power of our unexpressed or unrecognized feeling." It is rare that a book so full of Yes could still make me feel the openness of No. The portal kind of wound, which is enchantment. In Bluest Nude, one is given another chance to pursue beauty. Codjoe's poem "After a Year of Forgetting," ends with a speaker not just discovering her own pith, but becoming spring:
 …I will become
a pungent, earthly bulb. I'll pillar to salt. I'll remember
the pain of childbirth, remember being born. 
Unlike Lot's Wife literally objectified for looking back, Codjoe turns pillar and salt into actions, one a means to the other. The voices of this collection are rife with purpose and pleasure. The memory of childbirth is not the pain of becoming a mother but of one's own birth. These poems touch so close to the heat of creation that they not only examine the flesh, but expand the boundaries of the body, returning to that first entrance into life, body out of body. 
Though the poet is not a mother, these are some of the most striking poems of mothering I have read. In "Labor," Codjoe reveals the act of mothering to be expansive, generous, universal, and belonging to the intensity and intimacy of a moment rather than a social (or biological) role: "I've spent hours,/ brief minutes, tending to children/I in no way labored for—and then,/ with some relief, I have let them go." Codjoe offers this same revelation and relief to ex-lovers. In a poem titled "On Seeing and Being Seen," a memory of making love becomes a physical act of meaning making: 
On the lit up hotel bed,
I remember thinking, My body is a lens
I can look through with my mind.
Blurring the line between subject and object, Bluest Nude is a book about perception in which, beyond being seen and celebrated, the Black female body is an agent of beauty, a powerful amplifying creative force. In conversation with Black female figures and artistic voices from Lorna Simpson to Betye Saar, these poems rejoice in physical connection to others and the self, in the very fact of being a body. 
One of the most life-affirming and erotic poems I've read is Codjoe's "Primordial Mirror" which announces "I began to understand nakedness/ as a feeling." The feeling morphs into an image of a snake and then into the snake's shed skin. The grotesque becomes an arabesque of beauty. Signs of decay are signs of life here. Age is an opportunity for sensuality. In "Lotioning My Mother's Back," any notion of incapacity we bring to the mother the speaker explodes into the capaciousness of embodied time. Each circle of lotion awakens a lineage: 
When I massage in small circles, my mother 
circles her own mother, who is made 
of whatever makes a shadow thin 
 and ungraspable. She wants to touch her. 
Flesh is history. Time is touch. Imperfections are magical and made: "moles like a flicker/ of paint." Whether a speaker is making love, being painted, rubbing a mother's back, or learning to bathe herself as a child, these poems cross real, lived physical boundaries with empathy and ecstasy. By the end of Bluest Nude, the ordinary task of washing dishes becomes a cosmic firework. The signs we associate with shame become creative inspiration. Our most mundane mistakes, shortcomings, and oversights—in Codjoe's attention—are gifts to humanity.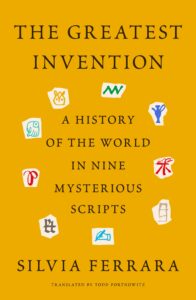 Silvia Ferrara's The Greatest Invention: A History of the World in Nine Mysterious Scripts, recommended by Terri Witek (Issue 24 contributor) 
"Without it we would be only voice, suspended in a continual present."
In The Greatest Invention: A History of the World in Nine Mysterious Scripts, Sylvia Ferrara and her translator, Todd Portnowitz, make a habit of such adamant profundities. A professor of Aegean Civilization at University of Bologna, Ferrara is obviously an inspired teacher; talking about the history of writing in different (and often unknown) cultural formations, the author peppers discussion with wry parallels: "Tolstoy was a graphomaniac… The earliest hieroglyphics were not so different from Levin's proposal to Kitty," and, less literarily, "As paradoxical as it may seem, the Unknown Pokémon is the perfect lens through which to view our next experiments." Ferrara makes the stakes ground-level present, this to say, as if we're all with her on that grant-inspired trip with decipherers and engineers and others whose pauses in homes of the mysterious scripts are reasons to dish out feasts of discovery (think 20,000 Leagues Under the Sea + Sherlock Holmes, the latter of whom she references). See, Ferrara's got me doing it. Next, you. 
The book's facts and surmises, always presented with assurance and this kind of cultural reach into now's writing/reading, often startle: "Writing isn't born for this or that motive, for religion, for divination, nor for bureaucracy, nor for (or as) numbers…" How can we not become as hooked, as we feel our biases slip away, as anyone who's stared at that impossible spiral, the Phaistos Disc? We have no trouble believing that living objects are alive and signing, especially when Ferrara reads jade shaped by Maya in the Olmec period like this: "Carved into their chests, in line with the lungs and heart, is a T-shaped symbol, one of the most ancient signs—meaning wind. And from this T they breathe."
 The Greatest Invention: A History of the World in Nine Mysterious Scripts was recommended to me by Brazilian visual artist Cyriaco Lopes, a particularly apt gift as our work together combines image and text (or as Ferrara might diagnose, icon + sign). He listened to it as an audio book—his computer breathed it out, I guess. I dragged behind my eyes across paper as things leaped happily forward. We were both sad it ended, I can safely say—though really, such a suggestive read doesn't seem over, even with the author's assertion (spoiler alert) that words themselves will soon be toast.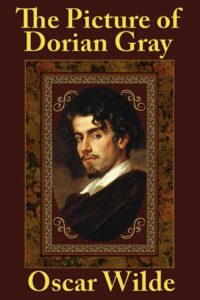 Oscar Wilde's The Picture of Dorian Gray, recommended by Lauren Hilger (Issue 24 contributor)
Suggesting The Picture of Dorian Gray in 2022 is not a fresh recommendation but perhaps a call to revisit a story we think we know. The premise is not new. Victorian London's hottest man about town Dorian Gray attracts everyone. Noted painter Basil Hallward finds in him a perfect subject and, with Dorian sitting as his muse, he creates his most spiritually engaging work. Throughout the novel Dorian sins, sots, commits heinous and violent crimes, ages, and continues to appear… young. He narrowly escapes authorities and keeps judgment at bay via his cherubic face. How could beauty be such a brute? He remains. He stays exactly as he was the day Basil painted his portrait all those years ago. Can you guess that the painting might have some magic to do with preventing his indulgences from showing? Indeed, this is the crux of countless other stories, but it never feels like the retelling of a fable. Wilde offers in his novel a personal catalog of fears: death, love lost, youth lost, social standing lost, the fear of male desire, and, most grave, the danger of homoeroticism in 19th century England. To wit, any hinted-at immorality of Dorian's is less memorable (and less shocking, less frightening) than the precarious friendships, deep bonds, closeness, jealousies, and heated eye of the men at center. 
Oscar Wilde's legacy is a bit warped by his quotability. Books of his quotes (printed as barb after barb with no context) are sold alongside his plays. One could fool themselves that they know Wilde by his quotes alone, and in his hammiest reads you already know where he's going because of the quip's chiasmic structure. There are lines that are mostly a flip of expectation, but there are also gems to keep and cherish. The BBC radio production of Dorian Gray neutralizes the novel's campiest moments; it is less of a private experience than an audio or physical book. We know a wisecrack is coming from the actors' ready groans or, at the worst jokes, stifled laughs. Hearing the music that might have been playing as he steps into the garish theater is also fun. I was surprised at the fun of it; approaching Wilde I think first of the nearly 150 years of worthy scholarship. But it also offers a thrill of Halloween energy. 
That he's readily accessed by his jokes and arch wit doesn't take into consideration what he has also deftly created: his atmospheres, mood setting, the yellow skull moons, yellow fogs, yellow haired actresses with ghastly fates. There is a joy of being IN his work, that extended time that exists beyond the instantaneous line. It's quite a feat that the atmosphere is never as bleak as its plot. Oscar Wilde's collected works should be longer but he died at 46 in exile after his release from Reading Gaol where he served two years' hard labor. One of the many diamond facets of Oscar Wilde's genius is that, even when the plot is sour and gruesome, his tone is always rich and warm. I know I said one can't access Wilde just from his one-liners but he was also a poet and his high-lyric stays. "Time is jealous of you."