Curated by SARAH WHELAN
Folks, it's September. Time to stow away that summer beach read and pull out the award-winning tome that's going to get you noticed by the cute grad student in the coffee shop. This month, read about starkly different economic and cultural worlds existing side by side. As the poor and the rich, the colonizer and the native shift uneasily along slippery fault lines, these recommendations offer brutal looks at friction between and within communities. Harrowing and insightful, you'll be so engrossed you won't even notice the number written on your to-go cup.
Recommendations: Tales of Two Americas edited by John Freeman, Behind the Beautiful Forevers by Katherine Boo, and News of the World by Paulette Jiles.

Tales of Two Americas edited by John Freeman, recommended by Diana Babineau Owen (former Managing Editor)
Tales of Two Americas cracks wide open and lays bare America's failures: its class divisions, racial oppression, inequality (economic and otherwise), lack of equal opportunities, and its unwillingness to treat all people with respect and dignity. At a glance, the title of this anthology might be a bit misleading—this is not just a simple account of two versions of America. Rather, this collection of work sheds light on a multitude of ways that America finds itself divided: between the haves and the have-nots, white and non-white, rich and poor, homeless and not homeless, empowered and disenfranchised. These essays, poems, and short stories, written by a diverse group of authors, offer us windows into the many different lives being lived in America today, all the while grappling with questions of morality and our human desire for self-fulfillment. In Roxane Gay's short story "How," we follow a woman named Hanna who feels trapped by the familial obligations foisted upon her. Weighed down by the burden of her alcoholic father, her unemployed husband, and hard economic circumstances, Hanna struggles to fulfill her desires for true love, higher education, peace and quiet, and space (both physical and mental) to feel like an individual, not just a resource to be expended by those around her. In her essay "Looking for a Home," Karen Russell moves to Portland and examines the fast-paced gentrification of the city, its spikes in rent and no-cause evictions, and its growing homeless population. She contemplates what it means to feel at home—and to feel happy—in a world where so much despair and suffering abounds. When she finds herself stepping over a homeless man on her way back to her apartment, she worries about how easy it is to become desensitized to this suffering—to feel both like it is too overwhelming a problem to fix and also like it is not our problem at all.
This collection boasts an impressive list of acclaimed authors, and the writing is beautiful, honest, bold. But most of all, I appreciate the way these authors engage with these vitally important issues on a level often lacking in daily media but so badly needed, especially in a time when it has become easier and easier to feel disconnected from our neighbors, to feel like we are worlds apart even as we stand at each other's doorsteps.
Behind the Beautiful Forevers by Katherine Boo, recommended by Sophie Murguia (former Editorial Assistant)
At its most basic level, you could say Katherine Boo's Behind the Beautiful Forevers is a book about economic inequality in India. It's a subject that has propelled countless economists, political scientists, and journalists to write abstract treatises making sweeping claims. But Boo has wisely taken a more contained approach in a work of nonfiction that closely follows the lives of several women and children living in a Mumbai slum, not far from the glittering airport hotels of India's financial hub.
Boo introduces readers to Abdul Husain, a teenager who has made a better life for his family by collecting and reselling garbage. Soon, we also meet Abdul's friend Kalu, along with aspiring slumlord Asha and her college-educated daughter Manju. Through the lens of these characters, Boo tells a true story that reads like an intimate work of fiction. She reconstructs her subjects' mental states in painstaking detail—the result of extensive and repeated interviews, according to an author's note. In doing so, Boo builds a bridge from the particular to the general, asking us to consider the concrete human lives of those struggling to escape the status they've been assigned in the new global economy.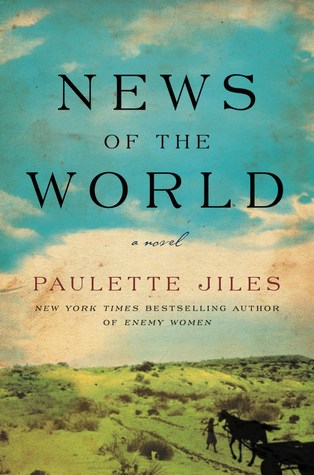 News of the World by Paulette Jiles, recommended by Sarah Whelan (Assistant Editor)
Alive with war cries, sizzling bacon, and jingling dimes, News of the World is a perilous wagon ride through Reconstruction Texas. The reader's guide and protector is the steadfast Captain Jefferson Kyle Kidd, an aging widower who travels the territory reading newspapers to illiterate crowds of villagers. His nomadic lifestyle becomes suddenly saddled with purpose when he agrees to return Johanna, a white girl captured as a small child by Natives, to her relatives in Southern Texas. As the unlikely pair stubbornly push forward, the story's primary concern is the navigation of distance, from the practical challenges of schlepping a bewildered ten-year-old 200 miles, to bridging a language and cultural gap with a child who believes she's Kiowa, to calculating how many feet a bullet can fly accurately in shoot-out.
However, the narrative defies the single-mindedness of a traditional adventure story. Almost magically, this gritty reality is suspended whenever the Captain pauses to read the news, opening their world to include the mystic realms of St. Louis, London, the North Pole. Additionally, the lightness of Jiles's style allows for levity even during moments of cultural misunderstanding, such as when the Captain explains to Johanna that it is "impolite" to scalp her fallen enemies. Ultimately, though News of the World emphasizes the frustrations of cultures clashing, it optimistically suggests that those divides may be overcome through affection and patience.