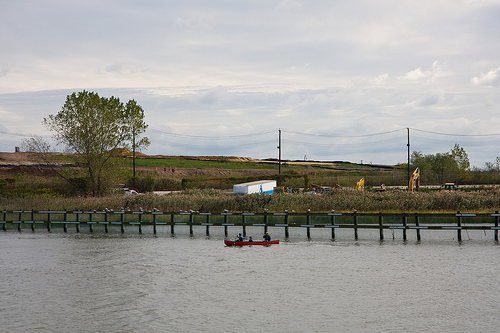 "You're from Garbage Island," a college friend said.
He wasn't wrong. My hometown housed Fresh Kills, once the largest landfill in the world – so vast it could be seen from outer space with the naked eye. My classmate was from Queens, which, according to the rest of the city, was still a notch above Staten Island, the forgotten borough of parks. The borough with New York City's trash.
As far as Staten Island's residents were concerned, it was just as well we were excluded and discarded by Manhattan, Brooklyn, Queens and the Bronx. We considered our hometown the city's best-kept secret; they certainly didn't want us and we didn't care for them to ruin our peace and quiet. (The borough is still the least populated, with fewer than 500,000 people living there). Furthering our seclusion, we were the only borough without a subway system, and there are still only two routes to get to Staten Island from Manhattan: to drive across the Verrazano Narrows Bridge or board a ferryboat.
When I grew up there, seagulls flew in the brined air of the shoreline to scavenge angrily for leftover French fries from soccer games. A row of trees separated my house from the road, and each morning I woke to the call of mourning doves. We smelled the landfill only from the Staten Island Expressway, where the garbage mounds lay like a sleeping giant. We were close enough to Manhattan to enjoy it, but far enough away to experience suburban serenity: the chirping of birds, and a good run through the woods or on the open Miller Field on a brisk fall day. In Staten Island, we appreciate each other. We have big families, throw block parties, attend Mass, go to parish meetings, and give back to others. Suburban Staten Island homes are affordable; blue-collar families like my own have backyards large enough for swing sets, sandboxes, and even in-ground pools.
Until the 1960s, Staten Island was mostly farmland and vacation homes. Just a few blocks from my house was the Greek revival mansion of President John Tyler's mother-in-law, which Tyler had often visited with his second wife, Julia Gardiner.
As I got older, I also learned that before Fresh Kills landfill came to define where we lived, Seaview Psychiatric, a tuberculosis sanitarium from the turn of the century, and Willowbrook State School, at one time the country's largest state facility for the mentally handicapped, were renowned institutions to which the city sent residents to be hidden from the public eye. In a 1965 speech, Senator Robert Kennedy said, "I think particularly that at Willowbrook, we have a situation that borders on a snake pit, and that the children live in filth, that many of our fellow citizens are suffering tremendously because of lack of attention, lack of imagination, lack of adequate manpower." The conditions went public nationwide in 1972 when Geraldo Rivera took a video camera into the institution for the local ABC affiliate and filmed nude children lying on floors moaning, cramped into small, dark rooms.
With the opening of the Verrazano Bridge in 1964, many – including my maternal grandparents – traveled from Brooklyn to settle in Staten Island. The newcomers were predominantly working class and came for the affordability of homes plus the promise of a little property. With its many parks, tall trees, and considerable space, Staten Island was seen as a favorable location to raise a family; also the perfect place to hide a secret.
Robert Moses, the "master builder" of the 20th century and a major influence in the development of New York City, did have major plans for the borough. His original vision in 1947 was to "reclaim" the salt marsh for the city's Sanitation Department and fill in the wetlands for twenty years, then zone the site for industrial and residential use. That year, the city began dumping waste on Staten Island's western shore. Later, Moses championed a highway along the coastline to help relieve congestion and traffic caused by the Verrazano. He once said Staten Island was both "shrouded and saved by its isolation," and he didn't want to be remembered as the man who changed the small, quaint island into an overcrowded urban metropolis. The highway project was ultimately shut down, but the landfill, Fresh Kills, lasted thirty years beyond the timeline Moses set. At the height of the operation, the 2,200 acres of Fresh Kills received on average 18,000 tons of trash per day.
From the inside, you'd never know Staten Island was a site for such misfortune. Not by the camaraderie between neighbors who wave and address each other by name, not by the home-cooked meals people carry over after a family member passes, or by the roaring crowd that flanks Forest Avenue for the local St. Patrick's Day parade. Even the names Seaview and Willowbrook sound innocuous and pleasant now. Residents have a knack for keeping the island's sordid past under wraps. Even the blatant presence of mafia activity is kept quiet and treated as business as usual.
In a small population mostly comprised of Catholic Irish and Italian working-class families, fathers are cops, firemen, paramedics, and soldiers. Mothers are nurses, school secretaries, florists, and teachers. And children are honored to play on sports teams for their parish school. Staten Island has been home to generations of service people. This is due in part to the Church, but it also has to do with family. "Family comes first," my father taught us. Sons long to carry on the family name, follow in their father's footsteps, keep traditions alive and well. At the local parades of my childhood, cops like my father and uncle marched down Forest Avenue in their dress uniforms and kids waved to real-life heroes.
In our small town, I was often referred to as "a Smith kid" or "Mike and Suzy's daughter." From where my family lived, buildings etched the skyline across the river, a background to our suburban life of carpools and basketball games.
The infamous Fresh Kills landfill finally closed on March 22, 2001. Five years earlier, the newly elected Mayor Giuliani, under pressure from Staten Island supporters, had decided the borough would no longer be a dumping ground, and there were grand plans to transform the space into a park.  At the time, the landfill was 82 feet taller than the Statue of Liberty, and if it were superimposed onto Manhattan, it would run from Battery Park all the way to 23rd Street. What no one could possibly predict was that six months after the official close, the landfill would re-open temporarily to serve the city once again.
After the 9/11 attacks, Fresh Kills was used as a space to hold and sort through detritus— items families claimed that had belonged to people they would never find. Over 1600 personal effects were recovered from lower Manhattan and taken to Staten Island, where thousands of police, sanitation, and forensic evidence specialists sorted through a conveyor belt. When rubble from the attacks made its way to our island, three hundred more bodies were identified among thousands of fragmented human remains. From the landfill, workers had a view of the now altered skyline. Everything else, left unclaimed and unidentified, was buried in a designated section of the site. Two hundred and seventy-four Staten Island residents died in the attacks that day, leaving local rescue workers in charge of finding their missing neighbors, cousins, and friends.
As a sergeant in the NYPD in charge of search and rescue, my father worked twelve-hour shifts with no days off the first few weeks after 9/11. As he made his way into Manhattan night after night, debris from the disaster made its way to Staten Island by truck until the barge system was reopened to transport one and a half million tons of materials from Ground Zero to Fresh Kills for sorting.
That winter I asked my father what he was still looking for at the site.
"Thumbs," he said. "Fingers."
That's when I realized the barges brought the disaster even closer to home and freighted everything we held sacred. Not just meaningful possessions—wedding bands, wallets, desk photos of family, police shields, guns—but people we'd seen at church, basketball games, or around town.
When the operation was completed, the landfill was sealed for a final time. The city planned to develop the space into a park for public use with a September 11thmemorial to honor the victims and their families. Eleven years later, the Fresh Kills Park hosted a "sneak peak" event at their ongoing development project and invited residents to kayak and pony ride through the freshly planted grass.
Then, just when we thought we had risen above the reputation the landfill had earned us, Hurricane Sandy hit New York. In the beginning, the media focused everywhere except our island. But as Staten Island's death toll rose to the highest in all five boroughs, and residents grew outraged with the lack of aid, news crews paid attention. There were twenty-three deaths, twenty of which were drownings. Two of them were little boys who had been torn from their mother's grasp in the storm surge. The streets along the coast were lined with everything that physically makes up a home: pictures, couches, floorboards, walls, windows, bedframes, mattresses, clothing, appliances, and insulation.
Many of the natural marshes that could've protected our island from the surge had been paved over and developed to increase business and population, much as Robert Moses' unexecuted plans had outlined half a century before. But as despised as Fresh Kills landfill had been, it shielded certain parts of our island from even more severe flooding. Moses had been right, our island was both "shrouded and saved by its isolation."
The day after Sandy, Staten Island mobilized, once again. Schools, gymnasiums, and churches became shelters. Those who had gas drove to stores to buy food, flashlights, blankets, coats, and tools. Families without power drove around with gallons full of hot coffee and paper cups, handing out warm drinks. Local restaurants brought trays of free food to residents who were cold and hungry. When Sandy hit, my family was safely protected in our inland house. But many friends and community members weren't as lucky. The first night, we cooked food and gathered necessities to hand out in South Beach, one of the hardest hit areas along the coast. As the week dragged on, we teamed up with other residents to distribute hot food, blankets, jackets, rain boots, and tools. We supplied candy for kids who wouldn't be able to trick or treat for Halloween.
My family's first visit was the house of Celia, my mother's friend. It was dark and empty. Her bright-colored walls were sawed in half, ready to be pried off. The water line reached as high as the second floor. As soon as we arrived, my husband, two brothers, a friend, and Celia's husband hacked down sheetrock, piling it along the street next to the remnants of their neighbors' houses. Celia's washer, dryer, and dishwasher stood with doors cocked open in the driveway. Useless, the appliances now served as drying racks for her kids' toys. The only time I saw her get emotional was when she pointed to them.
"They were new," she said. "Now they're garbage." Their narrow driveway was filled with their possessions, ones they were not ready to part with and move to the curb. The hood of the family car was popped open to dry out; flooded with salt water, it would never run again. Alongside the disabled car stood a dryer rack of Barbie dolls—a reminder of simpler times—with their damp clothes and blonde manes drying vertically in the sunlight. "I shouldn't be upset," she said, looking around the block. Mounds of waste lined either side of the street. Out of the corner of my eye, I saw that a small wedding photo hid next to a pile of the neighbor's belongings. "We're lucky to be alive."
My sister and I knocked on open doors, asking if anyone needed our help. One man, Celia's neighbor, whose home was destroyed, came out smiling and carrying by its leg a crab he had found walking in his yard. At first, he was too shy to take any food from the table we set up on the street, but within an hour he was eating.
Our island was in crisis, missing many of the things needed for a house, but not all the aspects of a home: kindness, generosity, compassion, and warmth. Our community on the forgotten island rallied beyond expectation as trucks full of men and women arrived to help their fellow islanders.  Staten Island was without habitable living conditions, power, food or supplies, but there was a sense of family, of taking care of one's own, that began to grow and multiply. We called it Staten Island Strong.
Days later, when my family went back to Celia's, the mounds of garbage that lined the streets were a distant memory. Trucks had come by and loaded up the debris, clearing the story-high refuse from the neighborhood. This time, it was carried away from our island.
Samantha K. Smith graduated with her MFA degree in creative nonfiction writing from Hunter College, where she now works as an adjunct lecturer in the English department.