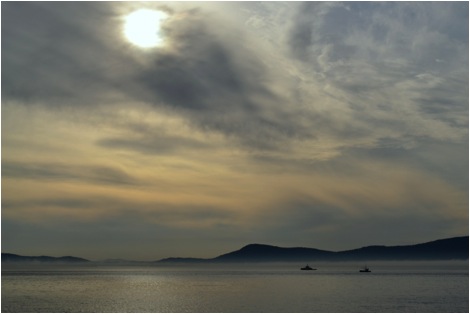 We met friends north of Seattle, then drove to catch the ferry to Orcas Island and talked about Washington's bikini baristas.  It would be another three hours before the ferry left, so we walked through cars and trucks parked in lanes straight as garden rows to the snack shop and overpaid for sandwiches, a banana, soda.  You sat on the asphalt behind a Chevy Tahoe, petting a pit bull someone had tied to the trailer hitch, and I took your picture.
Conversation and knowing there was no option but to wait made time pass easily.  When the boat departed, we sat on the observation deck and cruised west into the pale sun and gray gauzy clouds, toward forested islands rising black from the sea.  It was cold.
Our friends were staying at a B&B, and the next day were giving a talk to the local writer's group, then reading at a bookshop.  We'd decided to join them a few days before to go camping in Moran State Park, along the shore of Cascade Lake.  It was early season, a few weeks before Memorial Day, and there were only a few other folks in camp.  We picked a site near no one, next to a steep hill under a canopy of old growth.
The following day we drove to the top of Mount Constitution and looked back toward the mainland past islands strung out through the sea–blue now, reflecting cloudless midday–to the snowpeak of Mt. Baker, ghostly above the horizon.  To the north, Canada lay so close we could have made a jump for it.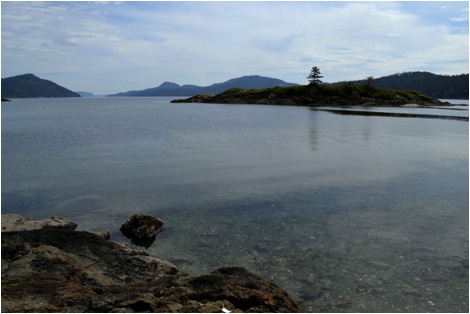 That night, after the reading, we bought the makings of s'mores at a grocery, and all of us went back to our camp.  Fire built, roasting sticks found, we opened graham crackers, marshmallows, and chocolate.  Within five minutes we heard the footfalls, deliberate and steady, coming down the hillside, saw the green eyes in the flashlight.  I joked, "They just want some s'mores, too," thinking a deer wouldn't come too close, but the steps came on, and before we knew it, a little black-tailed doe stepped into the firelight and stood an arm's length from the picnic table, waiting.  You tossed a graham cracker over her head, and she leapt deftly back into the darkness, then stood munching quietly as she would a bunch of acorns.  For half an hour we fed our insistent guest until she was satisfied and wandered back up the hill into the pitchblack.
All the rest of that night–after we drove our friends back to their room, after we climbed into sleeping bags and kept our ritual of me reading aloud to you before sleep, after we made love in a tent for the first time, after it rained slow and steady all night, the drops like gravel poured over the rainfly, spilling into the dust–I had the feeling that I knew precisely where I stood on the globe and that it was exactly where I was supposed to be.
The next morning while you still slept, I sat outside smelling the damp and watched the bright fan of a cedar branch overhead as the steam rose in the cloudsplit sunlight.  Next to me, a fallen moss-covered trunk, split open under its own weight during winter storms, revealed spongy orange heartwood so rich you could believe a new tree would spring up before your eyes.
James Alan Gill has published fiction, non-fiction, and poetry in several journals including Colorado Review, Crab Orchard Review, Midwestern Gothic, The Common, and Atticus Review, and has work forthcoming in the anthology Being: What Makes A Man. 
Photos by author