It was a long, elaborate, symmetrical Adam room, with two bays of windows opening into Green Park. The light, streaming in from the west on the afternoon when I began to paint there, was fresh green from the young trees outside.
—Brideshead Revisited by Evelyn Waugh
The serene, neoclassical "Dining Room from Lansdowne House," designed by Robert Adam in New York's Metropolitan Museum of Art eerily matches Evelyn Waugh's description down to the green light and the house's fate: two wings demolished in 1930 to make way for a road, and the rest converted to an eating club in London's Berkeley Square. In Brideshead Revisited, contractors are about to pull down Marchmain House and replace it with a block of flats. The Landsdowne Dining Room, in its symmetry and restraint, exudes confidence in the rightness and durability of inherited privilege.
I happened to be rereading Waugh's novel and came on this passage after visiting the Met's period rooms in early November with Ann Agee, a Brooklyn-based artist who has created installations within museum period rooms that explore the charged nature of these salvaged spaces and the objects in them. I love period rooms precisely for that eerie sense of story, for the feeling that Sebastian Flyte or Lady Marchmain could have slept here. I asked Agee, whom I've known for 11 years, since our sons were kindergartners together at PS 29 in Brooklyn, to come with me and talk about what inspires her about them.


Period rooms have a somewhat controversial place in the museum world. "Some scholars and experts in the field of decorative arts do not agree on their appropriateness in an art-museum setting, their purpose, and their degree of authenticity," writes the Met's former director, Philippe de Montebello, in the introduction to Period Rooms in The Metropolitan Museum of Art. Some, including the Landsdowne Dining Room, have to be significantly altered to fit into a museum. Others are incomplete and finished with replica parts. Others are put together from remnants of various buildings.
There is also the distinction between art and decorative/functional objects. Functional objects, including buildings, are made from blueprints, pattern books, and molds, replicable, rather than unique. The makers are more likely to be anonymous—and/or women. Artisans, not artists. Yet, functional objects can be tremendously evocative. In a video, one of the Met's Artist Project series, Agee speaks about the "subversive" way a mid-18th-century white porcelain figurine of a woman and baby dancing with a man with a long hooked nose, warts, and a very strange smile cracks the excruciating stuffiness of a room with salmon brocade wallpaper and gilt-framed pictures.
Agee's period room installations, commissioned by the Brooklyn Museum of Art and the Philadelphia Museum of Art, are part of a trend in the museum world intended to attract new appreciation of these spaces and the objects in them. Incorporating ceramics, painting, and textiles, Agee's creations pierce the boundaries between fine and decorative art in irreverent and serious ways. The juxtapositions can be jarring—vibrant panoramic wallpaper of a utility sink and modern household clutter in a stuffy Victorian parlor—or surreally contextual—white porcelain vases that resemble coral formations and seem perfectly at home on an Empire-style mahogany pedestal or gingerbread étagères. What the shades who live in the woodwork of period rooms make of Agee's additions, we'll never know.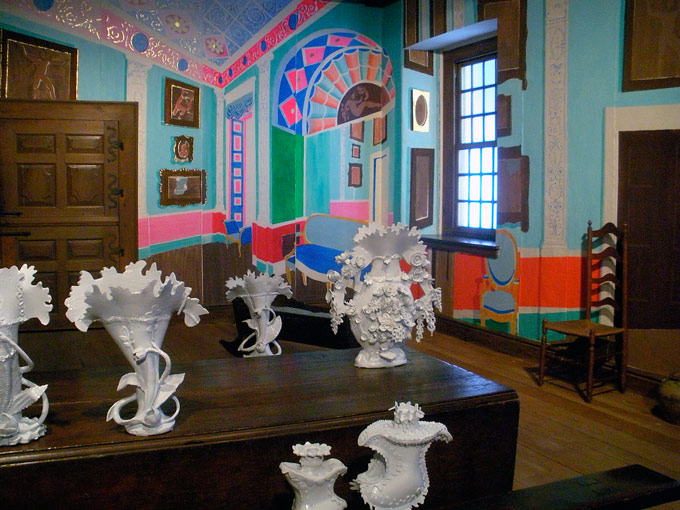 Agee says an important precursor for such installations and an inspiration for her own work in period rooms was African-American artist Fred Wilson's 1992–93 "Mining the Museum," in which he injected implements of slavery and other artifacts of black life and history into exhibits throughout the Maryland Historical Society's museum in Baltimore. For example, a set of ornate silver ewers and goblets entitled "Metalwork" shares a case with a set of iron shackles. "To me that was stunning and a reason one would revisit a period room, to alter the way we think about them, not just to redecorate them," she says.
Agee's work has been widely exhibited in the U.S. This past October, her "Lake Michigan Bathroom," a blue-and-white Delft-ware (unplumbed) bathroom, was part of London's Frieze Art Fair in October, and Artnet News dubbed it one of "Top Ten Booths to Visit."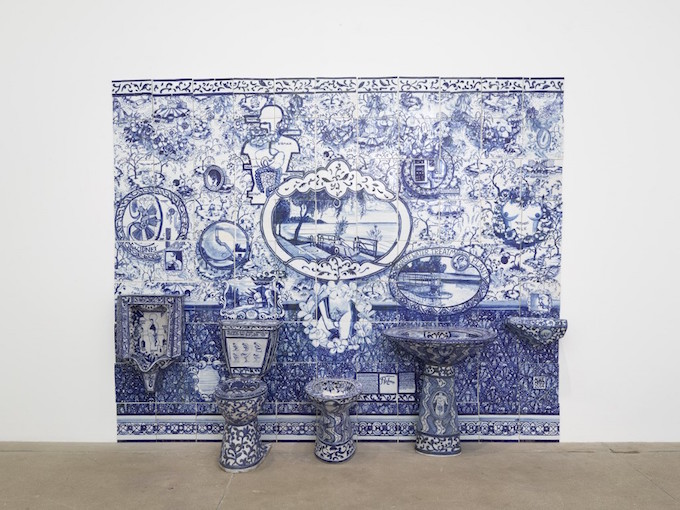 A 1981 graduate of Cooper Union, Agee went on to earn an MFA in painting at Yale in 1986. In the Met video, she says she was bored in grad school by the way that painting on canvas automatically gave work the status of Serious Art. Painting on a functional object automatically lowered the status of a work, a challenge she liked. In 1991–92, she was an artist-in-residence at the Kohler Company, a private manufacturer of plumbingware, in Sheboygan, Wisconsin, where she explored the techniques and motifs of blue and white tiles, which are found in Holland, Portugal, and throughout the Muslim world. Her work is in collections across the U.S., including the Brooklyn Museum, Philadelphia Museum, Museum of Art at Rhode Island School of Design, and Miami's Museum of Contemporary Art. She has won many awards, including a Guggenheim Fellowship.
An edited version of our conversation follows:
JL: What makes period rooms so magical?
AA: It is the light often, even though it's fake light. If you go into the Tenement Museum, [on New York's Lower East Side] which features the period rooms of the poor, what's interesting is how beautiful everything is. There is actual sunlight in the rooms. And it is the same feeling I have in these rooms. That emptiness, a private space. You're in a body. It's been lived in. I don't think it matters that the stuff isn't so valuable. It's the remnants of people's living space that's so charged.
JL: When did you get interested in period rooms?
AA: An early inspiration was in a room in a historic house, not a room recreated in a museum. I remember going into Ellen Terry's house at age 11. [Victorian Actress Ellen Terry's 16th-century cottage Smallhythe Place in Kent.] We happened upon it one day at sunset. I was in her bedroom alone, and I thought, "Oh, my God." I loved it. I don't know why. Nothing super beautiful. No plaster work. She had a ceramic basin with one of those pitchers for washing up. I remember staring at it and thinking about life. I was in a trance.
JL: The Philadelphia and Brooklyn Museums have commissioned you to create work in their period rooms. What's driving this direction for them?
AA: If people don't have an interest in the rooms and the things in them, [the museums] will close them, put [the objects] in boxes, and use the space for things people want to see. New energy causes foot traffic back to those places.
JL: Can you talk about the importance of place in your work, especially domestic places?
AA: In the early 1980s, I had an apartment on 1st Avenue, a sixth floor walk-up in a tenement with a bathtub in the kitchen and a little stove I found on the street with feet and three burners. The apartment was this little space I made [for myself]. I painted the walls with a geometric pattern. I had found it somewhere. I copied it onto the walls, but not that well—by eye, not by measuring.
It was many colors, mostly an egg-yolk background—transparent, so it really glowed in this top-floor railroad apartment with so much sunlight. And I put my new ceramic dishes that I was making on the shelves.
This was in 1985 while I was going to Yale for painting. The apartment was a repository of experiments. I didn't make artwork that way, but it would continue to be an inspiration, and eventually I did more work like that. I repeated that pattern later, when I moved out. I copied it onto another wall, onto tiles in the place we live now. I made other patterns on the living room wall. At some point, I made a picture of our kitchen in ballpoint pen and eventually the drawing got turned into a panoramic wallpaper. Then I did the same thing with the living room.
JL: How did that process play out in the museums?
AA: The first time I did that with a period room was in the Philadelphia Museum. I was invited as a ceramic artist. [First,] I chose a room from the vast collection of period rooms that was like an unglazed pot, thinking in terms of ceramics. It was a Pennsylvania kitchen—really beautiful. It had a lot of white wall. I chose that as the space for the installation.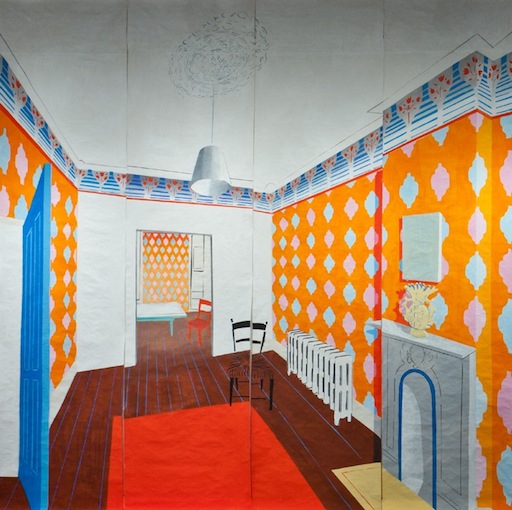 Then I saw the Robert Adam Landsdowne drawing room [from the same house as the Met's Robert Adam dining room.] It's turquoise and pink and gilt, with a slightly different blue silk-satin on chairs. It looks like cake decoration. I was thinking about the use of the rooms, who works in the kitchen, and who gets to enjoy this kind of beauty. The kitchen had all kinds of tools, cauldrons, candle-making stuff, baby rocking bed, weaving, spinning. Then there's the Robert Adam room where you would only go if you were really well-dressed. There's such a conflict over those things. I like both. So I just brought them together.
I drew the Robert Adam room and put it in the kitchen. The kitchen felt like the solid. The kitchen would survive without the Robert Adam room. The Robert Adam room wouldn't be there without the backstory of the kitchen.
JL: I see stories in period rooms. Do you?
AA: I don't see the specific stories. I feel the remnants of stories. I feel like I'm breathing that air.
JL: What if you could design your own period room?
AA: I sort of did. I made a bathroom during a residency at the Kohler company, where I was for two years. It's a whole bathroom, toilet, urinal, bidet, and sinks, but you put it up on a wall. It's kind of like a painting. It got lost after someone bought it. I decided to remake it. I didn't go to a factory. I didn't slip-cast the part. I remade everything by hand. It's about water, the body, where water comes from, where the water goes, all these historic references to the history of blue and white. In the Frieze Art Show [in London in October], it got a lot of attention. It's full of ideas, absolutely packed. It's funny and serious.
Julia Lichtblau is the Book Reviews Editor for The Common.
For a broad array of images of Agee's work, please visit her website: http://www.annageestudio.com/
Photo 1: Courtesy of the Metropolitan Museum of Art.
Photo 2: Courtesy of the Brooklyn Museum.
Photo 3: Courtesy of the Brooklyn Museum.
Photo 4: Courtesty of Philadelphia Museum of Art.
Photo 5: Courtesy of PPOW Gallery, NY.
Photo 6: Courtesy of Locks Gallery, Philadelphia, and Joseph Hu.
This post was updated on 12.7.15.