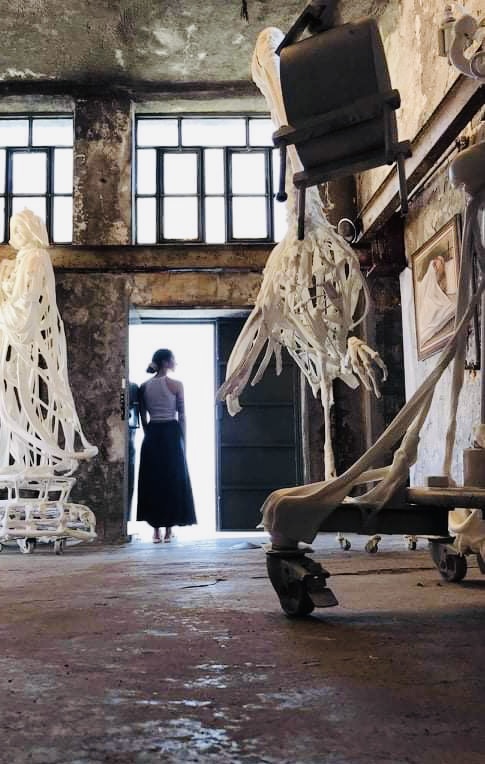 Hydra, Greece
There are no streetlights between the old slaughterhouse and the edge of town. The road that links them feels longer than its few hundred barren meters, proceeding above a rocky slope that ends in channel water—the former landing place of blood and entrails, arriving by chute while dogfish gathered. Six nights per week, a young woman makes her way along this route, tiny phone-light in hand, walking toward the main village on the Greek island of Hydra. Her name is Marina. I've known her since she was a child.
This evening her mother, Irini, leans across a slatted table on a balcony in Athens, sharing photos of the historic slaughterhouse with me, my husband, and our teenage daughter. Safe from brutal sun, we meet stone walls and wry signage around a structure of dazzling contradictions. Inside, much appears explicitly intact: rust stains, aged plaster, meat hooks on rails, and blood drainage pits, awash in the softer light of high windows. But stalls that once held creatures condemned to slaughter now cradle sculpture, graphics, and hybrid compositions.
The last photo shows the open doorway of the north entrance as seen from inside. It frames Marina's silhouette, her loose bun of curls and linen skirt almost indiscernible against the daylight.
*
If conventional gallery space is hard to come by, art history internships are even more elusive. 
Marina oversees an exhibit from the collection of a prominent businessman—a magnate. The compensation approaches adequate, with a provisional extension of one month, and the promise of a solid addition to her CV. A furnished room near the town center is included, in a spacious estate owned by the magnate's daughter. The current selection features contemporary international artists (several quite famous) in varied media, upon which Marina expounds for visitors in the peak of tourist season. Her hours are 11-1 and 7-10 pm, after which she closes up the gallery. She has Tuesdays off.
Irini lifts small steel tongs from a clear bowl, places another ice cube in her ouzo, and opens more photographs. The first shows her own reflection on the outermost glass atop a dark dress flattened in a gold frame. It overlooks a narrow stall whose left flank consists of a hook, chain, and iron grille. This quizzical play of artwork and environment connects unsettling set pieces and elevated everyday objects, not to mention the stray pigeon on a high ledge.
A resin human skull fills with light glinting off the Aegean. Carved wooden sandals sprout atop carved wooden feet—one human, one donkey—dangling before a vacant wall; while a wingless, high-gloss, very retro cherub holds out its gesture of blessing. The more abstract offerings are anchored by a group of supplicant, open sculptures: larger than life, trans-species, and whiter than Cycladic figurines, if less enigmatic. Oddly phrased pronouncements and brief pleas of the long-ago slaughtered, in English, occupy placards, a flag, a marble bench. Like a staging of Billy Pilgrim's imagined epitaph, everything is artful and nothing (directly) hurts.
Irini pauses to phone Marina for their nightly check-in. We hear a boisterous café on Marina's end, meaning she has arrived safely from slaughterhouse to town. She should finish eating, have a good night, kisses, etc., and, importantly, see you tomorrow. Irini informs us she'll be gone for a week to stay with Marina, who works alone. 
*
Marina ends her shift each night by securing the gallery. She brings a hanging sculpture inside, then turns off video and audio displays, the last being a slow, mid-century French monologue on continuous loop. Next, she shuts down all interior and exterior site lighting, and uses the flashlight on her cellphone to exit and lock the main door. Now comes the careful trek along the rim of the channel. Sometimes the moon adds to the glow of her phone. Some nights the water's surface is more easily heard than seen.
Irini has, understandably, decided to join her daughter again for the final stretch of the internship, to escort her on the nightly walk back from work. Marina has, understandably, renewed her interest in veganism, and decided against requesting a month's extension. She and her parents recently heard that young women are the only applicants selected for this post. 
They did not ask why. Neither did they ask why a sparsely inhabited estate reserves its most cramped lower quarters for interns. Or why the magnate's daughter sends, at best, a chill glance their way on the rare occasion that their paths cross.
Such minutiae will sink, invisible, beneath the text of the forthcoming entry on Marina's CV. Marina will head into graduate school applications and exams; to the endless hum of remade spaces, unlit beauty, tragic curiosities, roads, stories, histories, and all manner of ephemeral collections.
Poet and recovering engineer Lisa Rosenberg is the author of A Different Physics (Red Mountain Press). The recipient of a Djerassi Residency and Wallace Stegner Fellowship, she served as Poet Laureate of San Mateo County, California, and is a frequent speaker on the confluence of arts and sciences. Her poems and essays appear in venues such as POETRY, The Threepenny Review, Leonardo (forthcoming), Bad Lilies, and Amsterdam Quarterly. She is a longtime part-time resident of Ilia, Greece.
Photos courtesy of the author.