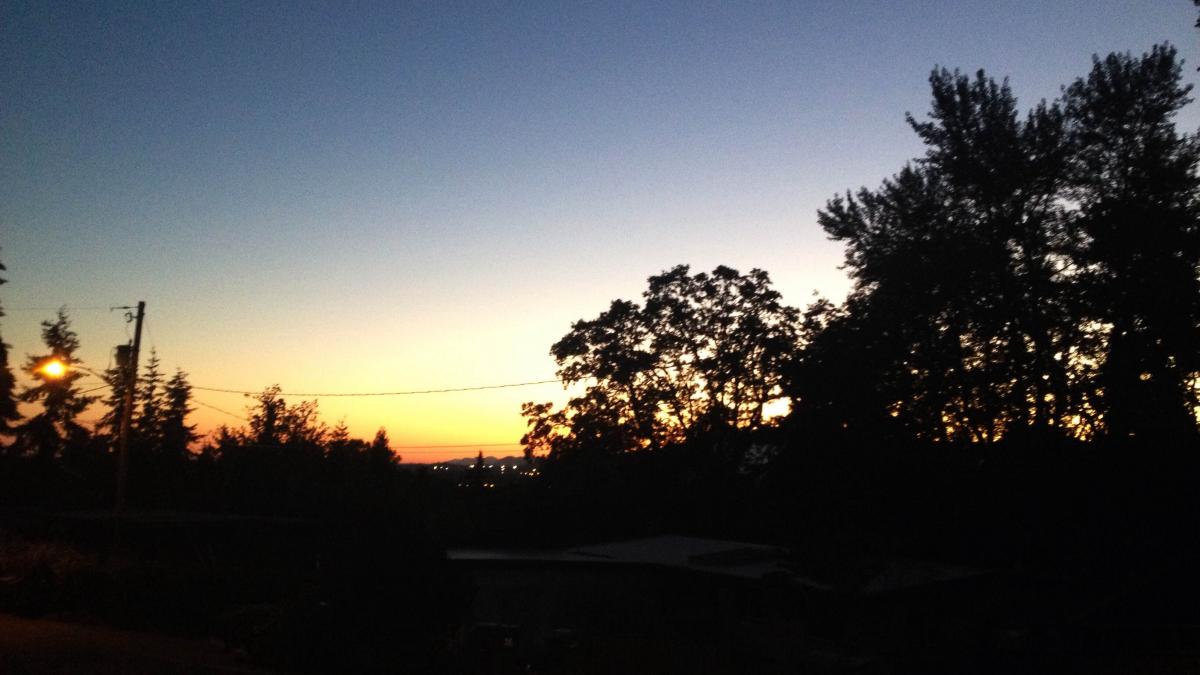 A year later, and I'm up at dawn again on the longest day. Last time it was driving you to a job you tried so hard to like. This time, it's me, delivering papers in the limbo between yesterday and today. The date on the front page is tomorrow in my mind because I haven't slept, but today hasn't started until someone steps out onto their front porch and picks up this carefully rubber-banded scroll.

It's not summer break but an economic layoff with no definite return, and I try not to think too much about how it sounds when people ask what I'm doing these days and I say excitedly, "I have a paper route," as if I'm some golden-age TV kid who's waiting to hang out with Wally and The Beav. A few months ago when people asked, I could say, "I teach writing at the college." Like that means anything. But people seem to think it does.
On the steep streets in this part of town, as false dawn starts to light up the valley, the Coburg Hills backlit orange and pink with the coming sun, this is the most real I've felt in a while.  Everything is tangible and exact: the route list, the addresses, where to place the paper, delivery deadlines. Each home and yard like a story waiting to be read when there are no diversions to alter the text, no rhetoric trying to persuade. One house has a metal, rather than plastic, newspaper tube on their porch, longtime residents, consistent in their lives. Another house with five cat bowls on the stoop and varied felines always lurking about, sitting on the hoods of the cars and porch railings, the smell close to the door exactly the same as an old farm house I once helped demolish because of its disrepair. Some houses have manicured lawns planted with precisely timed sprinkler systems, some have vegetable gardens instead of grass. A great many fly their bougie freak flags with a Prius parked in the drive. Others try to keep it real with old Volvos and Suburus and VW Buses. But the privileged have always had the best views, looking out over the town below from higher ground, and manmade water features and signs announcing home security systems do little to mask it.
I'm here, though. In this mirrorworld of quiet and half-light. A populated emptiness. Deer walk the streets. Once I saw a doe partnered up with a cat, strolling together down a paved drive, and when they stopped to look at me, the doe bent down and sniffed the cat before they ran off together to hide behind a garage like kids who've pulled a prank. Some sleep nestled under a fir tree near the paper box at the end of a long drive, and when I approach, they may stand and take a step, but sometimes they'll just look at me and stay curled up in the carpet of fallen needles like a house pet, because it's still a little early yet to get up. A family of raccoons, a mama and six little ones, rush across in front of me not far from the 7-11 and the disc golf course, moving from corner to corner, as if today's lesson were about jaywalking.
So much in the daylight hours is noise. I try to focus on this as I'm driving home after the last stop, the birds awake and chattering, the sky nearly gone blue. Think about it when I crawl into bed and see you smile in your sleep when I lie close next to you. The sun is with us today more than any other.
James Alan Gill has published fiction, non-fiction, and poetry in several journals including Colorado Review, Crab Orchard Review, Midwestern Gothic, The Common, and Atticus Review, and has work forthcoming in the anthology Being: What Makes A Man.